What Retail Sales Say About Interest Rates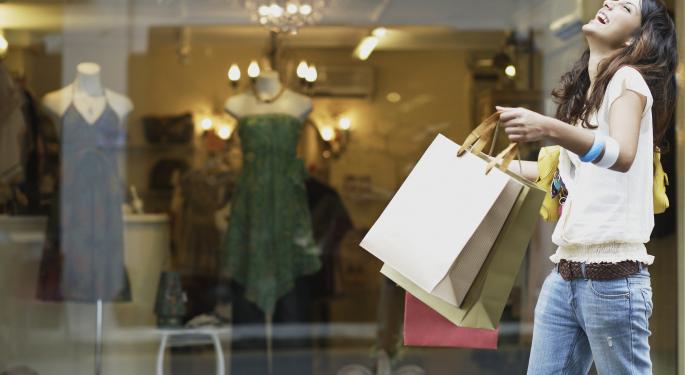 The U.S. Census Bureau released its monthly retail sales figures this morning. Retail sales were up 1.2 percent month-over-month in May, only slightly higher than consensus expectations of a 1.1 percent increase. Retail sales excluding gasoline and automobiles were up 0.7 percent.
As with every major economic indicator that has been released recently, the question on everybody's mind is what the figure suggests about an impending Federal Reserve interest rate hike. We asked experts what they thought:
Adam Sarhan, CEO of Sarhan Capital
According to Sarhan, the retail sales report probably won't have much of an impact on the Fed's decision to raise rates. He doesn't believe that the 1.2 percent figure was enough of a beat on estimates to significantly move the needle. "0.1 percent just isn't enough. It could easily blow the other way in six months," Sarhan said.
The underlying question, Sarhan says, is whether or not the economy can grow at above-zero rates. "Until the answer becomes abundantly 'yes,'" he believes, "the Fed is in a very tight position." Sarhan thinks that the Fed, which is data dependent, will need to see more consistent big beats on consumer spending related expectations before it can confidently raise rates.
Kristin Bentz, President of Talented Blonde, LLC
Bentz, contrarily, believes that consumer spending is on a strong uptick. Although it wasn't much greater than experts predicted, she says the retail sales data from the Census Bureau was quite strong compared to recent months.
In addition, Bentz notes that the Census Bureau excludes several important components of consumer spending in its data. According to her, the agency limits reports of spending within the well-performing service sector to the restaurant business. Meanwhile, things like travel and personal care, which are growing rapidly, aren't factored into the report.
She says that hotel spending is up 7.5 percent year-over-year, while amusement park spending is up 10 percent. In her opinion, these figures indicate that business travel is bouncing back but also that the economy is healthy enough to give consumers the luxury of more frequent travel. Millennials, Bentz claims, are taking an average of seven trips per year.
She also highlights the fact that millennials often prefer to lease vehicles rather than buy them, meaning that auto figures within the report, although very positive, don't fully reflect the strength of the economic recovery. Leases are up 11 percent year-over-year as of March, Bentz says.
Therefore, Bentz believes that although traditional retail may not be doing as well as it has in the past, this may be more of a reflection of changing consumer preference than a struggling economy. "Millennials," she says, "are all about the experience."
She could see the Fed raising rates as soon as July with the signs as positive as they are.
JJ Kinahan, Chief Strategist at TD Ameritrade
Kinahan, like Bentz, is feeling positive after today's report. He noted that the fact that the market is up today after a very strong day yesterday is also a very positive sign.
One detail of the retail spending data was especially encouraging to him: spending went up across the board despite higher gasoline prices, indicating rebounding consumer confidence.
To be fair, Kinahan admitted that "one report does not a trend make," especially since retail spending was so weak in April. However, looking at jobs reports, housing numbers, and other positive indicators, he believes that we are seeing strong momentum from the overall economy.
Kinahan expects a rate hike in December.
Posted-In: Adam Sarhan JJ Kinahan Kristin BentzAnalyst Color News Retail Sales Econ #s Economics Best of Benzinga
View Comments and Join the Discussion!