Wunderlich: These Tech Companies Deserve Attention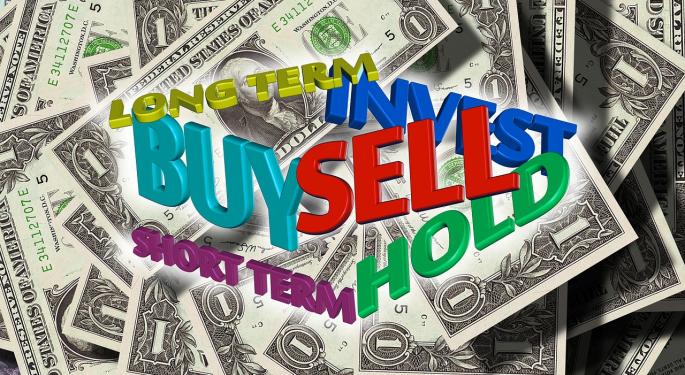 Analysts at Wunderlich Securities must have been playfully humming along while initiating coverage of 16 technology stocks this morning. At least, that's what the song-inspired titles to each note seem to suggest.
In total, the analysts are bullish on next-generation technology companies, specifically those in security. Of the 16 companies, Wunderlich initiated 10 at Buy ratings, while the other six were initiated at a Hold. Here's the analysts' take:
'I'd Like To BUY The World A...'
Check Point Software Technologies Ltd. (NASDAQ: CHKP): This company is under-the-radar, according to Wunderlich's initiation. The analysts predicted that the company will outperform, as investors "become more aware of the positive impact of its recurring revenue model." Wunderlich said that Check Point should see year over year accelerating growth in product licenses, particularly as the security firewall refresh is in the "early stages."
Related Link: Morgan Stanley Downgrades Check Point
FireEye Inc (NASDAQ: FEYE): FireEye has been on a tear recently, gaining more than 22 percent in the past month. Despite that, Wunderlich initiated the stock with a Buy and a $62 price target. The company was right to move to a subscription model, the analysts said. Additionally, Wunderlich called FireEye "one of the best positioned next-generation security companies."
Fortinet Inc (NASDAQ: FTNT): A Buy with a $48 price target, Wunderlich said that Fortinet has a strong offering and healthy landscape for growth. Those factors create the "opportunity for the company to outperform expectations" based on strong sales. Fortinet trades at a discount to next-gen security software, providing an attractive entry point for investors.
Imperva Inc (NYSE: IMPV): Wunderlich initiated Imperva with a Buy rating and a $75 price target. Since an April 2014 misstep, Wunderlich said that the shares have rebounded "nicely" amidst key leadership changes. Importantly, the company trades at a discount to peers. Given the "strategic approach to data security," Imperva shares should move higher, giving investors "Strawberry Fields," but not forever.
Intrexon Corp (NYSE: XON): Wunderlich rated Intrexon a Buy with a $55 price target, saying that it represents an "opportunity for investors to take advantage of a large and untapped market." The company's customer base is in synthetic biology, a trend that is "dominant" in biotech and genetic engineering. Additionally, the "favorable economics" make current prices attractive.
Related Link: Where Will Intrexon Shares Go Next?
Lifelock Inc (NYSE: LOCK): Wunderlich initiated Lifelock at a Buy with a $20 price target, compared to Monday's close at $16.51. With data breaches continuing at an "alarming rate," Lifelock's discounted valuation is "unwarranted." Additionally, the fact that Lifelock is introducing higher-priced products point to strength, particularly in an "underpenetrated market." At current prices, Lifelock is at an "attractive entry point."
Mobileiron Inc (NASDAQ: MOBL): Wunderlich believes Mobileiron, which closed at $5.97 Monday, is worth $9 per share. Rating it a Buy, the analysts said that the company's "attractive valuation should reward investors" who are willing to wait for the turnaround to occur. That turnaround, Wunderlich said, will take place in the second half of this year. Mobileiron, who is "Transitioning the Mobile Jungle," has a distinct advantage over competitors, which is that it is agnostic to device type and application.
Qualys Inc (NASDAQ: QLYS): Qualys is "Down, but Not Out" after dropping sharply following the Q1 earnings shortfall.Wunderlich said that Qualys is a Buy with a $50 price target. However, Wunderlich said that there is opportunity now for investors to acquire shares. Specifically, they noted that the Q1 performance was not related to "competitive or industry-related issues," meaning that management can fix them by lowering "the estimate bar." That will lead to future earnings beats, restoring investor confidence.
salesforce.com, inc. (NYSE: CRM): The analysts initiated Salesforce with a Buy rating and an $85 price target. Wunderlich pointed to the fact that management is delivering on promises, citing the company's fourth consecutive quarter of operating margin expansion. A leader in the cloud, Wunderlich said it likes the fact that Salesforce still trades at a slight discount to peers on a price to sales basis.
Related Link: Wunderlich Initiates Salesforce At Buy, Says "The Force Will Be With You"
Tableau Software Inc (NYSE: DATA): Tableau was initiated at a Buy with a $130 price target, $16 higher than Monday's $113.65 closing price. With Tableau, "Seeing is Believing." The company is expanding its overall market share, a factor that "warrants" its premium multiple. Further, against larger players, Tableau has "rapidly" performed better than "legacy business intelligence vendors."
'You Gotta Know When To HOLD 'Em'
Adobe Systems Incorporated (NASDAQ: ADBE): Adobe has a dominant position in the "core creative market category" with little or not competition, according to the analysts. Wunderlich said that there could be "significant margin expansion" ahead. However, the analysts could not get beyond the disappointing Q1 subscriber growth, rating the company a Hold with a $90 price target.
Microsoft Corporation (NASDAQ: MSFT): While Wunderlich is bullish on the "strategic transition" to a cloud-first strategy, the analysts rated Microsoft as a Hold with a $52 price target. Longer term, the company should be stronger, with improvements to revenue growth and margins. Further, Wunderlich said that Microsoft's Azure may be "under-appreciated" as a key pillar to future growth.
Related Link: Microsoft, Apple, Actavis Among Hedgies', Mutual Funds Favorite Stocks
Oracle Corporation (NYSE: ORCL): Initiated at a Hold with a $47 price target, Wunderlich is not as optimistic of big, existing tech. Specific to Oracle, the analysts expect the company's transition to subscription from upfront software licenses will lead to lower short-term revenue growth and depressed margins. With that uncertainty, the analysts question the current premium multiple.
Palo Alto Networks Inc (NYSE: PANW): Palo Alto Networks is "extremely well positioned" to capture market share, leading the analysts to relate buying shares to "Panning for Gold." The company is growing at more than 50 percent over incumbent vendors, a rate that Wunderlich said could continue for a few years. Despite that, the valuation is high and the analysts pegged the stock with a Hold rating and $180 price target.
Related Link: Analysts Reach Bullish Consensus On Palo Alto
Symantec Corporation (NASDAQ: SYMC): "Breaking Up is Hard to Do," Wunderlich said, referring to Symantec's separation of its security and storage businesses. That break, which will happen in early 2016, may create a "more focused company." However, at the same, time, it will result in "more risks" due to "transitional issues." Wunderlich initiated at a Hold with a $27 price target.
Workday Inc (NYSE: WDAY): Wunderlich said that Workday's "valuation remains at a significant premium," saying that the stock is a Hold with a price target of $88. Further, the expansion to financial applications is much hyped, meaning that actual results could "disappoint investors' expectations." That's enough to keep you "Workin' for a Livin'."
Image Credit: Public Domain
Posted-In: Wunderlich SecuritiesAnalyst Color Biotech Initiation Analyst Ratings Tech Trading Ideas
View Comments and Join the Discussion!