International Air Transport Association Lifts 2015 Global Airline Profit Forecast from $25B to $29.3B
In a press release rolled out Monday, the International Air Transport Association (IATA) raised its net profit forecast for airlines in 2015, from $25 billion to $29.3 billion. According to the note, the industry is expected to deliver revenues of $727 billion and a net profit margin of 4 percent.
The current estimate of $29.3 billion in net profit implies a 78.6 percent increase from last year's $16.4 billion, and "reflects the net impact of several global factors, including stronger global economic prospects, record load factors, lower fuel prices, and a major appreciation of the US dollar."
While analysts forecast improved profitability in all regions this year, some will be more benefited than others. North America will continue to be the strongest, contributing with more than half of the total profit (North America-based airlines are expected to generate $15.7 billion in net profit in 2015). Moreover, EBIT for North American airlines (over 12 percent) is expected to more than double the other regions.
Tony Tyler, IATA's Director General and CEO explained, "For the airline business, 2015 is turning out to be a positive year. Since the tragic events of September 2001, the global airline industry has transformed itself with major gains in efficiency. This is clearly evident in the expected record high passenger load factor of 80.2% for this year. The result is a hard-earned 4% average net profit margin. On average, airlines will retain $8.27 for every passenger carried."
The following graph summarizes the situation in the industry.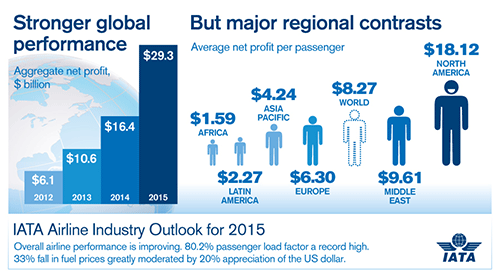 Source: IATA
Year-to-date, shares of
Among major airlines, only JetBlue Airways Corporation (NASDAQ: JBLU) has gained more than 20 percent.
View Comments and Join the Discussion!
Posted-In: IATA International Air Transport Association Tony TylerEconomics Movers Trading Ideas