3 Experts Weigh In On Oil Inventories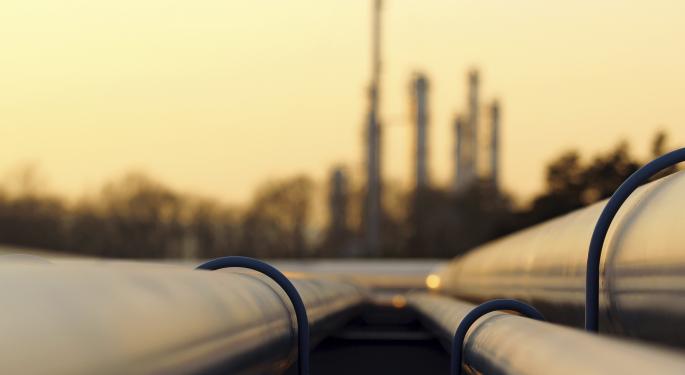 The U.S. Energy Information Administration released its weekly Petroleum Status Report Wednesday morning.
The institute reported a decrease in crude oil inventories of 1.9 million barrels for the week ending May 29, versus expectations of a draw of 1.7 million. Still, at 477.4 million barrels, U.S. crude inventories remain near levels not seen for this time of year in 80 years.
Distillate fuel inventories were up by 3.8 million barrels, compared to projections of only 1.09 million. Gasoline inventories were down 0.3 million, whereas experts had predicted a build of about 0.5 million.
Both Brent and WTI futures have dipped during the day, despite the draw from crude inventories. However, major U.S. oil companies, such as Exxon Mobil Corporation (NYSE: XOM) and Chevron Corporation (NYSE: CVX), were trading up shortly after the data came out.
The United States Oil Fund LP (NYSE: USO) recently traded at $20.16, down 2.5 percent.
Some industry experts shared their thoughts with Benzinga.
Adam Sarhan, CEO of Sarhan Capital
According to Sarhan, the market has largely discounted the inventory figures. He said that indicators of global economic health, as well as the value of the dollar are much more important than inventories in determining expectations for oil prices.
He expects the U.S. unemployment report due to be released this Friday to move the oil market more than Wednesday's figures. Job growth (as suggested by today's ADP report) would signal increased demand, he said, and would be more likely to push up prices.
Sarhan also sees the devaluation of the dollar as a positive sign for commodity prices.
Related Link: 5 Junior Gold Miners Trading At Less Than $110 Per Ounce
JJ Kinahan, Chief Strategist at TD Ameritrade
Kinahan said there was a "strange reaction" from the market following the EIA report. Prices initially climbed, as one might expect given a greater-than-expected draw from inventories, but then declined to hover around $60. "I think people got caught up in the initial euphoria," he posited, "but it's still hard to break away from this $60 mark."
He also discussed the fluctuation in crude imports. The U.S. imported an average of 7.4 million barrels per day last week, up by 677,000 per day the previous week*. According to Kinahan, one interpretation is that the domestic economy has gotten healthier, and thus U.S. residents are demanding more oil.
In addition, he said increased imports could be a function of decreased supply by U.S. drillers, which have been pushed out of the market by lower prices. He cited the April jobs report, in which the only sector to lose employees was the drilling industry.
Kinahan, like Sarhan, believes that Friday's unemployment figures could cause volatility in the oil market by signaling changes in demand, as well as the health of the U.S. oil industry.
Tim Anderson, Managing Director at TJM Investments
Anderson noted that although gasoline inventories are down for the fourth straight week and crude inventories were down for the fifth week, overall inventories are still at "tremendously high levels."
Meanwhile, he said, domestic production is relatively strong during the "summer driving season" and OPEC countries have continued pumping "full speed ahead." Therefore, Anderson doesn't think that today's low prices are much of a surprise, despite the large inventory draw.
Anderson, unlike Sarhan and Kinahan, doesn't believe that the upcoming jobs report will have much of a direct effect on oil. He does, however, think that Friday's numbers could move the value of the dollar. Since the U.S. dollar is the base currency for measuring crude prices, he acknowledges that the employment figures could influence oil futures indirectly.
*Editor's note: A previous version of this story said, "The U.S. imported an average of 7.4 million barrels per day last week, compared to only 677,000 per day the previous week."
View Comments and Join the Discussion!
Posted-In: Adam Sarhan Energy Information Administration Timothy AndersonAnalyst Color Economics Exclusives Analyst Ratings Best of Benzinga