UBS Study: Where Will US Residential Solar Be Viable In The Future?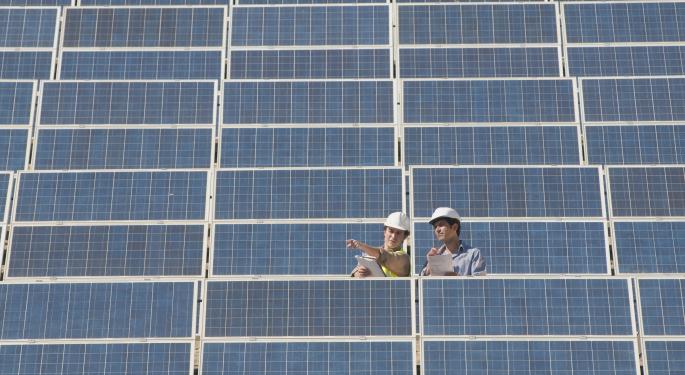 During the past couple of months, UBS analyst Julien Dumoulin-Smith and his team have been taking on the daunting task of researching and modeling the brave new world facing U.S. solar energy companies and electric utilities after Federal ITC subsidies phase out in 2017.
How will the economics change for U.S. residential solar consumers? Do state subsidies really matter? What will be the key variables to watch moving forward?
Difficult Questions For Investors
Where will opportunities be found and what will the value proposition look like for distributed residential solar leaders SolarCity Corp. (NASDAQ: SCTY) and Vivint Solar (NYSE: VSLR), who currently account for 33 percent and 13 percent market share, respectively?
There are such a large number of variables that simply identifying them is a difficult task -- let alone modeling them -- in order to predict what U.S. residential solar economics will look like in 2017 and beyond.
Incentives Fueled Growth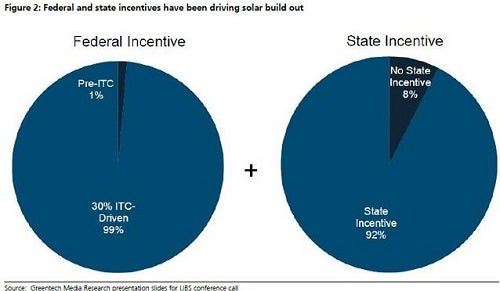 UBS had previously published a report "Saved by the States," in April 2015, which concluded that just looking at the state level, "incentives have a significant impact on residential solar viability."
What impact would there be if state incentives are phased out, or program funds are depleted?
Beyond California - East Coast Opportunities
On May 21, UBS published a report, "How Economic Is Residential Solar?" which looked at several residential solar scenarios sans subsidies.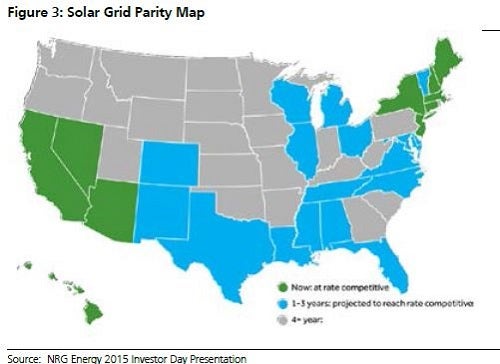 Based on a sum of the parts valuation, even a huge investor owned utility like NRG Energy, Inc. (NYSE: NRG) could generate significant revenues from solar projects, "applying comparable value on a per customer basis to SCTY," according to Dumoulin-Smith, could move the needle ~$5 per share.
As the map indicates, many opportunities exist on the east coast right now.
Utility Rate Structure Trumps Sunshine
According to Dumoulin-Smiths "…out of the top markets based on IRR with incentives removed: NV, CO, UT, NC, and VA don't crack the top-10, even with their high irradiances respectively. Instead, many east coast markets like NY, CT, VT, MA, NH, and NJ are included in the top-10, and all have high energy costs."
UBS - 3 Scenarios At A Glance
Current Scenario: As shown in the chart below, "HI, MA, NC, NJ, LA, NY, MD, RI, and CA comprise the states with the top-10 IRR's. In this scenario, systems in HI are paid back in 2.6 years, with the remaining state's pay backs between 4.5 and ~9 years."

With the exception of RI and CA, the top eight states have IRR's greater than 15 percent. Notably, CA incentives have already been depleted at the state level, which makes CA the most mature market, outside of HI.
Remove Federal ITC Subsidy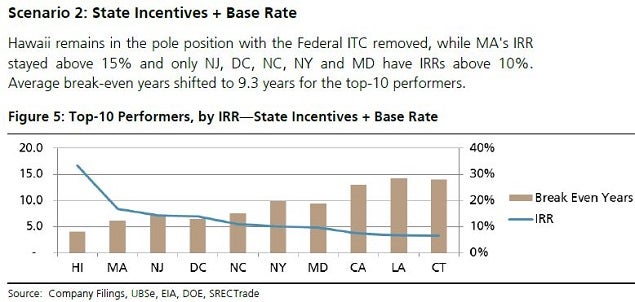 Notably, "outside of HI, the states with IRR's above 10% are all located on the East Coast, highlighting the initiatives in the region to promote solar adoption, combined with high energy costs." Louisiana has a 50 percent state ITC, however there has been relatively little solar adoption to date.
Scenario 3 - No Incentives: High utility rates and irradiance drive economics, with utility rates making east coast markets economically viable.

"Without any incentives to offset installation and equipment costs, only HI maintains an IRR over 15%... with 8 states having IRR's between 5% and 10%. These states include CA, NY, CT, VT, MA, NM, AZ, and NJ."
Utility Rate Structures Will Evolve
As alternatives to utility generated power evolve, the way that rate payers are billed is also likely change, with either a larger fixed charge added to all or the majority of power bills, or some form of minimum billing for all low consumption customers who are connected to the grid.
Investor Takeaway
Between technological advances, federal and state mandates and regulations, as well as local approval of utility rate structures, modeling the future is no easy task. However, the UBS report clearly shows why east coast markets in the U.S. will become more important over time.
Posted-In: Analyst Color Long Ideas Education Top Stories Analyst Ratings Tech Trading Ideas General Best of Benzinga
View Comments and Join the Discussion!