Tesla 'Winning' Battle Versus States In Direct Selling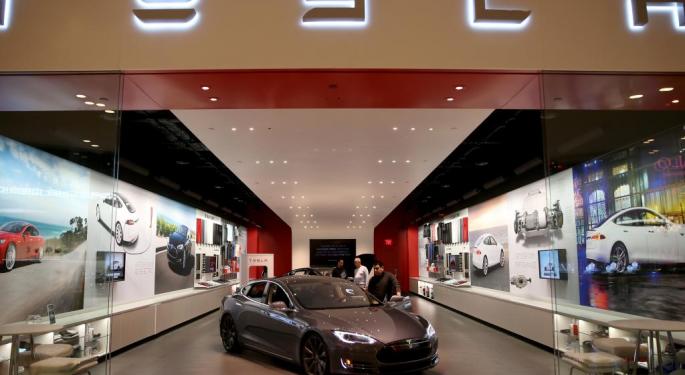 In a new report, analysts at Morgan Stanley looked at Tesla Motors Inc (NASDAQ: TSLA)'s campaign to fight local state laws in the U.S. that ban automobile manufactures from selling directly to consumers.
According to Morgan Stanley, Tesla is winning the battle against these antiquated laws, and the changes that Tesla's efforts bring about could have wide-reaching effects within the auto industry.
Bigger Than Tesla
The Federal Trade Commission (FTC) recently weighed in on the issue, in support of Tesla's efforts to strike down state laws requiring auto manufacturers to sell only through local dealerships.
Morgan Stanley analysts see the issue as much larger than only Tesla.
"The issue is far bigger than Tesla and with so many new players trying to address the century-old automobile market in radically different ways (tech firms and new auto companies alike) it seems obvious to us that Tesla will soon not be alone," analysts explain.
Related Link: GoPro CEO: Coming Transformation Like 'iPod Before And After iTunes'
The report mentions Apple Inc. (NASDAQ: AAPL) as one potential future ally of Tesla in the fight against auto franchise laws.
If The Franchise Model Works, What's The Need For Laws?
Analysts point out the inconsistencies in Michigan Governor Rick Snyder's argument against Tesla owning stores in Michigan, which centered around protecting existing independent franchises.
This argument has no relevancy when it comes to Tesla, which has no preexisting franchises in Michigan and no intentions of creating any in the future.
Only A Matter Of Time
According to Morgan Stanley, it's a matter of "when" rather than "if" when it comes changing the auto franchise laws. Morgan Stanley has an Overweight rating on Tesla and a $280 price target for the stock.
Posted-In: Direct Sales Tesla TeslaAnalyst Color News Legal Analyst Ratings Tech Best of Benzinga
View Comments and Join the Discussion!