Risks For Alibaba, Yahoo And Internet Stocks? Bernstein Just Laid Them Out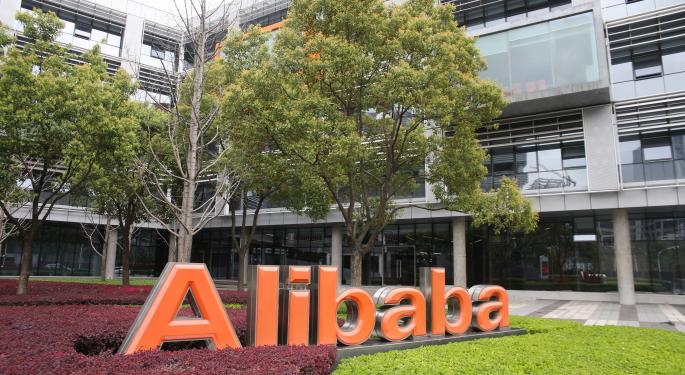 Alibaba Group Holding Ltd (NYSE: BABA) shares are rising nearly 1 percent on Thursday morning on the back of an initiation at Bernstein. The Wall Street firm holds an Outperform rating on the Internet giant with a $120 price target.
Aside from the headline news, there's also an interesting section on downside risk buried in the report. Below is what Bernstein laid out on the sector, Alibaba and Yahoo.
U.S. Internet Sector Risks
"Global economic conditions: Consumer and advertising spend are the main drivers of revenue for all companies in our coverage, and deterioration of economic conditions could have a material negative impact on revenues and earnings of all companies in our coverage."
"Cyber-security: All companies in our coverage depend on the global Internet. Their data (including user-data), infrastructure, and services could be compromised either by malicious attackers or by an "act of God" that compromises major portions of their Internet infrastructure. This could have a major negative impact on revenues and earnings of all companies in our coverage."
"Network neutrality: Companies in our coverage pay telecommunications service providers for terminating their traffic in accordance to local regulation and business practices, either directly or through third-parties (e.g., CDNs). They do not pay to ensure that their traffic is delivered to the end user with a higher or lower priority than other traffic from the Internet. If fixed or mobile telecommunications service providers were to charge Internet companies for the delivery of bits beyond the usual traffic termination charges, the revenues, earnings and stock prices of companies in our coverage could be negatively affected."
"Privacy: Privacy-related regulation or a major leak of consumer information leading to lower Internet usage could have negative impact on the future revenues, earnings and stock prices of all companies in our coverage."
"Disruptive innovation or global competition: ...Because of relatively low barriers to entry, they face the risk of increased competition from a new entrant or from a established business in an adjacent space (e.g., Google, Apple or Netflix selling books online); successful entry or even its announcement could have a negative impact on future revenues, earnings and/or stock prices."
Related Link: Pedone: Twitter, Alibaba Are 'Solid' Setups
Alibaba Downside Risks
Revenue or EBITDA growth and expectations could be hurt by competition from Amazon.com, Inc. (NASDAQ: AMZN), JD.com Inc (NASDAQ: JD), and competitors. This could be due to "difficulties" related to mobile ad monetization.
Acquisitions in which Alibaba uses a "material" chunk of cash could hurt shares.
Government regulation could require restructuring.
Yahoo Downside Risks
Growth could fall due to increased competition from Facebook Inc (NASDAQ: FB), Google Inc (NASDAQ: GOOG) and others related to mobile ads.
Acquisitions that use a "material" chunk of cash.
Ratings
Of course, these are just downside scenarios.
Bernstein -- on the whole -- remains bullish on Alibaba and sees upside of 33 percent. It also holds a Market Perform rating on Yahoo! Inc. (NASDAQ: YHOO) with a price target of $52, well above the stock's current trading range.
Posted-In: Alibaba Bernstein Internet Stocks YahooAnalyst Color Analyst Ratings Tech Best of Benzinga
View Comments and Join the Discussion!