Analyst Sees Automated Driving Cutting Car Production By More Than 50%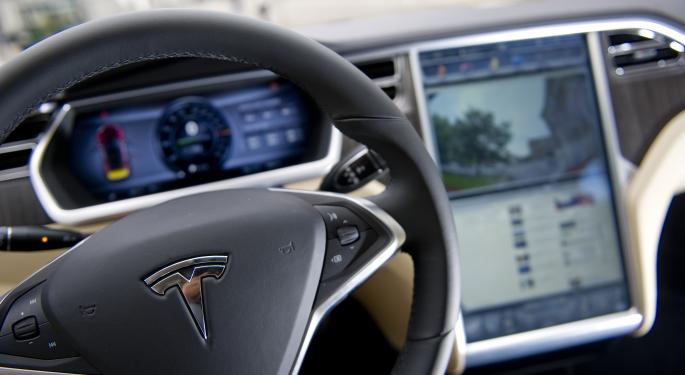 While some people speak wistfully about their first cars, automotive analyst Brian Johnson talks about his first object-oriented graphical interface.
"It was nearly 35 years ago," Johnson said. "It was a radical experience, but highly impractical, costing $16,000."
But just as the $16,000 computer became today's $500 laptop, "so too are fully self-driving cars on their way to reality," said Johnson of Barclays Research.
Shared autonomous vehicles, summoned almost instantly via some futuristic version of the Internet, could displace half the market for traditional automobiles and cut up to 68 percent of the annual production of companies like Ford Motor Company (NYSE: F) and up to 58 percent for General Motors Company (NYSE: GM), Johnson said.
Related Link: Barclays On Tesla: The Disrupter Gets Disrupted
With the average vehicle driven only 56 minutes a day currently according to Johnson, the world's fleet of private automobiles represents underutilized capacity and thus perhaps an economic incentive for change.
Johnson figures the average user cost for shared automated vehicles would be $0.44 a mile for a private ride.
That compares with about $0.59 per mile in current costs for driving a private vehicle, according to the American Automobile Club.
The Major Players
Google Inc (NASDAQ: GOOG) (NASDAQ: GOOGL) "could be a player in this new paradigm," according to Johnson, who cited Google's 2020 target to have an autonomous car available.
Rather than building cars, Johnson said Google might look to a contractor to build robot cars as well as license its technology to traditional auto makers.
Tesla Motors Inc (NASDAQ: TSLA) often seen as forward-looking, offers both status and performance, but its plans to go mass market "may be thwarted not only by incumbent competitors, but by the disappearance of the individual ownership model," Johnson said.
Auto parts suppliers would be losers in Johnson's Brave New World, while auto rental companies could evolve into managers of giant fleets of shared, autonomously driven vehicles.
Editor's note: A previous headline for this article said production could be cut by 70 percent. The headline and in-story percentages have since been clarified.
View Comments and Join the Discussion!
Posted-In: Barclays Brian JohnsonAnalyst Color Analyst Ratings Best of Benzinga