Oppenheimer Likes This Mortgage LP - A 'Tax Advantaged' Yield Over 12%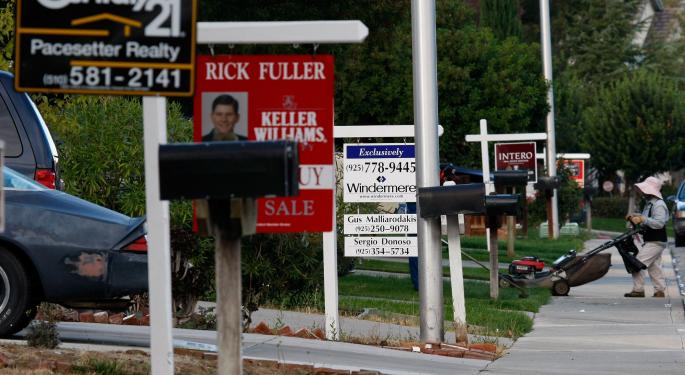 If the Holy Grail for income investors is a dependable, high-yielding, tax-exempt dividend; then small-cap America First Multifamily Investors LP (NASDAQ: ATAX) is certainly worth a closer look.
On May 11, Oppenheimer & Co. released a quarterly update maintaining its Outperform rating on this tax-exempt mortgage revenue bond funding specialist, which is managed by an affiliate of Omaha-based Burlington Capital Group.
Tale Of The Tape - YTD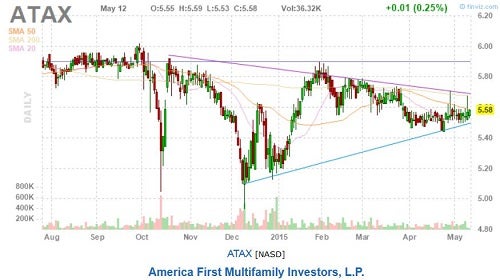 ATAX shares historically have traded in a fairly narrow range, with notable drops in share price primarily related to secondary share issuance, (at below the market price for its shares).
So, for most investors it is all about the high tax-advantaged dividend.
ATAX - Business Model/Portfolio
As of Dec. 31, 2014 ATAX owned 35 tax-exempt mortgage revenue bonds and 1 taxable mortgage revenue bond. The revenue bonds were issued by state and local issuing authorities to provide for permanent financing of multifamily residential property and one student housing property, totaling 3,313 rental units, located in 13 states.
The Fund also owns 8 additional properties comprising 2,163 units which provide additional income to the Partnership in the form of property net operating income and are located in the states Georgia, Indiana, Kentucky, Texas, Kansas and Nebraska.
How Does ATAX Compare?
There doesn't appear to be a direct comparison available for the ATAX business model. In some respects ATAX is similar to a high-yield mREIT, and yet in other respects it has features similar to a closed-end municipal bond fund.
Most income investors are familiar with large cap agency mREITs Annaly Capital (NYSE: NLY) and American Capital Agency (NYSE: AGNC), which currently yield ~12 percent and 11.68 percent, respectively.
The ATAX tax-advantaged dividend yield of ~9 percent compares quite favorably for many investors in higher income tax brackets; with Oppenheimer calculating that an ATAX yield of 8.7 percent is equivalent to a 12.7 percent taxable yield.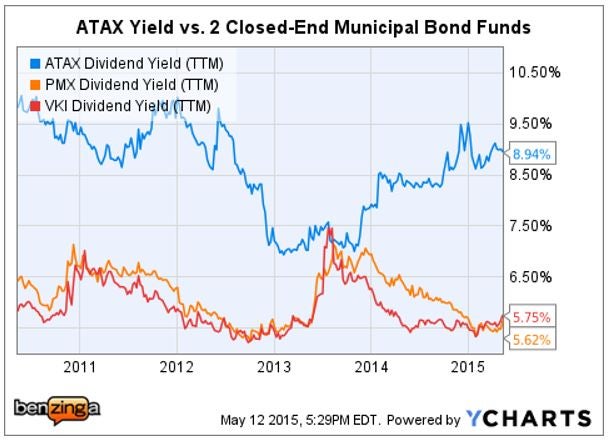 The PIMCO Municipal Income Fund III (NYSE: PMX) and Invesco Advantage Municipal Inc. (NYSE: VKI) are closed-end tax-free, agency rated, municipal bond funds managed by two well-known and highly respected sponsors.
While ATAX isn't a closed-end bond fund by any means, it does pay out a much higher yield for investors looking for tax-advantaged dividends.
However, when it comes to risk-adjusted returns, investors are depending upon the expertise of sponsor Burlington Capital to underwrite the projects funded by the mortgage revenue bonds.
Oppenheimer - ATAX: Outperform Rating, $6.50 PT
The Oppenheimer $6.50 price target represents a potential 16.5 percent upside from the recent close of $5.58 per share.
Oppenheimer derived its price target by taking into account the current 2 percent 10-Yr Treasury note environment, and viewing ATAX's risk-adjusted dividend yield to be in the range of 7 to 8.5 percent.
"In light of the company's use of leverage, liquidity and need to fully lever up capital, [Oppenheimer] believe[s] a premium yield relative to Treasuries is justified. With the annualized dividend currently at $0.50, this implies a share price of $6.50."
Oppenheimer - Q1 Earnings Takeaways/Risk Factors
Q1 Revenue: - $0.09 per share came in light vs. Oppenheimer $0.11estimate, due to higher G&A expenses.
FY 2015E: Oppenheimer is reducing its EPS estimate from $0.48 to $0.43 per share; however, remains bullish on ATAX due to higher expenses being related to its growing deal pipeline.
CAD vs. Dividend: To the extent that ATAX quarterly earnings may be below cash available for distribution (CAD), the payment of declared dividends may reduce book value per share.
Funding Sources: ATAX currently relies on an "attractive financing vehicle" from Deutsche Bank, which currently result in a ~4 percent interest rate spread; however, ATAX also uses a derivative strategy to cap its rate risk.
Equity vs. Funding: The faster ATAX is able to securitize construction and rehab projects, the less equity/spread risk for the company.
Investor Takeaway
ATAX has been able to maintain a consistent quarterly dividend of $0.125 since 2009.
Notably, the company has a history of generating additional income most quarters through the sale of properties and/or bond issues.
ATAX is a partnership which issues K-1's to unit holders which designate the treatment of dividends for tax purposes. Investors should always consult a tax professional or investment advisor regarding the suitability of any investment.
View Comments and Join the Discussion!
Posted-In: Analyst Color Long Ideas REIT Small Cap Analysis Top Stories Analyst Ratings Personal Finance Trading Ideas Best of Benzinga