Yelp M&A Chatter: Good For Buyer, Bad For Small Businesses?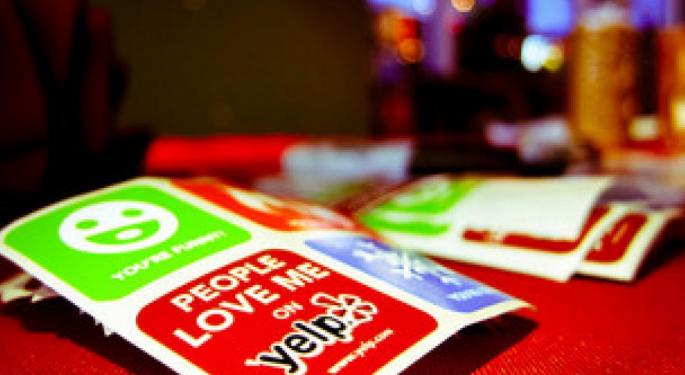 Yelp Inc (NYSE: YELP) may be seeking a buyer amid slow growth and rising costs. Is this a smart acquisition or a company that should be left behind?
"If you talk to the small business user, they are not happy with Yelp," Global Equities Research analyst Trip Chowdhry told Benzinga. "They think it's an extortion business."
Chowdhry said that users have complained that they must pay in order to secure positive reviews for their businesses. They claim they must also pay to rectify any negative reviews posted on the site.
"They don't have a nice feeling toward Yelp," he said. "When it comes to the monetization, it's not easy. It is very complicated. Is there any life left in Yelp? Or is a company better off by putting their own review sites on Facebook that people can review and the owner can respond on a one-to-one basis?"
Chowdhry believes that Yelp's "novelty effect" is starting to fade. He said Yelp has failed to evolve with the times, as it has led to a culture where users leave reviews and move on.
"[That] does not help anyone -- the customer or the [business] owner," Chowdhry added. He believes that Yelp has value but said it is much lower than the market cap implies, noting that a "sensible buyer" wouldn't pay more than $500 million.
"Three billion dollars does not make sense," he said.
Related Link: Yelp Not Getting Help From Any Potential Suitors
Google Might Be The Best Fit
Cody Willard, chairman of Scutify and Futr, told Benzinga that the right M&A combo "would create a lot of value for the right acquirer."
"I think Google is probably the best fit [for Yelp], but I don't know that Google would be able to even if they wanted to because of regulatory reasons," said Willard. "Google's in the crosshairs of European regulators for antitrust reasons and this would raise alarms in Europe."
And Then There's Yahoo…
An activist investor once pushed for Yahoo! Inc. (NASDAQ: YHOO) to acquire AOL. That dream ended the moment AOL was acquired by Verizon Communications Inc. (NYSE: VZ). Will Yahoo miss out on another opportunity to acquire a well-known brand?
"I don't think Google would be a buyer," Sean Udall, CIO of Quantum Trading Strategies and author of The TechStrat Report, told Benzinga. "I've always said the most likely buyer of Yelp is Yahoo."
Udall said that, despite the numerous acquisitions made by Yahoo after Marissa Mayer became CEO, the company hasn't done anything to move the revenue needle. By acquiring Yelp, Yahoo would own a company that is expected to earn roughly $400 million to $500 million this year.
"At least you're buying a fairly big chunk of revenue," said Udall.
Disclosure: At the time of this writing, Louis Bedigian had no position in the equities mentioned in this report.
Image credit: Nan Palmero, Flickr
Posted-In: Cody Willard Sean Udall Trip ChowdhryAnalyst Color Small Business Exclusives Tech Best of Benzinga
View Comments and Join the Discussion!