BlackBerry-Apple M&A Rumor: This Looks Familiar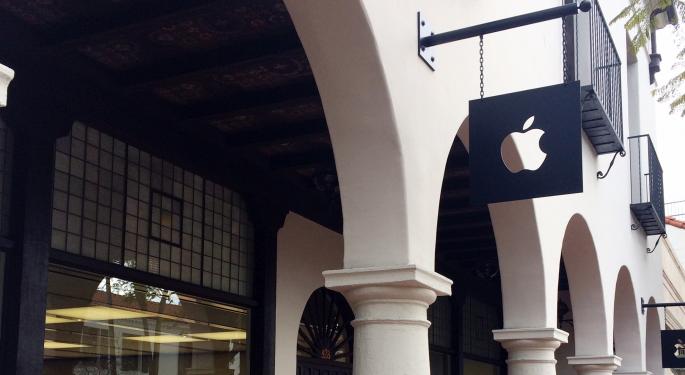 Shares of BlackBerry Ltd (NASDAQ: BBRY) were trading higher by more than 6 percent heading into the final 30 minutes of trading on Monday after a rumor surfaced earlier that Apple Inc. (NASDAQ: AAPL) is considering an acquisition of BlackBerry.
Shares closed up 5.8 percent on the day.
Some think the rumor has merit. Sean Udall, CIO of Quantum Trading Strategies, told Benzinga that it is possible several government are beginning to worry that BlackBerry's days are limited given a turnaround plan that is still uncertain.
"The one way this deal might work is if the U.S. governments [and others] basically want Apple to buy them because they're worried that BlackBerry, effectively, won't be around in its current form," Udall said.
Not The First Time
BlackBerry's name has been mentioned as a potential buyout target several times in the past.
Shares of BlackBerry surged 30 percent on January 14, following a Reuters report that Samsung was interested in acquiring BlackBerry for up to $7.5 billion, valuing shares at as much as $15.49.
Related Link: The No. 1 Reason For Apple To Acquire BlackBerry
However, shares of the company quickly reversed after it issued a response stating it was "not engaged in discussions with Samsung with respect to any possible offer to purchase BlackBerry."
Wall Street's Take
Mike Walkley, an analyst at Cannacord Genuity spoke to Benzinga a week after investors and traders fully digested the news that Samsung has no interest in BlackBerry. At that time, a new rumor surfaced that LG Electronics was also interested.
"LG is struggling to be relevant in the larger Android consumer market, so I'm not sure what they would get with BlackBerry," Walkley said.
An LG-BlackBerry combination made less sense than a Samsung-BlackBerry combination, he noted.
Near that same time, Morningstar's Brian Colello also discussed the topic of BlackBerry rumors. "They're the leader in security systems and still have top-notch secure devices," he said. "As smartphone makers try to break into the enterprise and sell more to corporations and businesses, those security features have some real value."
View Comments and Join the Discussion!
Posted-In: Blackberry Bloomberg Cannacord Genuity LG Electronics Mike WalkleyAnalyst Color News Rumors Best of Benzinga