3 Reasons Apple Will Finally Ship A 12-Inch iPad In 2015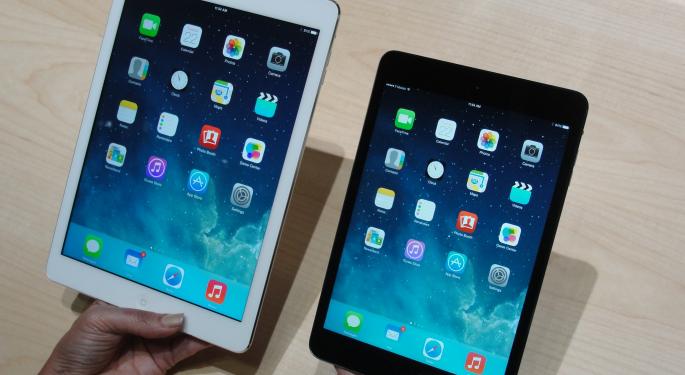 Apple Inc. (NASDAQ: AAPL) has been rumored to be working on a larger iPad for more than 18 months. The giant tablet was once thought to be a hybrid between the iPad and the MacBook Air, but Apple quashed those rumors when it unveiled the 12-inch MacBook.
There were times when Apple was expected to release a larger iPad -- an iPad XL, if you will -- in the first half of the year. According to Bloomberg, the product was ultimately delayed until fall.
AppleInsider recently reported that the device will include Force Touch, a Bluetooth stylus and a USB-C connector. The report lacked one key element, however: information on a potential release date.
"The timetable for release for this device is unknown," AppleInsider wrote. That doesn't mean Apple won't release a 12-inch iPad in 2015. In fact, if all the rumors are true, the company should be very close to production.
"I think it is coming," Global Equities Research analyst Trip Chowdhry told Benzinga. "I think the timeframe of the launch could be September and people will start getting it in the month of October."
Read on to see the three reasons why Sean Udall, CIO of Quantum Trading Strategies and author of The TechStrat Report, thinks a large iPad is headed to retail.
Related Link: How Tesla Will Surpass Apple And Become The 'Most Valuable Company Ever Created'
1. Business Users Need A Larger Display
Udall told Benzinga that business users "want a product [with] a bigger display."
"Did we really need a 4.5 to 5.5-inch iPhone?" he questioned. "The old one did work just fine. I love the iPhone 5S, [but] the bigger screen is definitely nice. I was an Android user for about 18 months to two years because I like those larger screens. I think the iPad is sort of the same."
Udall said he wouldn't want to work all day on the current iPad, but there are many individuals who use it instead of a laptop or some other device.
"There are millions of people, like drug reps, who basically do their entire job on an iPad," he said. "I think anybody using the iPad, especially if you use it all day for business purposes, a bigger iPad would just make more sense. It would give more functionality, a bigger screen. If you want to show a group of people the screen to display something, it's just easier to see."
2. Business Applications Lend Themselves To A Larger Screen
"I think for business applications, it kind of lends to that, too," said Udall. "So whether you're doing spreadsheets, Word file displays, any sort of presentation, things like that, that bigger screen matters."
In time, Udall believes Apple will eliminate the iPad Mini. When the 12-inch iPad arrives, the standard, 10-inch model would become the smaller unit, minus the "Mini" branding.
"Here's the reason: the biggest iPhone right now is not much smaller than an iPad Mini," Udall explained. "Between the big iPhone and iPad Mini, you don't get that much variation."
Udall said he is "almost positive" this is going to happen. He also speculated that Apple may release a phone that is one size bigger in the next year or two, which would be another blow to the iPad Mini.
3. IBM Partnership
Lastly, Udall pointed to Apple's partnership with International Business Machines Corp. (NYSE: IBM).
"IBM is specifically writing business apps for the iPad," he said. "I'd almost guarantee you IBM is saying, 'Hey, we're gonna put in all this time and energy, we've got this partnership, we want to make it flourish, let's make sure we have a screen size to take advantage of all these business apps."
Disclosure: At the time of this writing, Louis Bedigian had no position in the equities mentioned in this report.
Posted-In: 12-inch iPad Apple Global Equities Research IBM iPadAnalyst Color Exclusives Tech Best of Benzinga
View Comments and Join the Discussion!