Apple Watch Is 'Going To Be Huge' Despite Ongoing Supply Issues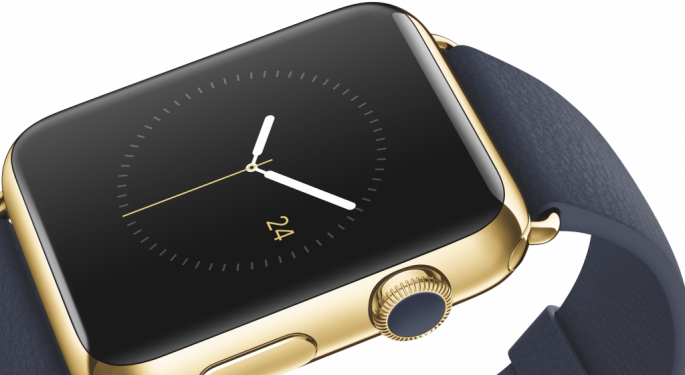 Some consumers are still waiting for Apple Inc. (NASDAQ: AAPL)'s long-awaited smartwatch.
The hype and anticipation was supposed to come to an end on April 24, but the company reportedly had a number of supply issues that prevented Apple from selling its newest device in its own stores. A report by The Wall Street Journal indicated that a faulty Taptic Engine could be to blame for Apple's troubles. In a note to investors, Global Equities Research analyst Trip Chowdhry said that this issue has been solved and referred to the story as "old news."
Even so, Apple has another problem to deal with: some consumers have found that the watch does not work properly on tattooed skin. Other users claim that it has casued a skin rash. Analysts don't seem too worried, however.
"I think the watch is going to be huge," Tigress Financial Partners analyst Ivan Feinseth told Benzinga. "All you have to do is go to the store and look at the watch, play with it and test it out and you will understand the impact that it will have."
Many analysts expect Apple to sell 20 million watches during the first 12 months at retail. Feinseth said that would be just a few percentage points of Apple's total market penetration for the existing iPhone 5 and iPhone 6 user base.
"But 20-25, 30 percent of iPhone users could adopt and use the watch," he said. "That's about 100 million watches. So you're talking about a real product line. That's a very important product line."
Related Link: Apple's 'Massive' Quarter Shows The Company Is A 'Juggernaut Across The Board'
'Love And Respect'
Consumers might be upset with Apple, but this shortage is unlikely to diminish consumers' overall feelings about the company.
"Consumers' love and respect for Apple's innovations, as proven by the success of [the] iPhone, will carry over to Apple Watch," Phani Pandrangi, chief product officer at Kii (an IoT platform provider), told Benzinga. "[This is] especially driven by these two underlying points -- enabling new interaction patterns and making normal uni-functional (but daily use) devices super functional without losing ease of use or beauty."
Pandrangi said that consumers will also "gravitate" toward the Apple Watch "because of the enormous developer and app ecosystem that Apple already has."
"Consumers just know that there will be a ton of apps for Apple Watch," he said.
'Better Than The Naysayers'
Sean Udall, CIO of Quantum Trading Strategies and author of The TechStrat Report, has not adjusted his expectations for the Apple Watch.
"Overall, it's going to do way better than the naysayers say," Udall told Benzinga. "I'm still sticking to my numbers until proven wrong. It's not a demand issue, it's a manufacturing issue."
Udall expects Apple to sell 15 million Apple Watch units during the first 12 months at retail.
Disclosure: At the time of this writing, Louis Bedigian had no position in the equities mentioned in this report.
Posted-In: Apple Watch Ivan Feinseth Kii Phani Pandrangi Sean UdallAnalyst Color Exclusives Tech Best of Benzinga
View Comments and Join the Discussion!