Twitter Shares Crumble; Wall Street Reacts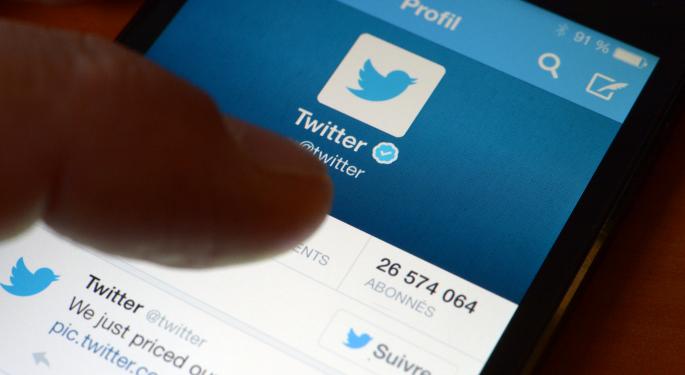 Twitter Inc (NYSE: TWTR) reported Q1 earnings Tuesday and disappointed investors with weak results.
The stock fell following the news and recently traded at $40.07, down 5.2 percent.
Wall Street analysts gave their take on the results. Below are highlights along with current ratings and price targets.
Axoim - Hold, $45 price target
"In hindsight, management should have issued a pre-announcement. Management blamed the revenue shortfall on lower revenues from direct response advertisers, who walked away from spending due to higher bids. Growth of mobile App downloads, a direct response ad unit, was strong but declined sequentially. In addition, a change in what constitutes an engagement led to lower click-through rates, although Twitter argues that this leads to higher ROI, which is better for the advertiser and will lead to higher spending in the future."
Wunderlich - Hold, $40 PT
"Weakness from direct response ads is the most troubling part and impairs revenues in Q1 and in outlook. The company's direct response ads were not able to drive sufficient volumes for some customers, which led to advertisers limiting the scale of their spend, which we view as the most troubling aspect of the earnings report."
Related Link: Why Dick Costolo Is 'In Trouble' After Twitter Leak, Earnings Miss
Barclays - Equal Weight, $44 PT
"We typically shy away from ratings changes on earnings, particularly after meaningful one-day moves in the stock, however we are downgrading Twitter to EW on the back of missed Q1 expectations and disappointing 2Q guidance. We are struggling to find any silver linings in the results as MAU growth met expectations while total revenue, advertising revenue and EBITDA all missed forecasts and were guided below Street expectations for Q2."
Morgan Stanley - Equal Weight, $43 PT
"At a broader level, in our view, these results combined with [Facebook Inc (NASDAQ: FB)'s] strong advertising and engagement growth last week speak to how FB continues to be the top destination for incremental ad spending. For context, FB delivered North America ad revenue y/y growth within 600bp of TWTR, despite being nearly 8X larger."
Brean - Buy, $55 PT
"We believe Twitter will be a long-term winner in the digital advertising market, but we believe that event-driven advertising remains largely foreign to branded advertisers. We therefore believe the platform will endure near-term limitations as it shifts its products/pricing/measurement/etc. to focus on gaining more mind share from the branded community - many of whom we believe are interested in using event-driven advertising, but have not yet clarified an event strategy."
Wedbush - Neutral, $40 PT
"[As] the outlook remains murky, given that both monetization and user growth are likely to remain challenged for the foreseeable future. That said, the growing relationship with [Google Inc (NASDAQ: GOOG) (NASDAQ: GOOGL)] is intriguing and worth monitoring closely, as it could provide a much needed catalyst over the coming quarters."
Pivotal - Buy, $50 PT
"Overall, Twitter's long-term potential as a differentiated niche offering in digital advertising is mostly unchanged. Our valuation is dependent on expectations that Twitter can capture a growing share of global digital advertising, and this view remains mostly unchanged, if slightly diminished."
SunTrust - Neutral, $45 PT
"Bullish investors will point to the long-term opportunity around: product innovation and iteration, new ad units and monetization, better long-term ROIs from CPX shift (driving leads further down the funnel), the size of the logged off user base (~500M). and the distributed nature and reach of Twitter content (a platform). We agree with these opportunities, but execution will remain the key."
Deutsche Bank - Buy, $60 PT
TWTR's high multiple and volatile quarterly results create massive swings in investor sentiment, which historically lead to good entry points. Stepping back from the disappointing results, we think: 1) the DR ad revenue issues are a relatively easy fix in the medium-term, and 2) the catalysts of Periscope and the Google traffic partnership are still directly in front of us, despite revisiting the user growth concerns.
View Comments and Join the Discussion!
Posted-In: Axoim Brean Deutsche Bank Morgan Stanley PivotalAnalyst Color Analyst Ratings Trading Ideas Best of Benzinga