BoA Initiates Coverage On New Residential And Sees 20% Upside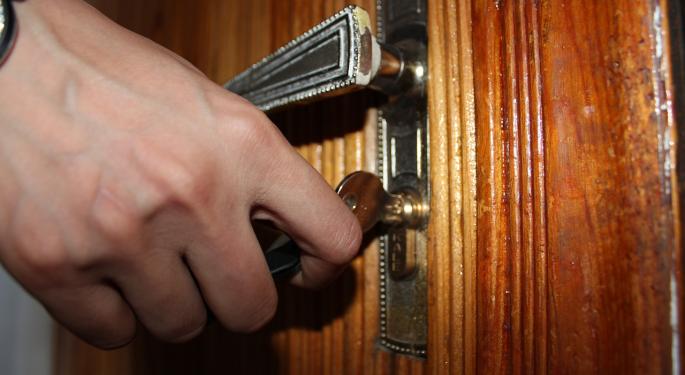 On Monday, Bank of America Merrill Lynch (BAML) published a report initiating coverage on New Residential Investment Corp (NYSE: NRZ), a REIT focused on mortgage servicing rights (MSRs).
A Brief History On New Residential
The company was formed as a subsidiary of Newcastle Investment Corp. (NYSE: NCT) in September 2011 and was spun off as an independent company in May 2013. New Residential is externally managed by an affiliate of Fortress Investment Group LLC (NYSE: FIG).
Earlier in April, New Residential acquired the MSR assets from Home Loan Servicing Solutions Ltd (NYSE: HLSS), part of the beleaguered Ocwen Financial Corp (NYSE: OCN) family of companies.
Notably, while Ocwen was retained for two years as the named mortgage servicer on these assets, New Residential now has the call rights on the underlying mortgages.
Related Link: Bank Of America: Watch This Twist In Amazon's Earnings
Tale Of The Tape – Past Year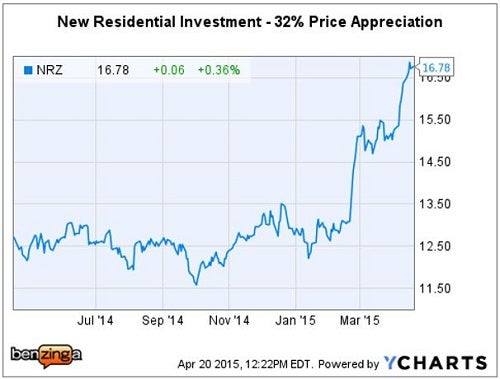 BAML believes that the new Home Loan Servicing/Ocwen Financial relationship was a "game-changer [...] as it allows NRZ to expand its servicer relationship beyond affiliate Nationstar," also a non-bank servicer of mortgages, primarily non-performing loans (NPLs) similar to Ocwen.
BAML, New Residential Investment: Initiated Buy, $18.50 Price Objective
BAML views New Residential as having approximately a 20 percent upside potential from both price appreciation of 10.6 percent, as well as a 2016E distribution of $1.66 per share, currently around 9 percent.
Notably, BAML views the Home Loan Servicing acquisition as being "immediately accretive" to earnings, and BAML forecasts an 18 percent quarterly dividend increase from $0.37 to $0.45 per share.
BAML thinks "the market will likely value NRZ at a premium to residential mortgage REITs, which yield around 11 percent currently, and at a discount to commercial mortgage REITs, currently yielding 8 percent."
BAML – Mortgage Servicing Overview
Non-bank servicers have grown market share, as commercial banks look to avoid the regulatory complications that come from mortgage servicing, especially servicing NPLs.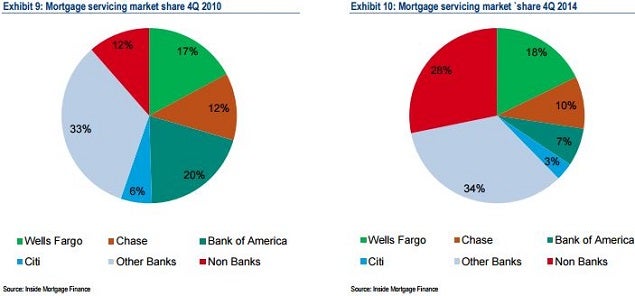 The recent well-documented regulatory problems of the Ocwen Financial/Altisource family of companies has resulted in this previously unanticipated growth opportunity for New Residential.
Similar, Yet Slightly Different Business Models
BAML noted, "Prior to the HLSS transaction, NRZ owned excess mortgage servicing rights. HLSS primarily invested in Rights to MSRs. NRZ also invests in servicer advances under which NRZ receives a portion of the base servicing fee."
HLSS' rights to MSRs will be split between excess servicing and servicer advances by New Residential for clarification and accounting consistency.
Related Link: Gaming Stocks Pop After MGM Hires REIT Advisor
BAML – NRZ Investment Rationale
Stable Dividend Income: "NRZ is structured to produce earnings across of a range of operating and economic backdrops, which should lead to stable dividend income for investors."
High Quality Asset Base: "NRZ assets consist primarily of excess MSRs and servicer advances that hold a senior position in the underlying mortgage cash flows and thus have limited credit risk."
Key Customers: "NRZ historically has had a preferential relationship with Nationstar. The acquisition of HLSS' assets extends the network to include Ocwen. Being embedded with the two largest non-bank servicers is an advantage."
Benign Rising Rates: "Servicing related assets are unique among financial assets in that they generally increase in value as interest rates increase. This is due to the inverse impact of interest rates on prepayment speeds, which results in extending the life of mortgages and the associated servicing fee stream."
BAML – Risks To NRZ PO
1. The New Residential Investment business model is dependent upon the performance of third-parties such as Nationstar and Ocwen.
2. Prepayments of underlying mortgages could reduce earnings from MSRs.
3. Regulatory risks could affect both the business environment and investor perceptions of New Residential.
4. Re-investment risks resulting from an inability to replace or grow MSR business lost to prepayment or mortgage payoffs.
Investor Takeaway
Investors considering investments in residential mREITs, or mREITs that make loans primarily associated with commercial real estate, have another asset class to consider that could act as a hedge in a rising rate environment.
However, the regulatory risks associated with MSRs on non-performing loans, and a relatively complicated business structure, could become challenges for New Residential investors moving forward.

Image Credit: Public Domain
View Comments and Join the Discussion!
Posted-In: AltisourceAnalyst Color REIT Price Target Initiation Analyst Ratings Trading Ideas Real Estate Best of Benzinga