Could The Iran Nuke Deal Really Push Oil Prices Down Another $15?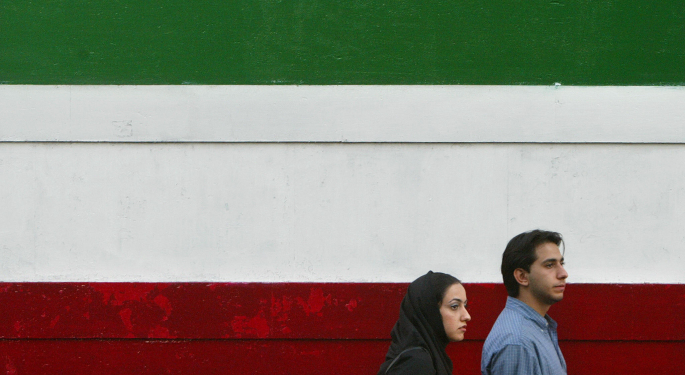 A recent report by the Energy Information Administration (EIA) projects that oil prices in 2016 could fall by $5 to $15 per barrel if sanctions are lifted against Iran. The findings of the EIA's report follow preliminary nuclear discussions between Iran and world powers, which began on April 2 and will conclude by a deadline of June 30.
Increased Oil Production
As of now, it is unclear what effect Iran's full return to the global market could have on recovering oil prices in 2016. Prior to the April 2 negotiations, the EIA projected that WTI crude would rise to an average price of $70 per barrel in 2016, with Brent crude forecasted at $75.03 per barrel.
Related Link: SolarCity And Tesla Have Closer Correlation Than Some Oil Stocks Do With Oil
The EIA reports that while the timing is uncertain, the lifting of sanctions against Iran could have a significant change on previous forecasts for 2016 crude oil prices, which have fallen by nearly 50 percent since last year. March oil production in Iran was 2.85 million barrels per day, but the country has the capacity to increase this number by at least 700,000 barrels by the end of next year, according to the EIA.
Oil Stores
Negotiations with Iran aside, the EIA estimates that global oil stores will increase by 100,000 barrels per day in 2016. Increased Iranian oil output following lifting of the sanctions could add another 500,000 barrels per day to global stockpiles, which could place a strain on storage capacity and impact oil price.
The EIA report also points out that unloading of Iran's own oil stores could begin to affect the global market, depending on how the sanction discussions proceed. Currently, Iran holds at least 30 million barrels of stored oil.
Oil Process Remain Volatile
Shares of the United Stated Oil Fund ETF (NYSE: USO) plunged more than 5 percent Wednesday on news of new record high oil supplies. Prior to Wednesday's drop, the fund was up more than 10 percent in the previous five trading days as the volatility in oil prices continues into the second quarter.
Posted-In: Analyst Color Specialty ETFs Commodities Top Stories Economics Markets Analyst Ratings ETFs Best of Benzinga
View Comments and Join the Discussion!