Stifel Met With QTS Realty; Here's What Happened
On Monday, Stifel released a research note containing highlights of its recent meeting with the management team of data center REIT QTS Realty Trust Inc (NYSE: QTS), as well as rationale for bumping up the price target.
QTS owns and operates 12 data centers with a national footprint, containing over 4.5 million gross square feet of space, located in eight states. Notably, QTS has over 1 million SF of powered shell space available for development, which could double its current raised floor leased space.
Tale Of The Tape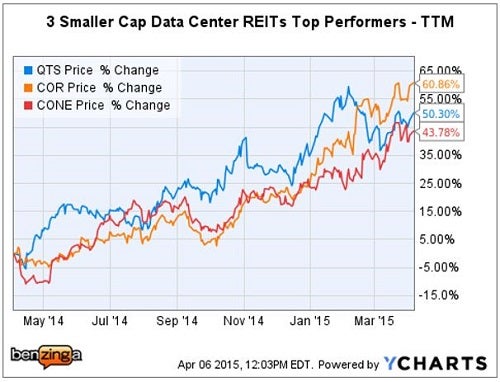 QTS, along with peers CoreSite Realty Corp (NYSE: COR) and CyrusOne Inc (NASDAQ: CONE), has been among the top performers in this space for investors during the past year.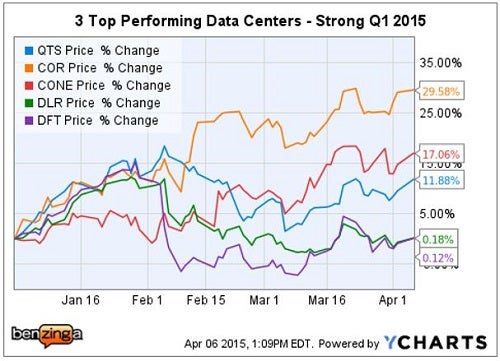 QTS Secret Sauce
QTS has a unique "3C" product offering, including: C1-wholesale, C-2 colocation and its main differentiator, C-3 cloud and managed services.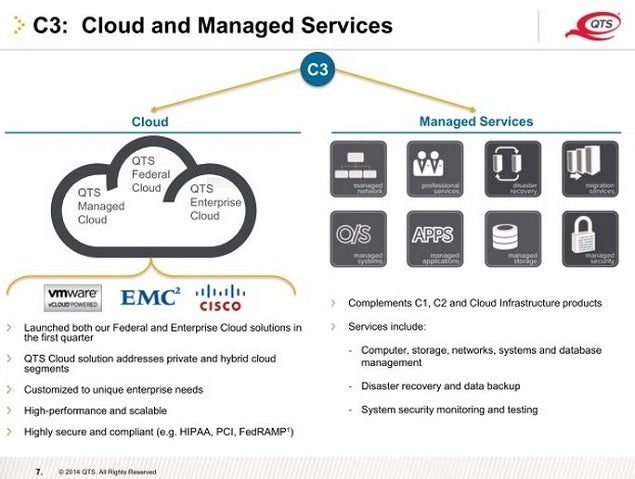 Related Link: Buckle Up, Mall REIT Investors
QTS Footprint And Potential Mega-Center Expansions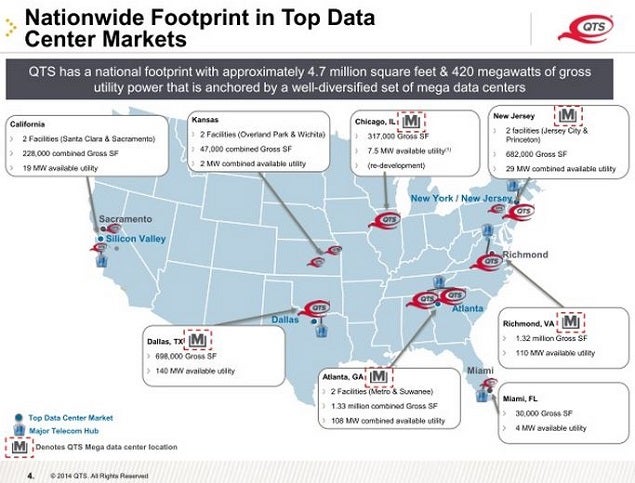 Stifel – QTS Realty: Buy Rating, $42 PT
Stifel raised its QTS price target from $40 to $42 per share, based upon 16x 2016 estimated AFFO.
Based on QTS' previous close of $37.06 and current dividend yield of approximately 3.5 percent, the new Stifel $42 PT represents a potential total return of approximately 16.8 percent.
Stifel – QTS Rationale
Unique value proposition:
Stifel cited QTS differentiated service offerings and mega-scale data center infrastructure as competitive advantages.
Stifel noted a "multi-layered approach to security and compliance" and flexible product offerings for enterprise customers driving both market share and above average returns.
Stifel believes QTS can leverage its existing SG&A to drive "strong operating leverage" compared to competitors who will have to "play catch-up" in order to add similar service offerings.
Opportunistic Investment Strategy
Stifel noted that QTS mega-scale, infrastructure-rich assets were acquired at below-market cost.
QTS has acquired existing, "non-traditional" facilities that require limited capex given the scale of existing utility infrastructure.
QTS has been able to meet seller time constraints in order to become the winning bidder.
Potential To Double
QTS' potential to double NAV: (net asset value) within existing footprint.
QTS has approximately 1.2 million square feet of powered shell available for future redevelopment.
Stifel noted that "management believes this space could fuel up to five years of organic growth with no greenfield development."
After build-out, Stifel estimated that this could represent $34 per share of additional NAV, or almost double QTS' existing price per share.
Stifel also noted that this would require substantial leasing and "nimble execution," while recognizing that this represents a "unique opportunity to increase shareholder value with limited risk."
Related Link: 3 Key Points From Stifel's Cerner Initiation
Bullish On QTS Chicago Development
Consistent with its opportunistic strategy, the latest QTS facility is a "mega-scale building purchased out of bankruptcy from the Chicago Sun-Times."
The facility is currently under development and is expected to require approximately 50 million of redevelopment capex during FY 2015, with an official launch scheduled for the second half of 2016.
Stifel noted that the "Chicago market has been highly constrained from a supply perspective for 2+ years, and QTS Chicago will be the first purpose-built mega-scale data center in the downtown area."
Stifel – QTS Price Target Risks
In addition to general macroeconomic factors and rising interest rates, risks unique to QTS included:
Concentration risk in the metro-Atlanta, Georgia market
Continued leasing success in the Richmond, Virginia market.
Access to adequate capital to fund growth plans.
Posted-In: Chicago Sun-Times StifelAnalyst Color REIT Analyst Ratings General Real Estate
View Comments and Join the Discussion!