DISH Network Exec: Here's Why A La Carte TV May Be An Apple Fanboy's Dream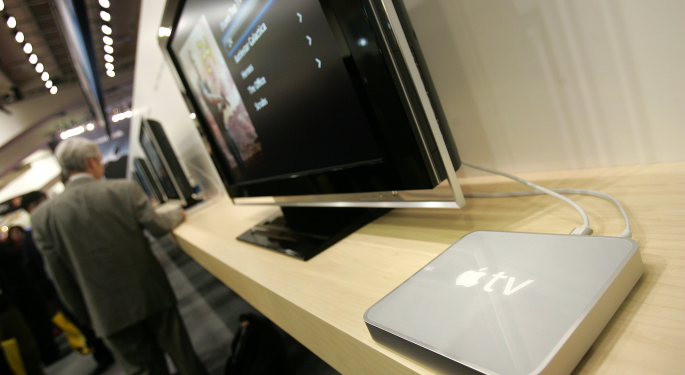 Apple Inc. (NASDAQ: AAPL) is rumored to be working on an a la carte TV service that could change the world of television.
Cody Willard, chairman of Scutify (a financial social network), thinks that service could be worth $100 billion in additional market cap value.
However, that value can only be realized if Apple convinces pay-TV programmers to play nice. Roger Lynch, CEO of Sling TV (a subsidiary of DISH Network Corp (NASDAQ: DISH)), told Benzinga why that may never happen.
First and foremost, Lynch said that programmers like the existing bundle model (where pay-TV companies force consumers to buy large packages of channels) because it improves their distribution. If a network is currently distributed to all of the nation's 100 million pay-TV customers, it will lose out by switching to an a la carte model.
"They have 100 million people paying for the channel and maybe only a quarter or half of the people watch the channel," said Lynch. "So they get ad revenue for half the people that watch it, and that's more than half of their total revenue."
If consumers could choose which channels they want, total viewership -- and total ad dollars -- would inevitably decline.
"It depends on the price," he said. "If they knew half were gonna buy it, they'd have to charge a price that's double what they charge us now. They'll lose advertising because half the people won't buy it. A small percentage will buy it. As you go through the math of that, you'll ultimately realize they have to charge a higher and higher price to compensate for the fact that they'll have fewer and fewer people watching the channel."
Related Link: Is Apple's 'Drought Of Innovation' Finally Over?
'Paid On Every Household'
Lynch said this is a problem with programmers that "results in them being much better off staying with large bundles because they get people viewing who would not pay, and they get paid on every household."
"Customers would much rather say, 'Let me choose the channels I want,'" said Lynch. "But when you get to the price they'd have to charge for the channel, it gets pretty extreme. You look at CBS today: it's $6 for one channel. The average house watches 10 to 15 channels. You're already at $60 to $90 if every channel charges that price. At that point you might as well buy the big bundle."
Premium, Commercial-Free Programming
Lynch said that HBO -- which is coming to Sling TV in time for the new season of "Game of Thrones" -- is a "great example" of how a la carte TV can work for some programmers.
"My guess is they can be successful at that because it's such unique programming and it's premium programming," he said. "And importantly, it's programming that doesn't rely on advertising. For most cable networks, and certainly for the broadcast networks, the majority of their revenue isn't from what we pay them -- it's what they earn from their advertising."
Disclosure: At the time of this writing, Louis Bedigian had no position in the equities mentioned in this report.
Posted-In: Apple Apple Television Apple TVAnalyst Color Rumors Exclusives Tech Interview Best of Benzinga
View Comments and Join the Discussion!