3 Ways Apple's Music Service Can Dominate The Competition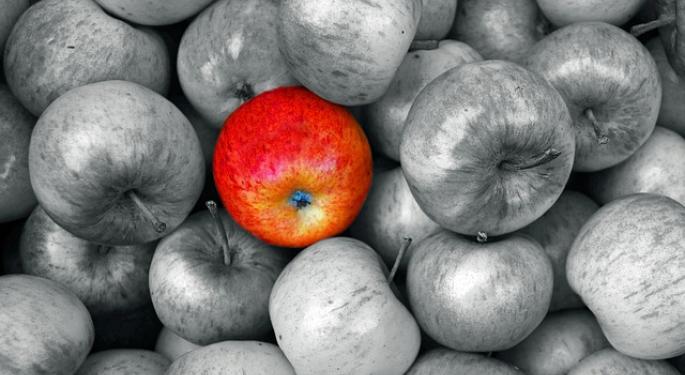 If a year's worth of reports are accurate, including a new one from the New York Times, Apple Inc. (NASDAQ: AAPL) plans to release another streaming music service.
Apple can't win the war for listeners by launching a simple Spotify clone, but there are a few ways the company could take the lead.
1. Launch The Service Alongside Apple's Watch
Rich Tullo, Director of Research at Albert Fried & Company, thinks Apple should launch its new music service in time for the Apple Watch debut on Friday, April 24.
"You gotta primarily think of [iTunes Radio] as an embedded app," Tullo told Benzinga. "When you get your new phone or tablet, that's the fallback for music. As long as the experience is competitive, I think that's how they can take share."
Related Link: Is Xiaomi A Threat To GoPro, Apple, Sony, Everyone?
iTunes Radio already has taken some market share. In March 2014 it became the third most popular streaming music service in America behind Pandora Media Inc (NYSE: P) and iHeartRadio.
Spotify, which dominates the on-demand market with more than 60 million active users (including 15 million who pay), came in fourth place overall.
"What could be a game changer, and a lot of it depends on its success or not success, is the watch," said Tullo, referring to Apple's second music service.
"If the [music] service becomes the app (or a primary app) for the watch, then I suspect they'll do very well on it." How would this help Apple turn the tide?
"My guess is that the app would have to be specifically developed for the watch, therefore Spotify and Pandora would come into that a little later than Apple."
2. Be Nearly As Good As The Competition
Sean Udall, CIO of Quantum Trading Strategies and author of The TechStrat Report, doesn't think Apple has to be the best to do well in streaming music. To win over consumers who already pay for a similar service, Udall said that Apple needs to "provide a service that's just nearly as good as either Spotify or Pandora's paid streaming service -- for the same price."
"Or provide a product that's moderately cheaper and again roughly as good of a service," Udall told Benzinga. "Users in either case will just soak up the Apple service over time."
3. Provide A Better Service
Aside from launch timing or being "nearly as good," Apple could win market share by developing a music service that is actually better than what the competition currently offers. "Then they crush the competition," said Udall.
Even then investors shouldn't get their hopes up.
The media has made a big deal about Apple's plans for music streaming, but Udall referred to the revenue potential as "very nice bonus bucks."
"It's not meaningless, but it's not a big deal," he said.
"It is simply seven to ten percent of revenue in any given quarter, which carry a pretty high margin."
Disclosure: At the time of this writing, Louis Bedigian had no position in the equities mentioned in this report.
Image credit: Public Domain
Posted-In: Albert Fried & Company Apple Apple Watch iTunes Radio Rich Tullo Sean UdallAnalyst Color Tech Best of Benzinga
View Comments and Join the Discussion!