Mark Cuban Fires Latest Shot In Tech Bubble Debate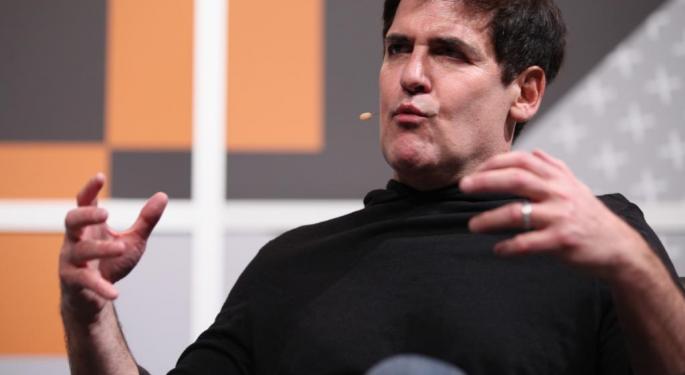 Businessman, investor, TV personality and Dallas Mavericks owner Mark Cuban has fired the latest shot in a debate between Cuban and Aswath Damodaran over Cuban's recent assertion that there is a bubble forming in the private technology sector that could end up being far worse for investors than the dot-com bubble.
Cuban recently tweeted that Damodaran's article in opposition to Cuban's opinions on the tech bubble is "the worst response ever."
Related Link: Aswath Damodaran Is Testing Mark Cuban's Tech Bubble Thesis
Cuban's Claims
In Cuban's original blog post, he argues that during both the dot-com bubble and the current private tech bubble, investors have been constantly approached by people pitching ideas and making comparisons to billion-dollar success stories.
The biggest difference Cuban sees is that the list of dot-com success stories has been modernized from names such as Broadcast.com, AOL Inc (NYSE: AOL) and Netscape to Uber, Twitter Inc (NYSE: TWTR) and Facebook Inc (NASDAQ: FB).
The other difference Cuban notes between the current bubble and the dot-com bubble is exactly what makes this bubble more dangerous for investors: Since it is happening in the private sector, there is no liquidity when companies go south.
"There is ZERO liquidity in any of those investments. None. Zero. Zip," Cuban emphasizes.
Damodaran's Response
In an opinion piece published on Benzinga responding to Cuban's post, Aswath Damodaran laid out a four-point counter-argument to Cuban's claims:
1. Fundamentally, there is no indication of a tech bubble in the public market.
2. Public markets can be just as illiquid as private markets.
3. High-liquidity environments have been shown to inflate price bubbles even more than low-liquidity environments do.
4. If a bubble existed in the private tech sector, it's bursting would not be "worse" than the dot-com bubble because the effects would be isolated within the private tech sector and would not have a direct impact on others outside the space.
Cuban Fires Back
Over the weekend, Cuban issued a succinct rebuttal on Twitter to Damodaran's counter-points: "@markfidelman @Benzinga worst response ever. He compares private to public cos. Ignores individuals who will lose 100pct of their investment."
While the debate rages on in the financial world about whether or not the private tech sector is currently experiencing a bubble, it remains to be seen whether or not this is the last the world will hear from Cuban and/or Damodaran on the subject.
Posted-In: Tech Best of Benzinga
View Comments and Join the Discussion!