Real Estate Investors: Watch This Spin Off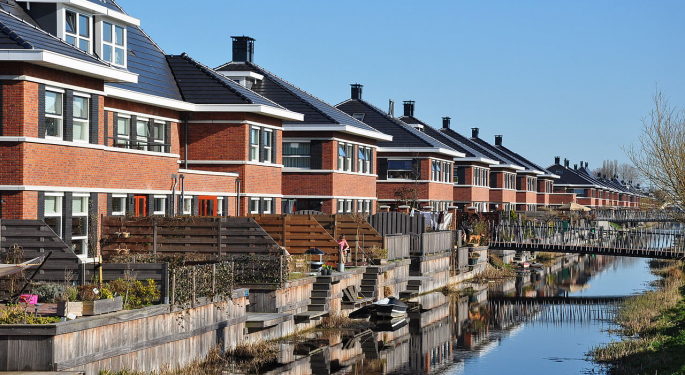 There are many reasons why publicly traded companies spin off business units, but at the end of the day, the ultimate goal is to increase shareholder value for both the parent and the spin.
In the case of $20.5 billion cap Vornado Realty Trust (NYSE: VNO), the January spin off of Urban Edge Properties (NYSE: UE) helped Vornado to streamline and simplify its business by allowing it to focus on its core office and retail holdings in New York and metro-Washington, D.C.
VNO shareholders received one UE share for each two Vornado common shares, or 1:2.
Inland American Real Estate Trust is a large non-traded REIT currently focused on owning and operating its remaining student housing and retail shopping center assets.
On February 3, Inland American shareholders received one share of Xenia Hotels & Resorts, Inc. (NYSE: XHR) for each eight common shares, or 1:8.
Related Link: 2015's Top-Performing REIT Sector May Surprise You
The Xenia public listing gave Inland shareholders the option of either cashing out or holding the now liquid XHR shares. The transparency of the pure-play lodging REIT structure -- now trading on a major exchange -- allowed for market supply and demand to value the hotel business.
First Weeks Of Trading Activity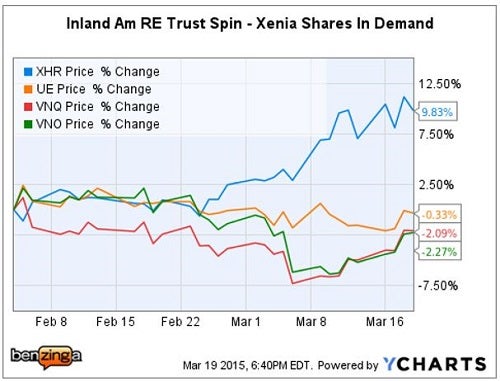 The Vanguard REIT Index ETF (NYSEMKT: VNQ) is a good proxy for the overall REIT sector.
According to the March 16, MLV & Co. Weekly REIT Beat report, lodging REITs through March 13, had only returned 1.1 percent, which helps to highlight Xenia's performance since the IPO.
Xenia Hotels - A Closer Look
Xenia Hotels currently has a market value of $2.5 billion according to its investor website page.
Xenia owned 46 hotels with 12,636 rooms, across 19 states and the District of Columbia as of December 31, 2014, as well as a majority interest in two hotels which are under development.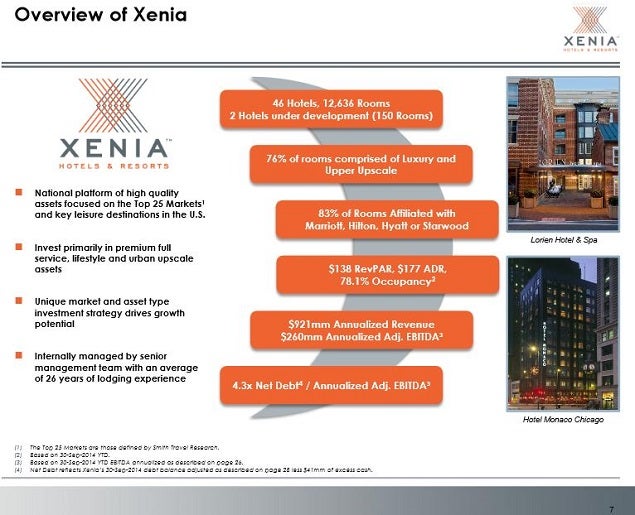 The XHR portfolio is comprised of premium full service, lifestyle and urban upscale hotels, with a focus on the top 25 U.S. lodging markets as well as key U.S. leisure destinations.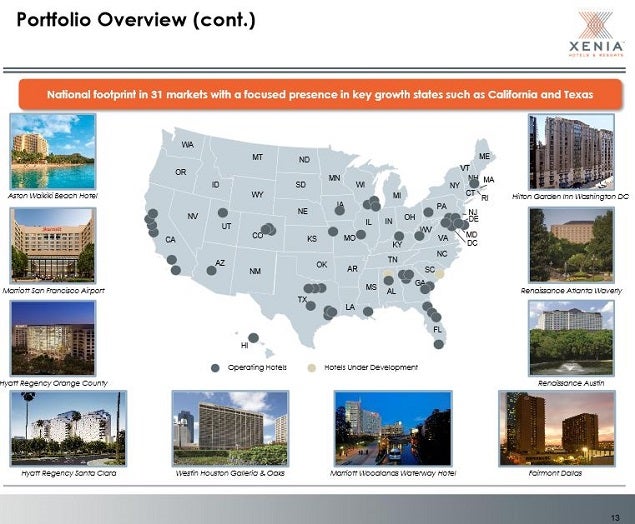 Xenia hotels are primarily operated by industry leaders such as: Marriott, Hilton, Hyatt, Starwood, Kimpton, Aston, Fairmont and Loews, as well as independent management companies for national brands.
Portfolio Management
Xenia Hotels is currently internally managed by the same team of executives who had formerly managed the hotel group for Inland American.
Growth Trends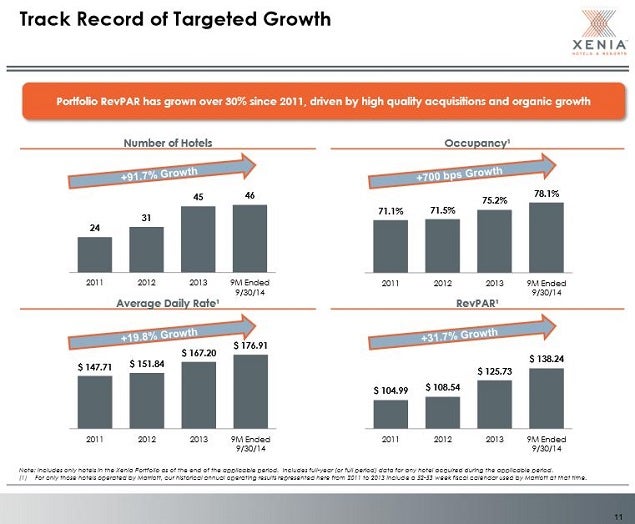 Balance Sheet - Leverage VS Peers
Xenia - 2015 Guidance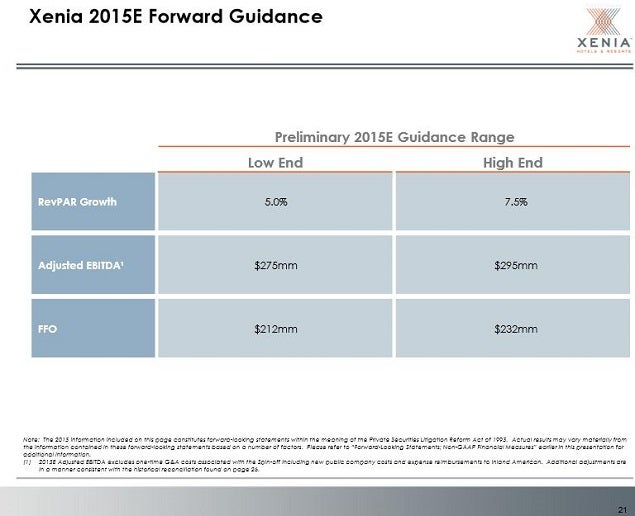 As of March 13, the Xenia board anticipates paying out a regular quarterly dividend of $0.23 per share, an annual yield of 4 percent, based upon a closing price on March 19, of $22.58 per share.
Urban Edge - A Closer Look
Initially, the Urban Edge portfolio is comprised of ownership in 79 shopping centers, three malls and one industrial park, plus management of 5 million square feet for others.
The UE shopping centers and malls contain over 15 million square feet across 10 states and Puerto Rico, with concentrations in New Jersey, New York and Pennsylvania.
Key shopping center tenants include: Home Depot, Wal-Mart/Sam's Wholesale, Best Buy, Lowe's, Stop & Shop, the TJX Companies, Kohl's, ShopRite, Sears and Kmart, BJ's Wholesale Club, Whole Foods and PetCo.
Excerpts From 8-K SEC Filing - Dec. 31, 2014
The former Vornado strip center portfolio has "…superior, industry-leading demographics, with average three-mile population of 151,000 and median three-mile household income of $71,000 for neighborhood centers and average seven-mile population of 886,000 and median seven-mile household income of $67,000 for power centers."
"This is a significant transaction that we believe will unlock the potential of the strip shopping centers and malls to be owned by UE. We believe we are creating a new company that will be well positioned to deliver both internal growth through active asset management and redevelopments and external growth through acquisitions and selective new developments."
UE - Dividend
On February 2, the Urban Edge board declared a regular quarterly dividend of $0.20 per common share, or an annual yield of 3.35 percent, based upon a UE closing price on March 19 of $23.88 per share.
Bottom Line
Xenia shares have initially outperformed its lodging REIT sector peers since its NYSE listing. This new lodging REIT appears to have a focused business plan, stable management and a balance sheet that allows for reasonable growth.
On the other hand, the Vornado spin, Urban Edge, initially appears to be a bit more opaque. The UE 8-K is available on the SEC EDGAR web.
Image credit: Vincent Van Zeijst, Wikimedia
View Comments and Join the Discussion!
Posted-In: MLV & Co.Analyst Color Long Ideas REIT Trading Ideas General Real Estate Best of Benzinga