The Pros And Cons Of Nintendo's Smartphone Plans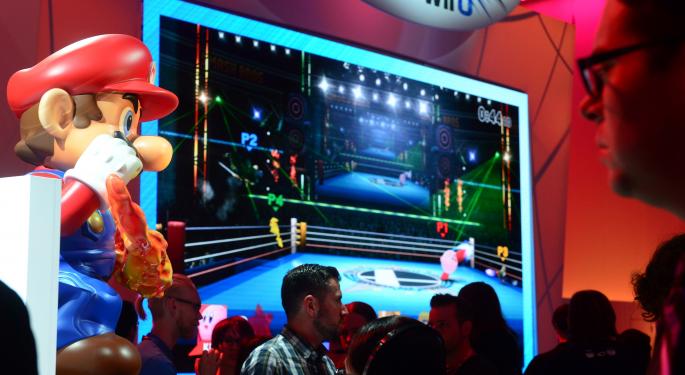 Investors reacted positively to the news that Nintendo Co., Ltd (ADR) (OTC: NTDOY) will develop its own smartphone games.
This announcement also means that big changes are coming to the company behind "Super Mario Bros.," "The Legend of Zelda" and "Pokemon." Read on to see the pros and cons of those changes.
Pro: It Shows Nintendo Is Willing To Change
Nintendo is known as a company that sticks to its guns and ignores industry trends. It was the last game developer to embrace online multiplayer and online game downloads. It was the last company to replace expensive game cartridges (which it used for Nintendo 64) with discs, which are much cheaper. Up until now, Nintendo also hated the idea of smartphone development.
"It's exciting," Asif Khan, CFO of Virtue LLC and CEO of Shacknews.com, told Benzinga. "It's good news for Nintendo. First they were not willing to do this. I think they saw the writing on the wall with Wii U and even the waning success of the 3DS. The original DS sold over 100 million units, while the 3DS is struggling to sell 60 million. They have all the evidence in front of them, they have all this great IP -- it was kind of obvious for them to do something on mobile."
Benchmark analyst Michael Hickey told Benzinga that many were worried Nintendo would never develop for devices outside of its own hardware. He said it was "sort of a no-brainer" for the company to change.
"Clearly this is an incredible step forward for these guys," said Hickey. "Leveraging some of that IP with new games on mobile platforms seems like the right strategic view."
Related Link: Steve Jobs Was Not Opposed To An Apple-Nintendo Partnership
Con: It's A Sign Of Weakness
Nintendo revealed its true situation by agreeing to develop for mobile devices.
"It's a sign of weakness that they can't do this on their own anymore," said Khan.
However, Hickey doesn't think Nintendo should put more money into hardware in the long-term. He said there's no reason Nintendo can't create "compelling game experiences" (based on proven IP) while remaining platform-agnostic.
Pro: Nintendo's High Standards (Should) Remain The Same
Khan does not expect the quality of Nintendo's software to change just because it's on a new platform.
"They have very high standards for themselves," he said. "I don't see them giving up on that. It takes Apple forever to do anything. It's similar with Nintendo. They also have some of the best developers."
Hickey believes that the experiences "will be unique to the platform they serve" and expects the venture to be "amazingly successful."
Con: Mobile And Free-To-Play Game Companies Are Short-Lived Success Stories
Smartphones are known for popularizing cheap, mindless games that rarely retail for no more than $0.99. Many of them are free with ads and/or in-game purchase options (known as microtransactions).
Their price and ubiquity are easy to bank on, but the profits don't last. Rovio, the creator of the "Angry Birds" series, was once considered the hottest developer in mobile; Its profits fell 73 percent last year.
Zynga Inc (NASDAQ: ZNGA), the creator of "FarmVille" and other simple, free-to-play Web games, was once a $13 stock. The company tried to transition to mobile, but that didn't work. After months of declines, the stock plummeted. It now trades below $3 a share.
King Digital Entertainment PLC (NYSE: KING), the company behind the hit "Candy Crush" franchise, surpassed earnings expectations in the fourth quarter. Investor sentiment hasn't changed, however -- the stock is down more than 22 percent since its IPO on March 26, 2014.
Supercell, one of the most profitable companies in the App Store, endured some minor declines recently.
"If [Nintendo doesn't] make quality software, they will flop," said Khan. "They're partnering with a company that has done very well in mobile, [but] it depends on how they execute."
Disclosure: At the time of this writing, Louis Bedigian had no position in the equities mentioned in this report.
View Comments and Join the Discussion!
Posted-In: Angry Birds King Nintendo PokemonAnalyst Color Top Stories Exclusives Tech Best of Benzinga