5 Questions First Solar And SunPower Investors Should Ask About The Coming YieldCo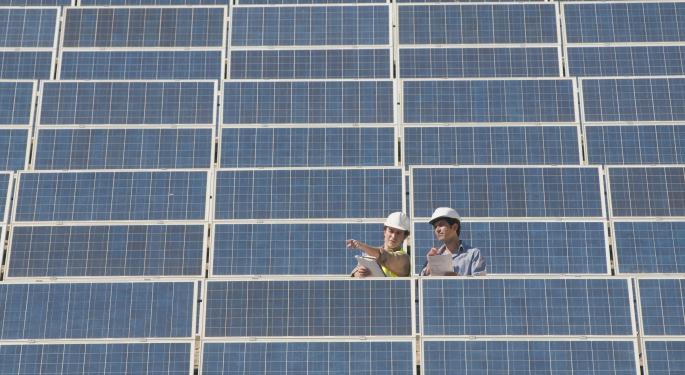 On March 10, Raymond James released a research note "Our Initial Thoughts on 8point3 Energy Partners" after review of the "Yieldco" IPO filed by First Solar, Inc. (NASDAQ: FSLR) and SunPower Corporation (NASDAQ: SPWR).
The first thing that RJ clarified was the derivation of the name 8point3 Energy Partners LP -- "it refers to the length of time, in minutes, for how long it takes light from the sun to reach the earth."
Related Link: Why First Solar, SunPower YieldCo Is Like Coke And Pepsi Coming Together
Organizational & Ownership Structure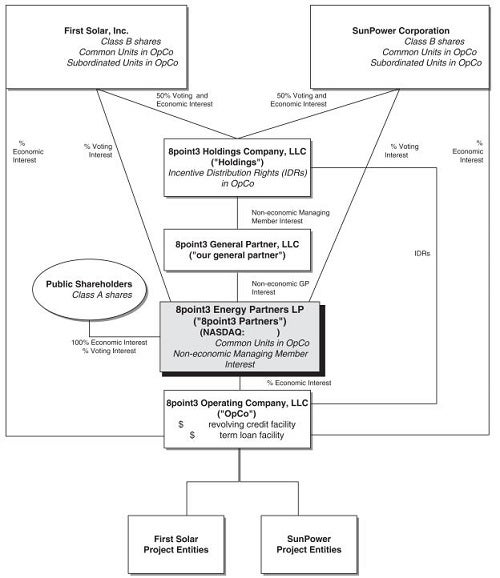 Source: S-1 filing
Raymond James - Yieldco Overview
1. How is it possible to have a solar MLP?
The short answer is it's not possible, and the name actually needs more clarification. The note discussed five major questions investors are likely asking:
RJ explained "[the] 'LP' in 8point3's formal name - as is also the case with NextEra Energy Partners, which went public last year – does not signify MLP status in a tax sense."
"8point3 is organized as a limited partnership under state law but will be treated as a corporation for federal income tax purposes."
RJ pointed out that all yieldcos "…generate net operating losses (NOLs) and NOL carryforwards that can be used to offset future taxable income, at least for a period of several years…"
2. Who is in charge?
"The management structure of this 50/50 JV is about as evenly balanced as possible, making it clear that this is a bona fide partnership of equals."
"The initial CEO, Chuck Boynton, 'double-hats' as the current CFO of SunPower. The initial CFO, Mark Widmar, is the current CFO of First Solar."
"After two years, the positions will rotate, i.e., First Solar will get to name the CEO."
3. How big will the yieldco be?
8point3's initial portfolio "comprises 432 MW of assets… 262 MW is being contributed by First Solar, and 170 MW by SunPower." (Somewhat less than RJ expected).
"Above and beyond the initial portfolio, another 1,131 MW of assets will become ready for dropdowns over time."
"The vast majority of these assets have not yet come online, in some cases not until late 2016 or even mid-2017."
"8point3 will provide guidance on future cash available for distribution…"
"In total, the yieldco is targeting annual distribution growth of 12-15% over the first three years."
4. What kind of assets are these?
"… nearly all of the initial portfolio (377 MW) represents utility-scale projects with power purchase agreements to utilities."
"The rest – and all of this comes from SunPower – takes the form of aggregated commercial/industrial systems (16 MW) and residential systems (39 MW)."
"Geographically, the initial portfolio is 100% U.S., though the future dropdown assets have a small international component (Chile and Japan)."
"Looking at the power purchase agreements, their remaining life ranges from 17.5 years to 28.7 years."
5. How does it compare to the peer group?
Until the financial guidance gets filled in future S-1s, there is no practical way for [RJ] to project 8point3's cash flow at this point – quite simply, all megawatts are not the same.
However, RJ mentioned the closest comp would be TerraForm; with Sky Solar, Abengoa Yield, Brookfield Renewable, NextEra and NRG Yield also being in the same industry.
Posted-In: Raymond JamesAnalyst Color Analyst Ratings Best of Benzinga
View Comments and Join the Discussion!