Is Simon's Bid For Mall Rival Macerich A Game Changer? Citi Has An Answer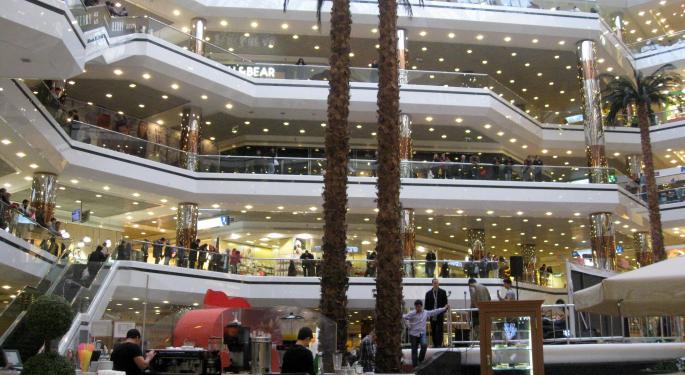 On March 9, Citi Research weighed in on the Simon Property Group (NYSE: SPG) hostile bid to buy Macerich Co. (NYSE: MAC), and the implications for the mall REIT sector moving forward.
Notably, General Growth Properties (NYSE: GGP) was mentioned in Simon's letter to shareholders as a possible purchaser of some of the Macerich mall assets if Simon's $91 per share offer for Macerich is successful.
Tale Of The Tape - Past Year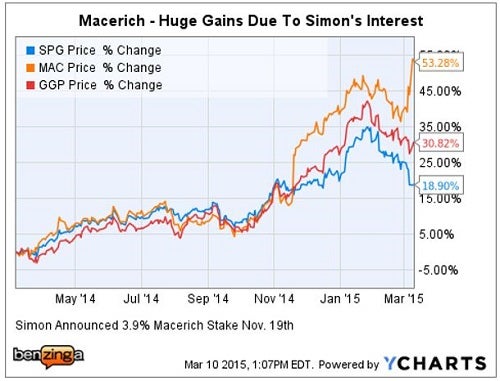 The rumor of Simon's interest in acquiring Macerich had been rampant for months, but Citi was unable to comment prior to the public offer.
Related Link: Self-Storage REIT Expert: Expect 'Another Robust Year'
Citi - Comments On SPG/MAC Deal
SPG Officially Steps Up to the Plate: Citi Research can now weigh in publicly.
Based upon Citi's "4Q14 NOI, SPG's $91/sh bid implies a cap rate of 4.3% for MAC." Citi noted the price that Simon will ultimately pay to close the deal "will likely have to mover higher"[…]
MAC does not appear to be a willing seller, and as such is likely taking defensive steps to avoid a hostile takeover"[…]
While Citi feels that "a transaction makes sense," but voiced concerns regarding the deal being accretive to Simon's earnings at higher price levels, "given where SPG's shares trade."
General Growth Angle: logical reasons for Simon to sell assets to GGP.
"May eliminate antitrust issues – […] "selling off 'selected' assets to GGP would help to eliminate any 'monopoly' issues in certain markets."
"May eliminate white knight – the deal likely takes GGP out of the equation, eliminating a potential competing bidder."
"Helps limit leverage – "selling assets allows SPG to fund less of the deal with stock and to minimize the leverage impact […]"
Sell certain assets at a premium […]"that could potentially be more valuable to GGP than to SPG."
Financing Angle: Simon has flexibility.
According to Citi, "the $22.4B deal value would be financed via the $6.4B of assumed debt (@3.7%) and $7.7B of equity issued to MAC shareholders, with the balance presumably funded with a combination of asset sales to GGP and debt issuance."
SPG has significant line capacity and can easily fund a transaction.
Citi estimate[d]"that if SPG sold $4B of assets to GGP at a 4.5% cap, with SPG trading at a 5.2% cap and debt issuance at 3%, Simon's weighted average cost of capital for the $16B equity piece could be ~4.4% on the deal vs. the implied cap rate on MAC of 4.3% at the $91 price."
Accretion Angle:
Simon […]"commented in the release that the deal would be 'immediately accretive to FFO'
Citi noted, "that AFFO was not referenced and the positive FAS 141/142 impact could be material."
[…]"SPG will likely be able to achieve significant G&A and potentially other NOI margin synergies."
Mall REITs - Big Picture: Citi views the Simon bid as positive overall.
The 4.3 percent implied cap-rate for the SPG/MAC deal versus an overall sector cap rate of 5.3 percent as of March 6, has positive implications for the sector.
However, Citi would "struggle to put a MAC-like cap rate on TCO or GGP given that neither are being sold."
Image credit: Maurice, Wikimedia
Posted-In: Citi ResearchAnalyst Color REIT Analyst Ratings General Real Estate Best of Benzinga
View Comments and Join the Discussion!