Has Apple Really 'Entered Its Graveyard' By Going Into Dow Jones? This Analyst Thinks So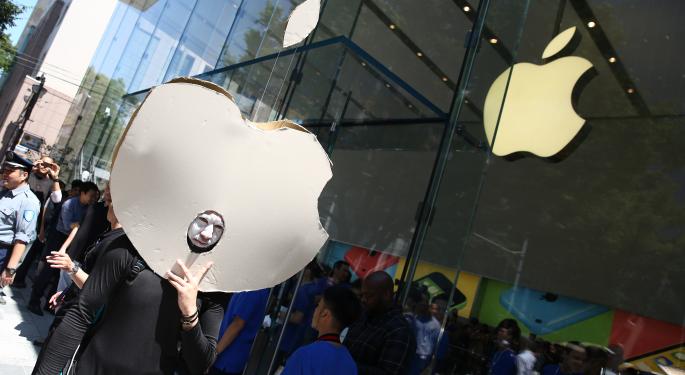 Apple Inc.'s (NASDAQ: AAPL) fluctuating price on Friday could indicate that there's some investor concern about the Apple Pay scandal. Regardless, one analyst thinks there's a bigger problem at hand.
Global Equities Research analyst Trip Chowdhry told Benzinga that Apple should not join the Dow Jones Industrial Average.
"Do you think consumers like you and me are delighted that Apple has entered its graveyard by going into Dow?" Chowdhry questioned. "[Imagine] that you are a parent. Would you like your kids to hang out with losers or the kids who are very aggressive, very innovative?"
In this scenario, Chowdhry said that Cisco Systems, Inc. (NASDAQ: CSCO), International Business Machines Corp. (NYSE: IBM) and other Dow Jones companies are the "losers."
"I think [the Dow Jones Industrial Average] is only for the companies who have zero vision," Chowdhry added.
Related Link: Expert: The Apple-HBO Partnership Could Be The Start Of Something Big
Company Objectives
Chowdhry referred to the Dow Jones Industrial Average as an "index which is symbolic of yesterday's companies."
"If you are the CEO of the company, what should your prime objective be? Your prime objective should always be to delight the customer with exceptional products," he said. "That results in appreciation of the stock, period."
Despite his complaints, some may wonder if investors will actually care about this move.
"I don't think investors appreciate or will accept if Apple's objective changes," said Chowdhry. "Instead of innovation they want to [be in an index]. I think this is terrible news."
Goodbye Innovation?
Last year Chowdhry declared that innovation is back at Apple. He made this statement after seeing the Apple Watch in action for the first time. Now he's worried that Apple might turn into a typical Dow Jones company.
"Have you seen, over your lifetime, any Dow Jones company which has really created massive innovation?" Chowdhry questioned. "They were the companies that created innovation before they went into Dow Jones!"
Chowdhry believes that Hewlett-Packard Company (NYSE: HPQ) is among the companies that became less innovative after joining the Dow Jones Industrial Average.
"Do you think [HP is] improving? No!" said Chowdhry. "Do you think Microsoft, before they went into Dow, was better? Was Cisco better before Dow or today is it better? IBM has been struggling. Once you are in the Dow, you lose your innovation power, you lose your drive. You become complacent."
Disclosure: At the time of this writing, Louis Bedigian had no position in the equities mentioned in this report.
Posted-In: Global Equities Research Trip ChowdhryAnalyst Color Exclusives Analyst Ratings Tech Best of Benzinga
View Comments and Join the Discussion!