Expert: The Apple-HBO Partnership Could Be The Start Of Something Big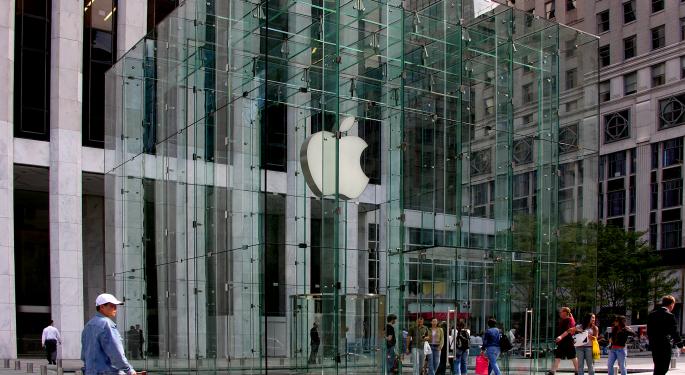 Apple Inc. (NASDAQ: AAPL) could become a launch partner for HBO Now, the online-only streaming video service from HBO.
The deal sounds pretty basic (Apple would be one of many device makers that offers HBO Now at launch), but one industry expert believes it is the start of something bigger.
"This HBO deal is one in a long stream of deals they put together," Sean Udall, CIO of Quantum Trading Strategies and author of The TechStrat Report, told Benzinga.
"It's not a short-term deal. They've probably been working behind the scenes for half a decade, saying, 'How can we [transform] Apple TV into a platform that looks a lot more like iTunes?' That's the ultimate product that I think we're all going to see. To me, this is another piece of it."
Udall believes that Apple will eventually launch a streaming video service similar to Netflix, Inc. (NASDAQ: NFLX) and Amazon Prime.
"They're never a me-too company," said Udall. "They don't want to have a me-too Netflix. If Apple were to do this and do it right, they've got to combine a video library with some live stuff. They do have some live content right now, but it's pretty limited. I think that's the magic elixir they've got to find. Does that mean they have to broadcast everything that's on TV? No."
Related Link: Will Apple Unveil iPad Plus, Retina MacBook Air On March 9?
When, Where And How Much?
Udall doesn't expect Apple to launch a video service tomorrow, but he doesn't think the company will sit on this idea forever.
"Is that four months away?" Udall asked. "Four quarters away? I don't think it's four years away. I think it's months to quarters away before we'll see the product."
Price will be the "ultimate" question, he said, adding that B-movie content (the films found on Netflix, Hulu and other services) only work when delivered from low-end providers. If Apple wants to be a high-end provider, it will need to provide higher-quality content.
"This is what Apple is really good at working out," said Udall. "When they finally do bring out a product, it's gonna be like, 'Oh my gosh, this is awesome!' I'd love to be able to watch the newest James Bond movies when they hit DVDs. I'd love to be able to watch everything you can get on DVD [via Apple's service]."
Are Rentals On Their Way Out?
DVD rentals may be on their way out, but millions of discs are still sold every year. It is a critical source of revenue for animated movies, particularly those made by Walt Disney Co (NYSE: DIS) and Pixar. Disney made more than $347 million from domestic DVD and Blu-ray sales of "Frozen."
If Apple had wanted to offer instant streaming the day "Frozen" arrived on DVD, it would have had to pay a premium to make up for any lost sales. That premium could be astronomical.
Netflix currently pays $30 million to stream new movies from Dreamworks Animation Skg Inc (NASDAQ: DWA) a few months after they are released on DVD. DreamWorks films are nowhere near as profitable as those produced by Disney.
"How To Train Your Dragon 2," one of DreamWorks' more successful releases, earned $73 million on DVD and Blu-ray. "Mr. Peabody & Sherman" did not fare as well, earning just $30 million.
Disney's movies have been much more profitable. Even niche films like "Wreck-It Ralph" earned $100 million in the domestic home video market. Thus, it's not a stretch to assume that Disney would charge $100 million (or more) to stream its films sooner.
Udall doesn't expect Apple to pay anywhere near that for one film. He said Apple doesn't like to get in a bidding war, and will often back off if the price is too high.
This could prevent Apple (or anyone else) from replacing DVD rentals.
Regardless, Udall still thinks Apple will find a way to build the ultimate streaming video service.
Disclosure: At the time of this writing, Louis Bedigian had no position in the equities mentioned in this report.
Image credit: NK, Wikimedia
Posted-In: Apple dreamworks animation Frozen Pixar Sean Udall Wreck-It RalphAnalyst Color Tech Best of Benzinga
View Comments and Join the Discussion!