Here Are The Banks Gaining Market Share...And Those Going In The Wrong Direction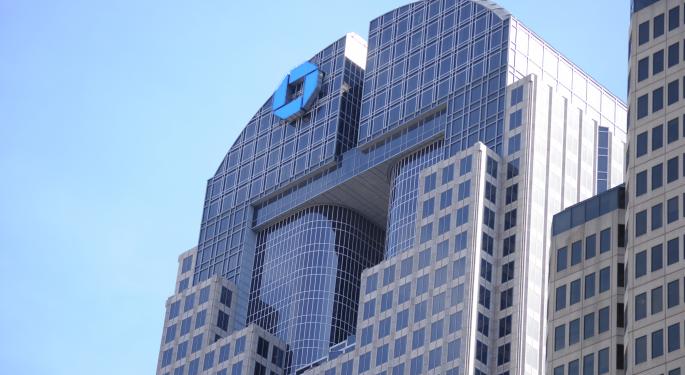 A recent report by Susquehanna Financial Group looked at the regional bank loan market shares for top American banks. Banks that gain loan market share will likely demonstrate better earnings power as the economy continues to improve.
The report identified which banks are gaining market share and which are trending in the wrong direction.
Sequential 3Q14 To 4Q14 Trends
According to the report, six banks increased loan market share on a quarterly basis in Q4, and Wells Fargo Corp (NYSE: WFC) was the leader in the group.
Wells Fargo saw a 21 bps jump in 1-4 family residential loans, although the company's overall mortgage origination share fell to 18 percent.
Related Link: 6 Financials To Watch Before Today's Stress Test
The biggest losers on a quarterly basis were Fifth Third Bancorp (NASDAQ: FITB) and Zions Bancorp (NASDAQ: ZION), which lost 2 bps and 3 bps of overall loan market share respectively.
4Q13 To 4Q14 Y/Y Trends
The PNC Financial Services Group (NYSE: PNC) led the group in year-over-year (Y/Y) share gains in Q4, increasing its take by 17 bps in the quarter. Other Y/Y share gainers include U.S. Bancorp (NYSE: USB) (+6 bps), Huntington Bancshares Inc (NASDAQ: HBAN) (+2bps) and KeyCorp (NYSE: KEY) (+1 bps).
The two largest Y/Y share losers in Q4 were Bank of America Corp (NYSE: BAC) (-147 bps) and Citigroup Inc (NYSE: C) (-88 bps).
1Q10 To 4Q14 Crisis Recovery Trends
Finally, the report included a look at the overall performance of the group over a multi-year period of recovery from the Financial Crisis. Since 1Q10, the biggest loan share gainer has been U.S Bancorp, with a 71 bps gain during the span.
PNC Financial was a close second with a 55 bps gain.
Seven banks, including KeyCorp, Comerica Inc (NYSE: CMA), Zions, Bank of America, Citigroup, JPMorgan Chase & Co (NYSE: JPM) and Wells Fargo have lost loan market share to varying degrees since 1Q10. Bank of America is the biggest loser during that stretch, dropping 370 bps of share.
Analysts note that Wells Fargo's acquisition of Wachovia led to targeted, intentional run-offs of various loan types since 1Q10.


Stock Picks
The report names Fifth Third, PNC Financial, SunTrust Banks Inc (NYSE: STI) and U.S. Bancorp as Susquehanna's top regional bank stock picks.
Susquehanna currently has a Positive rating on all four stocks.
Disclosure: The author owns shares of Bank of America and Wells Fargo.
Image credit: Joe Mabel, Wikimedia
Posted-In: Analyst Color Long Ideas Short Ideas Analyst Ratings Trading Ideas Best of Benzinga
View Comments and Join the Discussion!