Is Original Content Netflix's Silver Bullet?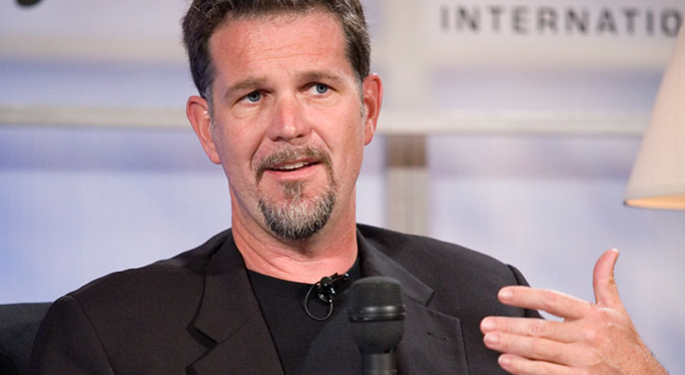 Television and movie streaming website Netflix, Inc. (NASDAQ: NFLX) has big plans for 2015. The company will be releasing its largest amount of original content yet. With that said, the 320 hours of original content Netflix plans to release throughout the year will actually cost the company less than most of its licensed content.
Netflix said of its increase in original content in its fourth-quarter investor letter, "We try to make each project more efficient and effective than studio content we'd otherwise be licensing."
However, Netflix recently notified investors that the amount of money spent on original content will likely increase over the next several years, citing "This will mean more cash usage, which means more debt."
Although investors have not reacted kindly to Netflix's spending habits, the company expects to get a return in both profit and user growth from having more original content as it did from its original shows; Orange is the New Black and House of Cards.
In addition, Netflix has been on the path of rapid global expansion and is currently available in more than 50 countries throughout North America, South America, and Europe. The company will become available in Australia and New Zealand in the beginning of this month. In addition, there has been talk of Netflix bringing its service to Asia sometime in the near future.
Related Link: The Top 10 Analysts On Wall Street
BTIG analyst Richard Greenfield recently weighed in on Netflix, assigning a Buy rating on the stock with a $600 price target. Greenfield believes Netflix's "massive year" of original content is critical for the company's future growth. He noted, "If you look at the number of shows, basically every four weeks we're going to have something new and fresh to watch on Netflix with House of Cards-like quality."
Richard Greenfield has an overall success rate of 59 percent recommending stocks and a +3.8 percent average return per recommendation. He has rated Netflix five times since April 2015, earning a 100 percent success rate and a +38.9 percent average return per recommendation.
On the other hand, Wedbush analyst Michael Pachter has an Underperform rating on Netflix, believing that an increase in competition from other online streaming websites like Amazon Prime and Hulu Plus will result in Netflix having to spend more on marketing for its original content.
Overall, Michael Pachter has a 43 percent success rate recommending stocks and a -0.2 percent average loss per recommendation. He has rated Netflix 36 times since April 2009 with only a 17 percent success rate recommending the stock and a -41.1 percent average loss per recommendation.
On average, the top analyst consensus for Netflix on TipRanks is Moderate Buy.
Image credit: Guety, Wikimedia
The following article is from one of our external contributors. It does not represent the opinion of Benzinga and has not been edited.
Posted-In: Analyst Color Price Target Analyst Ratings Tech Best of Benzinga
View Comments and Join the Discussion!