GoPro Hero Vs. Xiaomi Yi: Do Investors Have Something To Worry About?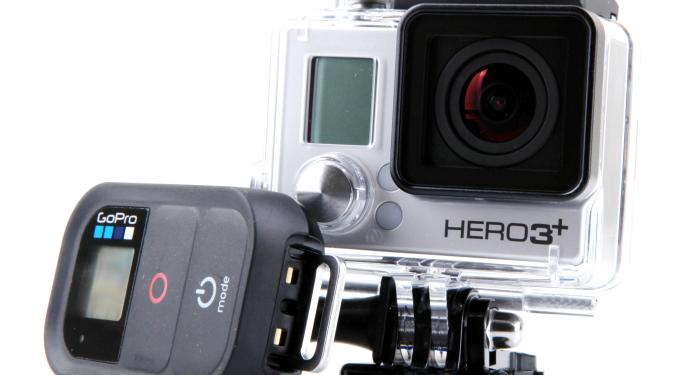 Xiaomi's Yi Action Camera caused quite a stir on Monday. Investors fear that the $64 device will pose a serious threat to GoPro Inc (NASDAQ: GPRO), whose entry-level Hero camera sells for $129.99.
At first glance, the Yi sounds like a better deal. It retails for half the price but can shoot 1080p video at 60 frames per second -- twice as many frames as the GoPro Hero. The Hero can also shoot 60fps, but only at 720p.
Related Link: Xiaomi's $64 Camera Burns GoPro, But Boosts Ambarella
Product manufacturers can say anything on paper, however. The final product could turn out to be a terrible GoPro knock-off. Does that mean investors shouldn't worry?
"I've been bearish on GoPro since they became public," Cody Willard, chairman of Scutify (a financial social network), told Benzinga. "I've talked about how Chinese competitors are going to crush GoPro. GoPro does not have a proprietary platform. Without a proprietary platform, they're just another hardware company."
Willard doubts that GoPro will be able to easily pivot to media. He expects Xiaomi's camera to be the first of many Chinese knock-offs that threaten -- and eventually diminish -- GoPro's dominance.
"Apple has its own platform," said Willard. "The Chinese competitors can try and try but they're going to end up using Android or some crappy unheard of operating system. Without an operating system that's critical mass, the competition could eat your lunch."
Related Link: GoPro Or 'GoWow'? Company Soars On 'Apple-Esque' Results
'Simply Hardware'
Willard said that GoPro is "simply a hardware company" that wants to be a media company.
"It's too late," he said. "GoPro should have been built with an Android operating system that would easily tie into your smartphones and tablets. You'll look back in five years and laugh at how hard it is to manage GoPro content. Wake me up when you can tweet your video from your GoPro directly."
Willard isn't sure who will ultimately solve GoPro's problems and build a better camera, but he doesn't expect it to be the company's current competitor.
"The Chinese aren't going to be the ones who come up with that solution," he said. "The only thing GoPro can do to save their company is to shift all their resources into becoming an Android-based wearables camera company, 'cause that's where the wearables camera market is headed. It will be dominated by Android operating systems because they're so easy to implement and use."
Willard has two GoPro cameras that he has avoided for months, but he owns and regularly uses several Android devices.
Disclosure: At the time of this writing, Louis Bedigian had no position in the equities mentioned in this report.
Posted-In: Cody Willard GoPro GoPro Hero Scutify XiaomiAnalyst Color Exclusives Tech Best of Benzinga
View Comments and Join the Discussion!