Exxon/BP Mega-Acquisition Story Is 'Frivolous,' Says Analyst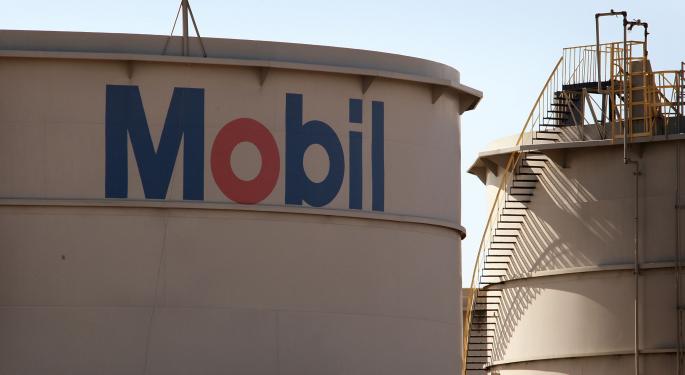 On Thursday afternoon, shares of Exxon Mobil Corporation (NYSE: XOM) and BP plc (ADR) (NYSE: BP) rose following the publication of a note from Paul Sankey at Wolfe Research highlighting the potential of Exxon seeking an acquisition in an effort to "meaningfully boost its oil and gas reserves."
Traders and speculators have been making noise for months that lower prices will put pressure on cash-strapped firms, thus leading to potential acquisitions.
Exxon may need the boost, as the company's Current Ratio has dropped continuously since its high in Q4 2005 highlighting Exxon's pressure to pay its short-term obligations.
BP has seen itself improving since 2008, according to data from Zack's Research.

Exxon also has an elevated Inventory Turnover level compared with BP.
BP was struggling to move product well before its Deepwater Horizon incident in 2010. That event didn't seem to drive Inventory Turnover down materially, but it likely helped to keep the level suppressed.

Tangent to Inventory Turnover is the decade-long decline in Exxon's Payables Period. Since the end of 2005, Exxon's payables Period in Days has gone from 22.93 days to 45.21 days -- an increase of just over 97 percent. Contrast that with BP's decreasing Payables period, which fell from 63.40 days to 32.14 days at the end of 2014 -- a decrease of nearly 50 percent.
Essentially, Exxon is in no position to make a mega acquisition, and analyst Pavel Molchanov from Raymond James agrees.
Pavel calls the idea of Exxon being in position to make an acquisition "frivolous," and notes the company "doesn't need to do it," according to a conversation with Benzinga.
The complications from the UK regulatory authority would be substantial, and Exxon doesn't look to be in the position to deal with those hurdles just to increase its reserves.
In the last hour of trading on Thursday, Exxon traded up almost 2 percent to $92.33, while BP traded up over 2.5 percent to $41.38.
Posted-In: Paul Sankey Pavel MolchanovAnalyst Color Commodities Exclusives Markets Analyst Ratings Interview Best of Benzinga
View Comments and Join the Discussion!