Expert: Euro/Dollar Parity Could Happen Soon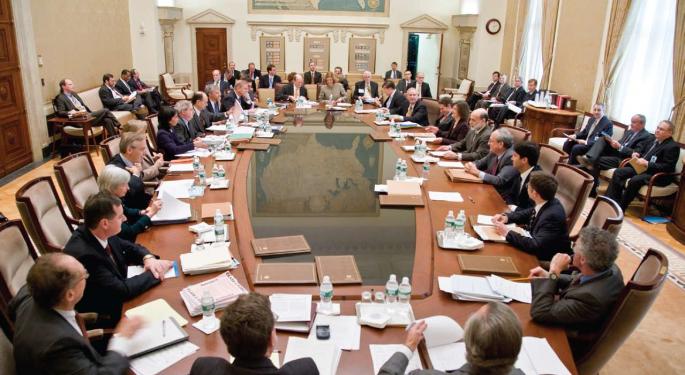 With the euro struggling to maintain its historical lead over the U.S. dollar, a lot of people are expecting the European currency to reach parity level with dollar soon.
JJ Kinahan, from TD Ameritrade Holding Corp. (NYSE: AMTD), along with BMO Capital Markets' chief investment strategist Brian Belski, were on CNBC recently to discuss European fears and impacts on the U.S. market.
Related Link: EUR/USD Steady
"I think this level of volatility, the VIX [...] may continue up near 20. It does seems hard to believe that bonds can maintain to return this 2 percent, because I think as people start to get more afraid, they are going to come in and buy bonds, pushing the yield down a little bit," Kinahan said.
"I think we have to be concerned, because there's no plan if the euro ever does come to go away so to speak."
Will The Euro Will Cease To Exist?
"I don't think that's necessarily as likely as I think that maybe euro going to parity with U.S. dollars," Kinahan replied.
Is That Your Prediction For This Year?
"That can happen this year, because there is so much pressure on it and people are going to continue, I think, to come into the U.S.," Kinahan added.
Is There Too Much Focus On Europe?
"No, I think it's too much from a longer term –- an investment standpoint -- because remember, the last ten or 15 years we have all been international investors. It's all been outside the U.S," Belski said.
Related Link: JPMorgan Booking Profits On U.S. Dollar, But Bullish Over Medium-Term
"So, any kind of news –- both positive and negative –- coming out of Europe is showing these types of reactive moves. And last year, everyone was built up on Europe. And they didn't do very well. This year coming into the New Year, everyone wanted Europe, and austerity, and QE...now there is a lot more volatility."
Belski continued: "So, at the end of the day, we continue to suggest people stay in America and kind of watch Europe from afar.
"That doesn't mean they should sell all their European stocks. It just means they should be much more concentrated and deliberate with respect to the individual entities that they do own."
Image credit: Public Domain
Posted-In: BMO Capital Markets Brian Belski CNBCAnalyst Color Forex Markets Analyst Ratings Media Best of Benzinga
View Comments and Join the Discussion!