Facebook Had An 'Incredible' Quarter But More Work Needs To Be Done, Analysts Say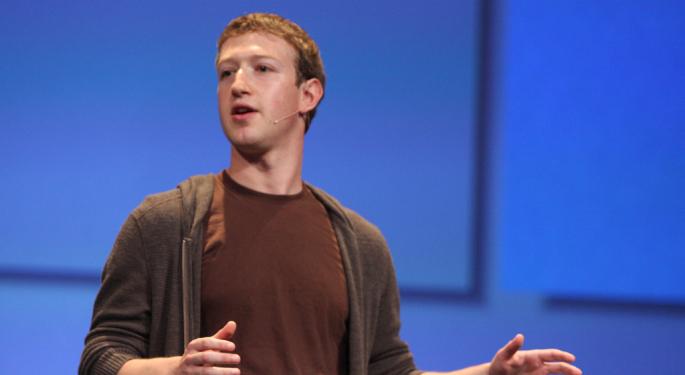 Facebook Inc (NASDAQ: FB) beat analyst estimates last quarter, but still fell in after hours trading.
"The EPS beat looks better than the revenue beat," Sean Udall, CIO of Quantum Trading Strategies and author of The TechStrat Report, told Benzinga. He said he was surprised that the stock had taken a hit.
"It's a nice, solid beat," Udall continued. "A lot of companies would probably like to have the results Facebook posted. It's definitely nothing like an Apple, but nothing is going to be like Apple this quarter."
Related Link: Alibaba Needs An 'Apple-Esque' Quarter To Ignite The Stock
Metrics? Who Cares?
Global Equities Research analyst Trip Chowdhry didn't pay much attention to the 1.39 billion MAUs (monthly active users) that Facebook reported. "I think, moving forward, these metrics are meaningless," Chowdhry told Benzinga.
"If we keep talking about monthly active users, it is looking at Facebook in a rear-view mirror."
Cody Willard, a former hedge fund manager and chairman of Scutify (a financial social network), also believes that MAUs are a thing of the past -- for Facebook, at least.
"I just don't think it matters," Willard told Benzinga.
"I don't know that 1.4 billion monthly users is any more significant than 1.2 billion when we're talking about getting less than one penny per user per day in revenue. The whole story with Facebook now is, can they ramp up to one, two, three cents per user per day over the next year or two. And then you've got some real leverage in that model."
Chowdhry thinks Facebook's value comes from its "strong discovery and amplification platform."
"As long as Facebook continues to provide a platform for communication and interaction and discoverability, business will continue to do well and it will continue to attract both the users as well as advertisers," Chowdhry added.
"I think the key reason for this beat is three things: first, the social graph. Second, the interest graph. Third, the affinity graph. These things are most attractive to the online advertiser. That's a reason there's a beat on top-line and the bottom line."
Chowdhry also said that Instagram has yet to be fully monetized. Facebook's revenue should continue to increase as the company improves that element.
Related Link: Former Hedge Fund Manager: Facebook's Monetization Is More Important Than User Growth
What's The Deal With WhatsApp?
WhatsApp is still a sticking point for many investors.
"I really did not like that WhatsApp deal," said Udall. "I'm sort of skeptical whether WhatsApp will ever work. I think it's very easy for other people to turn on instant messaging applications within their respective social networks. Twitter can do that. Apple can do that.
"In fact, Apple has that feature with iMessage. People that have an Apple device have iMessage by default that basically they could use and they never have to use something like WhatsApp."
Udall said he would need WhatsApp to become "some sort of viable, revenue-generating asset" to become a bull again. He said he's currently more neutral than anything else.
Some analysts don't think Facebook needs to prove that WhatsApp was worth the high acquisition fee. Others take it a bit more seriously.
"I care," said Willard. "As a shareholder, they just diluted me by nearly 10 percent to buy WhatsApp. They sure as heck better make that worth my while over the next three to five years."
Udall thinks that WhatsApp needs to start making between $500 million and $1 billion per year to prove its worth.
"For people to say that [spending] $22 billion doesn't matter, I would totally disagree with that," he said.
Disclosure: At the time of this writing, Louis Bedigian had no position in the equities mentioned in this report.
Image credit: Brian Solis, Flickr
Posted-In: Cody WillardAnalyst Color Long Ideas Exclusives Analyst Ratings Tech Trading Ideas Interview Best of Benzinga
View Comments and Join the Discussion!