Tech Stock Strategist Sean Udall's Take On Apple's Earnings Report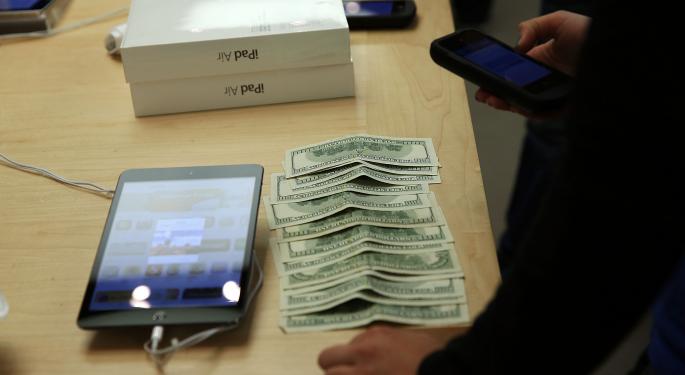 With earnings season in full bloom this week, Tech Stock Strategist Sean Udall shared his perspective for Apple Inc. (NASDAQ: AAPL) ahead of its Q4 earnings release, which is due to be released on Tuesday, January 27 after market close.
Tech Stock Strategist
Udall, a seasoned veteran in the tech stock arena, has been closely following the sector since the 1990s after making a killing during the run-up in Novellus Systems. In addition, he has worked for Morgan Stanley and Salomon Smith Barney, while producing prolific content on the tech sector.
Currently, Udall authors the TechStrat report that provides details of his analysis on the sector and trading strategies that may allow investors to profit from moves in the volatile sector.
Increasing Earnings Estimates For Apple, Well Ahead Of The Street
Udall was real excited about the upcoming release sometime ago, as he had already raised his own independent earnings estimates for the upcoming quarter. He summed up his thoughts this way: "If Apple's earnings report had come sixty days ago it would be a shockingly surprisingly good quarter, because analyst's were a good $0.20-$0.30 below where they are now, I still think they can still beat the number, but it would have been a huge beat without all the analyst's revisions."
Guidance Will Matter
Since the Street was caught with this quarter's estimates, Udall expects the issue to trade off future guidance. Udall added: "if they guide in-line or slightly higher, I think people may be surprised how well the stock may work." At this time, he is ignoring the notion that no matter what they report, the stock is going lower.
Related Link: Google Comes Roaring Back
When asked if he was nervous that the Street jumping on the earnings bandwagon, "It does not make me skeptical, but I do always like it when I feel like I have a big edge, as I do both fundamental and technical analysis work." The Street stands at $2.59 and Udall was at $2.60-$2.70 60 days ago. At the time of his upward revision, the Street was at $2.38.
Reasons For Optimism
Udall is focused on new market share evidence and maintains his year-long thesis that the new large devices are going to hinder Android sales. Also, the Skyworks Solutions Inc (NASDAQ: SWKS) report was a huge indicator that the Apple number might be higher-than-expected. On the broadcast, Udall stated that is looking for Apple to come in between $2.72 and $2.88 per share.
Reason For Concern
The only thing that worries Udall is that some firms have come up with very high estimates such $2.88. Therefore, if the "whisper number" get high enough, there could be some disappointment if if the higher levels are not matched.
Future Catalysts
Looking forward, Udall anticipates Apple Pay to be positive catalyst for earnings in the upcoming quarters. It could add $1B-$2B to the revenue stream with a 90 percent margin a year for now if the service meet Udall's expectations. He still remains unconvinced that Apple has come up with a wearable device that will dominate the industry.
Check out the video below for a full recap of Sean Udall's appearance on #PreMarket Prep:
Posted-In: Sean Udall Tech Stock StrategistAnalyst Color Movers & Shakers Previews Trading Ideas General Best of Benzinga
View Comments and Join the Discussion!