Credit Suisse's Top REIT Pick (And One Of The Worst Kept Secrets On Wall Street)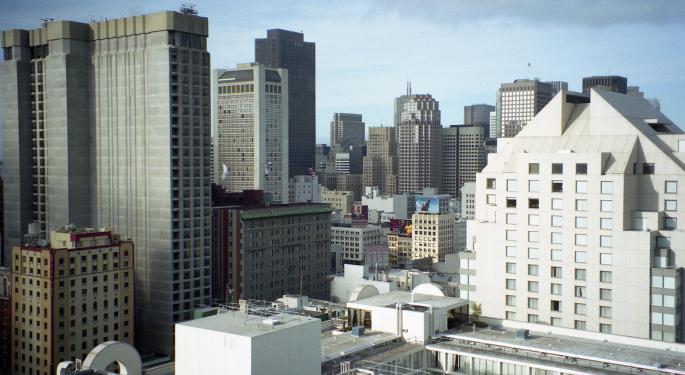 The fact that equity REITs outperformed the broader market in 2014 is by now one of the worst kept secrets on Wall Street.
Most REITs are trading at or near 52-week highs; at these lofty levels they are trading at high Price/FFO (REIT earnings) multiples and relatively high net-asset values (NAVs).
Many investors have just put REITs on their radar screen for the first time after a strong 2014 performance. However, they face the same challenges as veteran REIT investors in 2015: How can they find REIT sectors and companies that still have room to grow?
Analyst Research Is One Tool
REIT analysts at various investment banks have kicked off 2015 with a slew of upgrades and downgrades. Credit Suisse is no exception – here was the picture as of January 18, 2015.
Investors should keep in mind that the universe of REIT stocks covered by Credit Suisse is somewhat limited, and does not include subsectors such as: self-storage, data centers, manufactured housing, student housing, single-family rentals or triple-net REITs.
Credit Suisse - Top 10 Highest Total Return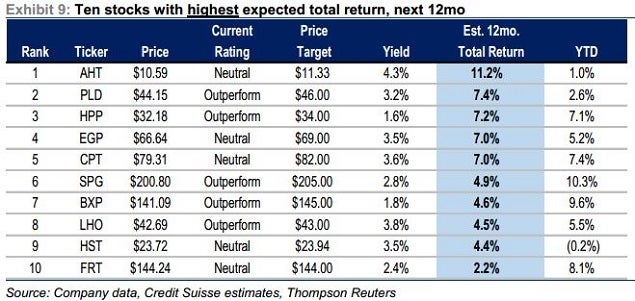 Notably, on January 21, Credit Suisse upgraded top pick, Ashford Hospitality Trust, Inc. (NYSE: AHT) from Neutral to Outperform.
Additional top five upgrades to Outperform on this list included: industrial REIT EastGroup Properties Inc (NYSE: EGP) and multifamily REIT Camden Property Trust (NYSE: CPT).
Credit Suisse - 10 Lowest Total Return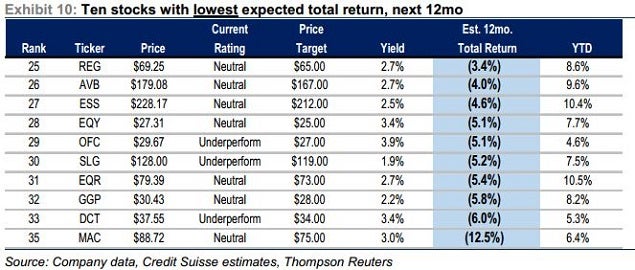 Notably, on January 21, Credit Suisse downgraded mall landlord Macerich Co (NYSE: MAC) from Neutral to Underperform.
In November 2014, it was revealed that mall giant Simon Property Group Inc had acquired a 3.6 percent interest in rival Macerich.
Related Link: The Shopping Mall May Rise From The Dead: Simon & Macerich Team Up
This resulted in shares of Macerich spiking upward on takeover speculation.
Additional downgrades to Underperform included: office REIT Vornado Realty Trust (NYSE: VNO) and shopping center REIT Equity One, Inc. (NYSE: EQY).
Credit Suisse Top Pick - A Closer Look
The Ashford Hospitality Trust portfolio consists of 116 hotel properties with over 23,000 rooms. The majority of the portfolio operates under premium brands owned by Marriott, Hilton, Starwood, Hyatt and Intercontinental.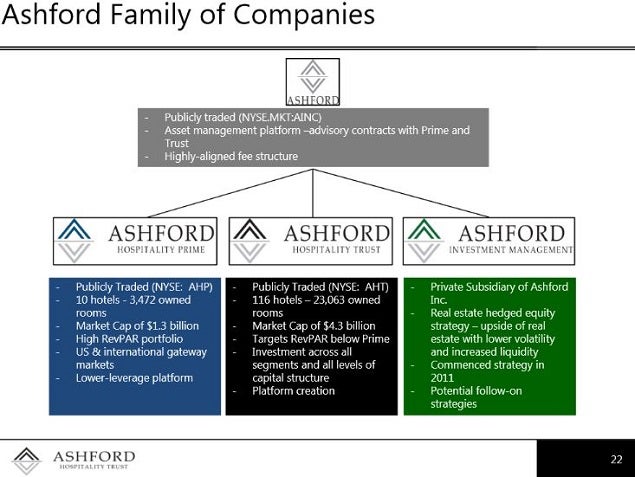 (Source: AHT Nov. 2014 Presentation)
The company is externally-advised by Ashford Inc (NYSE: AINC). Shares of Ashford have traded in a 52-week range of $61.11 to $131.01, closing at $106.25 on January 21.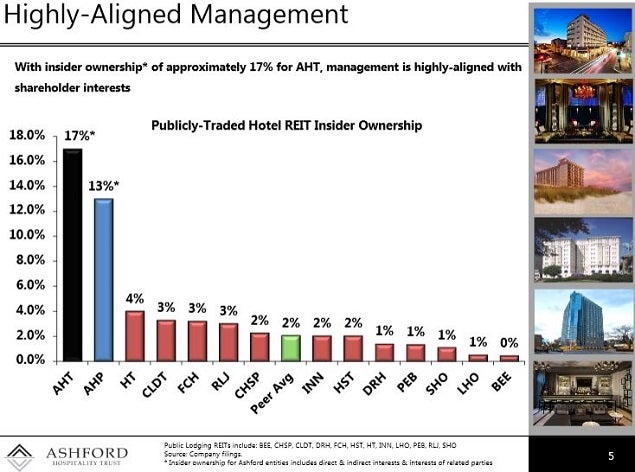 (Source: AHT Nov. 2014 Presentation)
There is significant insider ownership of the Ashford Hospitality Trust, as well as its sister company, Ashford Hospitality Prime, (the similar names could potentially be a source of confusion for investors).
Ashford Is Trading Below NAV
Credit Suisse's valuation metrics for Ashford Hospitality Trust indicate that the company is trading significantly below its estimated NAV of $13.50 per share. Based upon a share price of $10.59, shares of Ashford Hospitality Trust are trading at 78 percent of NAV, with an implied cap rate of 9.3 percent.
This compared to a Credit Suisse Lodging REIT average of 100 percent of NAV, and implied cap rate average of 6.9 percent for the eight REITs it covers in this hotel sector.
Credit Suisse used a weighted average formula of 50 percent forward NAV, 20 percent discounted cash flow and 30 percent EV/EBITDA when calculating its $11.33 price target for AHT.
Investor Takeaway
Ashford Hospitality Trust is the only REIT currently covered by Credit Suisse that trades at such a significant discount to the value of its underlying assets.
The company also pays an apparently well-covered dividend (AFFO payout of 59 percent), currently yielding approximately 4.5 percent.
However, investors should also be mindful that AHT has a highly leveraged balance sheet (63 percent debt/total market capitalization) compared to its Credit Suisse Lodging REIT peer group of only 22 percent.
Image credit: Robert Lindsell, Flickr
Posted-In: Long Ideas REIT Short Ideas Upgrades Downgrades Analyst Ratings Trading Ideas General Best of Benzinga
View Comments and Join the Discussion!