Edmunds.com Analyst: Auto Sales Can't Continue To Grow In This Way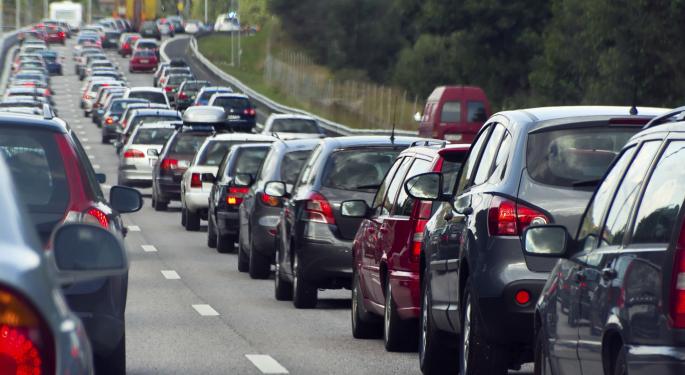 What sticks out to Edmunds.com analyst Jessica Caldwell about the auto sector is just how strong sales continue to be, she told Benzinga.
But she knows that sales can't continue to grow at this rate. Caldwell explained that sales are at pre-recession rates right now, so there isn't much more growth that can happen.
"Before we were below trend, and when you're below trend it's easy to get to be about where things should be," she said.
Sales could stay above trend for a while because of pent-up demand, Caldwell said, but on the long-term, it will be hard for sales to continue to grow like that.
Related Link: 5 Auto Stories Analysts Are Watching In 2015
Good Timing For Some, Bad For Others
Fiat Chrysler Automobiles NV (NYSE: FCAU) did really well in 2014. Caldwell thinks the automaker is hitting the right products at the right times with the Jeep Ram while SUVs remain popular, as well as the smaller SUV Cherokee and its counterpart the Grand Cherokee.
"The lineup is really timed right for what consumers are looking for right now," she said.
The one automaker that didn't do as well as the others was Ford Motor Company (NYSE: F). Caldwell pointed out that this is due to Ford preparing for the new F150 pickup truck.
Until it started selling just a few weeks ago, the automaker had to conserve inventories because it was closing down and completely retooling factories.
While utility vehicles did all right, cars are kind of a hard sell for Ford right now, Caldwell said. She went on to say that's because the company had been really focused on fuel efficient cars, which is not such a great value propositions with such low gas prices.
The truck situation should be rectified in 2015, according to Caldwell.
"If it isn't, there's some major questions at that point as to what's happening at Ford," he said.
2015: The Return Of The Hybrid
For 2015, Caldwell will be looking at what happens to more fuel efficient cars, especially hybrids.
There will be a new Toyota Motor Corp (NYSE: TM) Prius this year, which Caldwell called the poster child for hybrids. In addition to low gas prices, she thinks the fact that the current Prius model is outdated hurts hybrids.
"I think the new vehicle will be the litmus test for hybrids," she said.
If the new Prius comes out and gas prices are still low, Caldwell said it will be tough sell. But she's curious to see if those who have committed to hybrids will return regardless of what gas prices are.
View Comments and Join the Discussion!
Posted-In: auto Edmunds.com Fiat Chrysler Jessica CaldwellAnalyst Color Exclusives Trading Ideas