How To Protect Yourself From A Price Target Below Market Price (NYSE: CVC)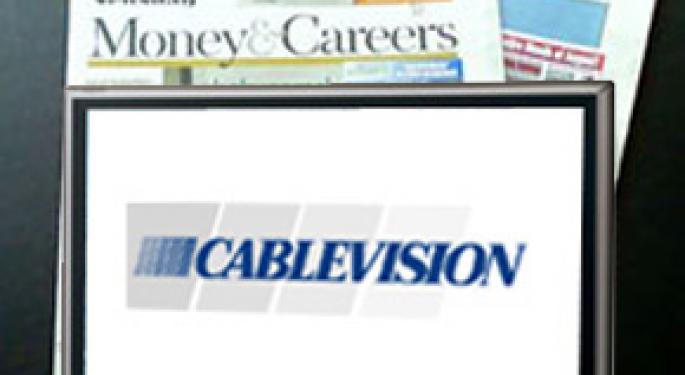 Analyst Summary
Cablevision Systems Corporation (NYSE: CVC) is being maintained with a Hold rating and $22 price target by Bryan Kraft of Cross Research. This is a discount to the CVC's current price of $23.68 per share.
"We increased our 2010 Telecom revenue estimate by 0.7% and our Consolidated revenue estimate by 0.5%. Our revised EPS estimate is $1.72, vs $1.59 previously, with the change mostly due to lower forecasted depreciation expense," states Bryan Kraft.
How To Protect Yourself If Long:
If you are long but do not want to sell, you could do one of two things. First off you could trim some of your position and buy back later at a lower price if it falls. Or you could sell some in the money call options against your position to hedge yourself from a fall to $22.50.
The April 2010 22.50 strike options are selling for $1.55 per share, which means there is $0.37 of extrinsic value in the shares since the stock is trading at $23.68.
By selling these calls against your position, you will keep the extrinsic value but gain no potential upside. So in 49 days, if the stock is at $22.50 or higher, you will have to either roll the options over, or sell your shares for $22.50. However, you keep the $1.55 per share which included the 37c in extrinsic value.
This would factor to an annualized return of 12.24% as well as protecting you from loss of capital from a move of over $1 per share to $22.50. This is a great example of how you can reduce risk, create a synthetic dividend out of covered calls, all by using options.
Posted-In: Analyst Color Earnings Long Ideas Short Ideas Dividends Price Target Options Markets
View Comments and Join the Discussion!