Gene Munster On Apple Watch: 2015 Is A Set-Up Year, But 2016 Will Be 'Exciting'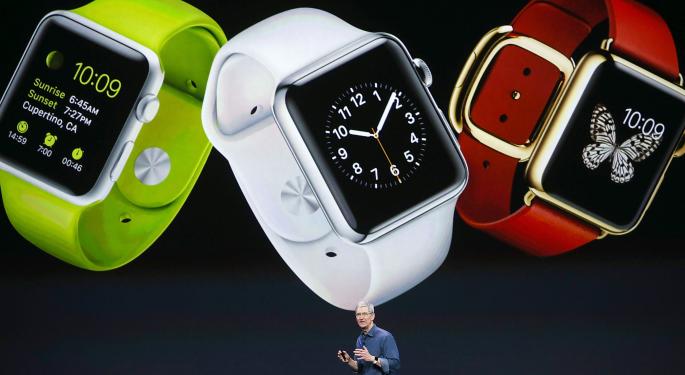 One of the top Internet stock analysts on the Street, Piper Jaffray's Gene Munster was on CNBC Monday to talk about the numbers one can expect from Apple Inc.'s (NASDAQ: AAPL) Apple Watch.
Apple Watch Sales Figures
When asked if the Apple Watch is different in comparison to any other new product category -- such as the advent of the iPad -- Munster said, "The nuance here is when you survey people before the iPad came out, that was their exact response [that the product wasn't anything different]."
"As soon as they saw, the interest level jumped up."
Munster continued, "So there were similar numbers before; after it was 30 to 40 percent of people with Apple products [who] said they would buy an iPad. So, that 35 percent number basically compares to a 7 percent number today for the Watch and so, I think there's a couple of reasons they are attributed that, but that kind of compares the two."
Related Link: 3 Predictions For Apple In 2015
Isn't 10 Million Conservative?
When discussing annual sales projections, Munster reminded, "It seems like a small number, but keep in mind is that if you look at the broader scheme of how this plays out, you are going to have one strong quarter and that number, that 10 million number, may end up being slightly low. But at the end of the day, these interest levels are so minuscule that it's hard to put more optimistic numbers."
"Separately on the supply chain, which is still hit and miss, is suggesting more of a kind of 20 million number, but they tend to overstate," Munster continued, "So, we have taken the combination of this survey work, along with some the feedback from the supply chain in getting to that number."
He concluded, "This is a set up year -- 2015 is a set-up year. 2016 is where it gets more exciting when the apps start to roll out for the Watch."
Posted-In: Apple Watch Gene Munster Piper JaffrayAnalyst Color CNBC Tech Media Best of Benzinga
View Comments and Join the Discussion!