The Big Problem With Oil No One Is Talking About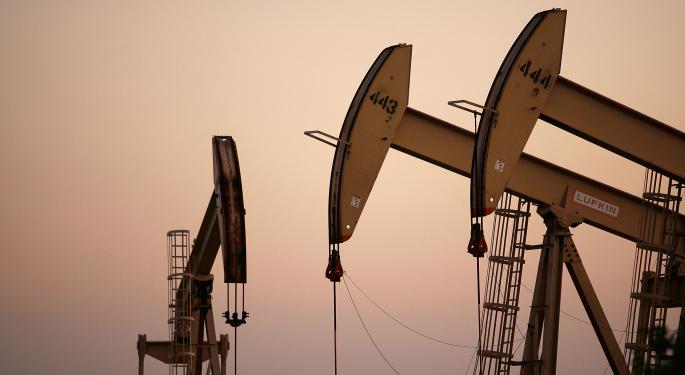 TD Ameritrade Chief Strategist JJ Kinahan says there is one big problem with oil at its current prices that no one is talking about.
The Positives
In the short-term, Kinahan told Benzinga it's really about the consumer with oil prices. That means consumers will see airlines doing well.
Related Link: Why Frank Zorrilla Won't Trade Apple Like A Momentum Stock
"As far as I can see, they haven't really cut prices, so that would be a synthetic play on hotels because people will start traveling, especially as you start to see spring break prices, etc." Kinahan said.
Kinahan also pointed out that lower oil prices means it will be cheaper to ship housing raw equipment like lumber. He said this could possibly lead to builders cutting home prices, which could increase new-home sales.
'One Big Negative'
There is, however, "one big negative" that people aren't talking about yet, Kinahan said.
Low oil prices don't help oil servicers at all.
"It's fine if we stay here, but if we continue much lower on oil, we could have a little bit of a junk bond problem because many of the issuers of those over the last year have been oil services companies," he said.
Oil production isn't cheap, Kinahan explained, so new players to the industry over the past few years have had to issue high interest rate bonds in order to finance the equipment they use.
Its all about that Crude, 'bout that Crude, crude oil... Todays Blog http://t.co/bE74rVCCR4

— TDAJJKinahan (@TDAJJKinahan) December 3, 2014
What could happen if oil prices go lower is that many of these companies may default on their loans.
"Remember, a lot of people have been chasing yield over the last couple of years with 10-year rates basically in the 2.3-2.6 area," he said.
Kinahan emphasized that he's not saying this will happen, just that it could.
"But when banks are talking about $50 oil, you get down there, and I think we're going to start seeing the effects of that," he said.
View Comments and Join the Discussion!
Posted-In: airlines bonds Crude Oil hotelsCommodities Exclusives Markets Analyst Ratings Best of Benzinga