6 Strong Analyst Recommendations That You Should Know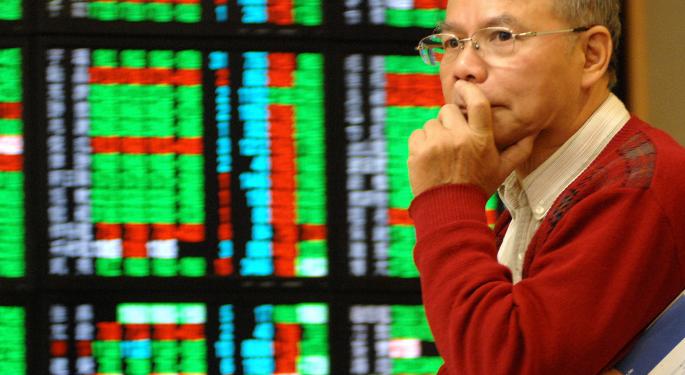 Let's face it, there are many stocks out there that investors should jump on and many that investors should run away from.
But how are we supposed to know which stocks those are?
TipRanks collects different analyst ratings that have been published online and ranks these analysts based on their financial advice history so investors know who to trust.
So which stocks are worth investing in and which stocks should you leave behind?
While Alibaba, Gilead Sciences, and Micron Technologies have consistently received Bullish ratings over the past year making their analyst consensus a Strong Buy, J.C Penney, RadioShack, and Sears Holding Corp have consistently received Bearish ratings giving them a Strong Sell consensus.
Alibaba:
E-commerce giant Alibaba Group Holding Ltd (NYSE: BABA) made a huge splash this year after its record breaking IPO back in August. Since then, the stock has continued to gain momentum, passing retail giant Wal-Mart twice in market capitalization. The company also recently generated more than $9 billion in sales on November 11, also known as 'Singles Day' in China. In China, this day is the equivalent of Black Friday in the United States. In comparison terms, the company turned over more revenue on one day than it did all last quarter.
Alibaba has been rated 23 times since becoming a publicly traded company, with 20 bullish ratings and 3 neutral ratings. Most recently on December 5, 4.5-Star Credit Suisse analyst Dick Wei maintained an Outperform rating on Alibaba with a $118 price target. He noted, "In the long term, [Alibaba] aims to build a global marketplace for all merchants to sell to anywhere." Alibaba is currently valued at $268.21 billion.
Gilead Sciences:
Gilead Sciences, Inc. (NASDAQ: GILD) is a research-based biopharmaceutical company known for developing treatments for life-threatening diseases, specifically focusing on therapies for HIV/AIDS, liver diseases, and cancers. The biopharmaceutical company recently launched a hepatitis C treatment called Sovaldi.
Demand for the hepatitis C drug has been outstandingly high from doctors and patients all over the world. In fact, Gilead sold over $5 billion worth of the drug in its first 6 months on the market, earning the title of this year's top selling medicine so far and the only medicine to reach such high sales so quickly.
Gilead Sciences has been rated 15 times over the past year, with 14 bullish recommendations and 1 neutral rating. Gilead was last recommended on December 5 by 4- Star J.P Morgan analyst Cory Kasimov, who reiterated an Overweight rating. He reasoned, "We estimate that Gilead could generate in excess of $30B in cash in the next two years alone, and potentially $80B+ over the next 5 years. Put into perspective, that's ~$15B more than the current combined cap of our entire small- & mid-cap coverage universe comprised of 20 companies." Gilead Sciences is currently valued at $157.79 billion.
Micron:
Micron Technology, Inc. (NASDAQ: MU) is best known for producing many forms of semiconductor devices, including DRAM, SDRAM, flash memory, and SSDs. Micron had a decent fiscal 2014 year, posting record revenue of $16.4 billion, record net income of over $3 billion and record free cash flow of $2.6 billion. The company's stock price has jumped from around $6 a share two years ago to around $35 a share today.
Micron's main operational focus areas are: technology deployment, optimizing manufacturing capacity and focusing on growing the memory systems and subsystem solutions. Micron is currently in a good position to take advantage of the improving industry dynamics with its varied memory product portfolio across multiple end-market segments and having the second largest installed manufacturing capacity.
Micron has been rated 22 times over the past year, with 19 bullish ratings, 2 neutral ratings, and 1 bearish rating. Micron was last rated on December 1st by 4-Star Pacific Crest analyst Monika Garg, who reiterated an Outperform rating with a $41 price target. She reasoned, "We believe limited bit growth mean earnings should move higher for the memory vendors, which could justify multiple expansion." Micron is currently valued at $39.17 billion.
J.C Penney:
J C Penney Company Inc (NYSE: JCP), an American department store with about 1,000 stores throughout the country, has seen a decline in sales this quarter. Third quarter 2014 net sales totaled $2.764 million, down from $2.779 million in the same quarter of last year. The retail chain blamed the economic recovery and unseasonably warm weather, which hindered the sale of fall and winter merchandise. J.C. Penney reported mixed results for Black Friday shopping, with some locations reporting heavy foot traffic and others reporting a decrease in Black Friday sales from last year.
Analyst Stephen Grambling of Goldman Sachs downgraded his rating on J.C. Penney from Neutral to Sell with a price target of $5.50. Grambling noted, "While we were hopeful that J.C. Penney's return to its 'old' strategy would recover a sizable portion of lost sales, recent results lead us to believe competitive changes in the industry from off-price and online will prevent management from achieving its multi-year outlook." Shares of J.C. Penney closed on December 5 at $6.73.
RadioShack:
RadioShack Corporation (NYSE: RSH), an electronics franchise in the United States, is scheduled to release its third quarter earnings report on Thursday, December 11. Many of the products RadioShack sells, such as cameras and GPS technology, have been replaced by smartphones. Consequently, the company is expected to post a loss of -$1.03 per share, up from -$1.09 the same quarter of last year. RadioShack took out a $250 million loan from Salus Capital Partners, though the two companies are now in a dispute because Salus claims RadioShack defaulted on the loan. RadioShack is set to close about 200 locations and has warned it may need to file for bankruptcy.
On October 6, analyst Michael Pachter of Wedbush maintained an Underperform rating on RadioShack with a price target of $0.00. Pachter noted, ""We believe that the new financing reflects a current value for RadioShack shares of $0.40, and believe that if exercised, the conversion would trigger further dilution. Given that the rights offering is intended to provide existing shareholders the option to buy shares at the same price as the new creditors are able to convert, we believe it implies that the new creditors value the company at $0.40/share or lower." Shares of RadioShack are currently trading for less than a dollar and closed at $0.59 on December 5.
Sears Holdings Corp:
Sears Holdings Corp (NASDAQ: SHLD) owns and operates both Kmart and Sears. Both are American department stores and have been struggling due to competition from other discount department stores. Sears reported third quarter losses of $548 million, compared to $534 million during the same quarter of last year. There are more than 1,800 Sears and Kmart stores across the U.S. but Sears announced they are closing 235 stories this year.
On December 4, Matt McGinley of Evercore ISI recommended to Sell the stock. He did not provide a price target. McGinley says that closing Sears locations "doesn't solve anything for them… It just buys time." McGinley expects Sears will burn $1.6 million in free cash flow this year. Shares of Sears have dropped 7.3% this year. Shares closed at $32.75 on December 5.
Posted-In: Analyst Color Trading Ideas Best of Benzinga
View Comments and Join the Discussion!