Apple's Success Has Made It Part Of The 'Payola Scheme'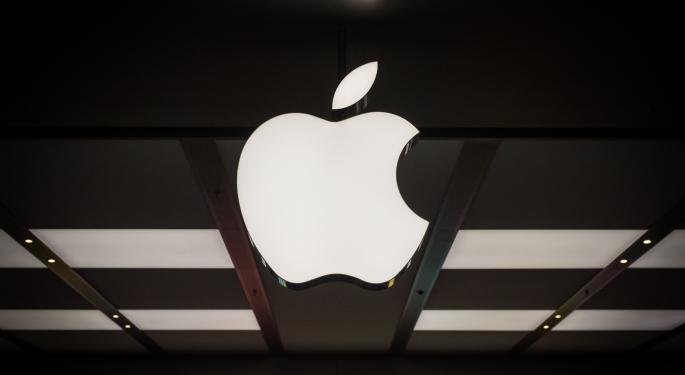 Apple Inc. (NASDAQ: AAPL) recently reached a new milestone when the company's market cap hit $700 billion. That success didn't last long -- the Cupertino, California-based tech giant quickly dropped below $700 billion and currently rests at roughly $673 billion.
Apple still remains the biggest company in the world, a title it held and once lost in 2013. Consequently, the Mac maker has become a target for those who are looking to cash in on its success.
"Part of the problem with becoming a super-huge market cap company globally is that you kind of become part of the payola scheme for governments and tax collectors and various entities," Sean Udall, CIO of Quantum Trading Strategies and author of The TechStrat Report, told Benzinga.
Related Link: Why It's Going To Be Very Strange To Hear From Steve Jobs Right Now
The list of "various entities" includes those who wish to sue. Apple is currently in court battling a 10-year-old case involving the iPod. Long story short, Apple is being accused of violating U.S. and California antitrust laws by preventing competing music formats from playing on the company's MP3 devices.
Apple settled its e-book pricing lawsuit earlier this year, but the company has taken the iPod lawsuit all the way to trial.
"A lot of companies don't fight stuff like this," Udall added. "Apple takes a little bit different of a corporate stand. They tend to fight them a little longer. They tend to string them out in court a little longer. And they have won."
Too Little, Too Late?
Tech industry expert and analyst Jeff Kagan wonders if the iPod suit -- filed in 2005 -- is ultimately too late.
"The opportunity has already risen, crested and fallen," Kagan told Benzinga. "If you look at these opportunities, Apple is a company that takes advantage of the wave. The wave rises, crests and falls -- just like a wave at the beach. For the first bunch of years you're on the growth side. Everything is getting better. Then the crest sort of comes down and it's a declining business."
iPhone sales continue to rise, but iPod sales have been declining for a couple of years.
"That iPod business is already on the declining side," Kagan added. "It has been for years. People are using their iPhones, their tablets and they're listening to music on a variety of devices. In fact, Apple is struggling now with declining music sales. It's a shrinking market."
Disclosure: At the time of this writing, Louis Bedigian had no position in the equities mentioned in this report.
Posted-In: Apple iPhone ipod Jeff KaganAnalyst Color Top Stories Exclusives Tech Best of Benzinga
View Comments and Join the Discussion!