3 Charts That Rebut Goldman Sachs' Top Themes For 2015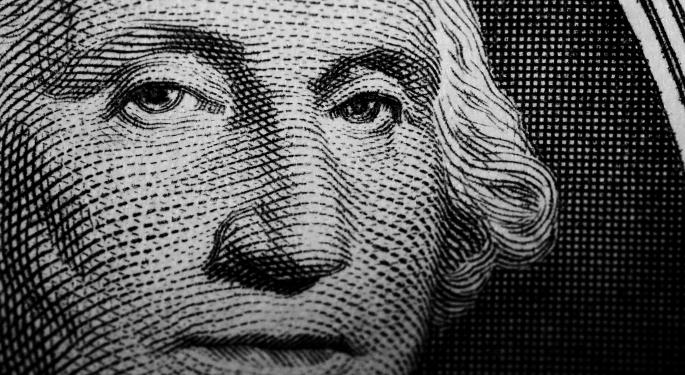 In case investors missed it, Goldman Sachs just released its top themes for 2015.
Goldman's top trades for 2015 are:
1. EUR/USD downside via a one-year EUR/USD put spread.
2. 10-year U.S. Treasuries above 3 percent but not below 2 percent in mid-2015, through cap and floor spreads at zero cost.
3. Long a Dec-2015 Eurostoxx 50 "bull" call spread.
4. Long U.S. High Yield credit risk via five-year CDX HY junior mezzanine tranches.
5. Long an equity basket of EM crude oil importers (Taiwan, Turkey and India).
6. Short CHF/SEK.
7. Bearish Copper relative to Nickel on supply divergence.
8. Long U.S. Dollar against a basket of ZAR and HUF.
Here's a translation of Goldman's points:
1. Relative to the U.S. Dollar, the Euro will continue to drift lower but won't spiral out of control.
2. 10-Year Treasuries will continue to be stuck between 2 and 3 percent.
3. European stocks will rally.
4. Short High Yield debt.
5. Stocks in Taiwan, Turkey and India will benefit from lower oil prices.
6. Buy Swedish Krona, sell Swiss Francs.
7. Buy Nickel, sell Copper.
8. Buy U.S. Dollars, sell South African Rand and Hungarian Forint.
Last year, four of Goldman's six recommendations made money. The bank's 2015 recommendations are predicated on three economic characteristics that could shape the year ahead.
Related Link: In Russia, Ruble Sells You!
The Other Side
For those interested in playing devil's advocate:
Goldman Prediction No. 1: The trades crystallize the idea that the U.S. economy, which is ending 2014 on a strong note, will continue to expand at an above-trend rate.
This should progressively drive up real rates and lead to an appreciation of the Dollar. In terms of long-run historical comparisons, the greenback is still a "cheap" currency on a trade-weighted basis.
Rebuttal No. 1: It's unclear what metric the bank is using to show the U.S. is growing "at an above-trend rate." Real rates in the U.S. should rise, but only because the country is facing major deflationary headwinds.
Judging from the chart below, if the U.S. Dollar continues to rise, one could see CPI growth fall into negative territory –- hardly the sign of a healthy economy.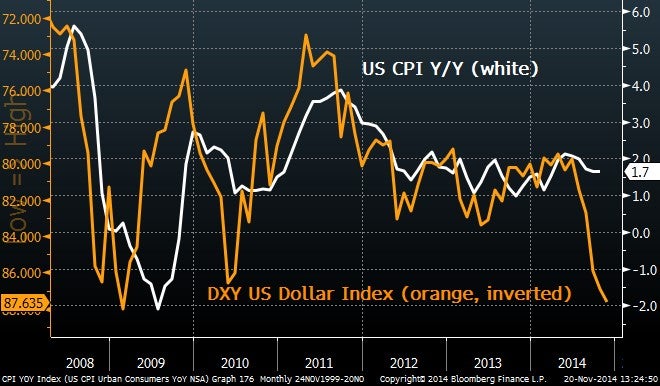 Goldman Prediction No. 2: The bank is also geared to the notion that Euro-area economic activity will start to see the benefits of an increasingly expansionary monetary policy, guided by the ECB's proactive pursuit of a larger balance sheet.
A mild relaxation of the fiscal stance (in the bigger economies individually and at the supranational level) and structural reforms should also support domestic demand.
Rebuttal No. 2: The chart below shows that balance sheet expansion and loose monetary policy have had little impact on economic activity in Europe since the financial crisis. A relaxation of fiscal austerity, combined with balance sheet expansion, might move the needle, but there's no sign this is likely.
As recently as October 14, German Chancellor Angela Merkel reiterated that Germany won't increase public spending even after the government slashed growth forecasts through 2015.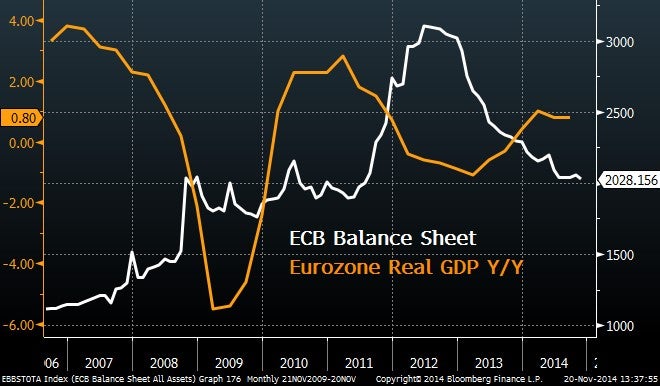 Goldman Prediction No. 3: A third "theme" that runs through the trades is what the bank has dubbed "the New Oil Order."
An expansion and redistribution of supply should keep headline CPI inflation lower (providing central banks more leeway to keep or expand monetary accommodation), further support disposable income growth in the advanced economies and lead to a greater differentiation across the emerging economies, most evidently along the oil dependency spectrum.
Rebuttal No. 3: It's hard to make anything out of that. The U.S. is essentially the only source of oil production growth in the world, now accounting for more than 10 percent of supply. This should support disposable income in the U.S., but not other developed countries.
The legislation may change, but as of right now the U.S. does not export oil, meaning consumers in Asia and Europe will still likely pay $4 to $5 per barrel more, as WTI continues to trade at a steep discount to Brent.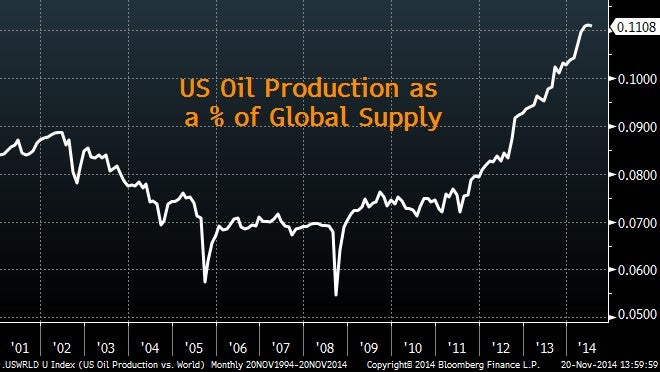 Tags: Goldman Sachs Goldman Sachs top trades
Posted in: Previews Trading Ideas Best of Benzinga