PlayStation 4 Vs. Xbox One: Will Price Cuts Have An Impact This Holiday?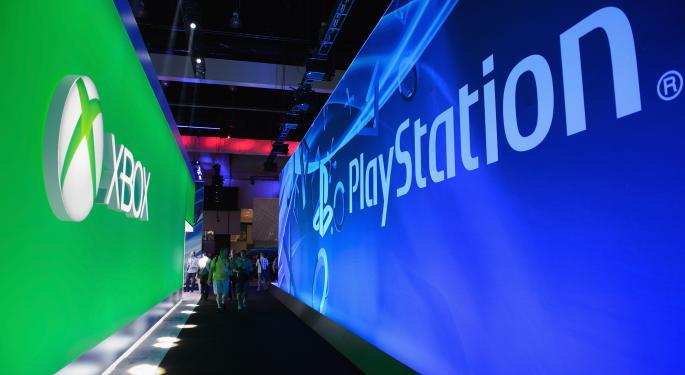 Sony Corp's (NYSE: SNE) PlayStation 4 has dominated the market since it was released in November 2013. The console reached a new milestone in August after Sony announced that it had sold more than 10 million units.
According to GameSpot, Microsoft Corporation (NASDAQ: MSFT) posted a blog indicating that five million Xbox One consoles had been sold during the same period. That indication was eventually deleted, making it difficult to tell how many units have actually been purchased.
Xbox One was initially more expensive than PlayStation 4, retailing for $499 at launch. Microsoft removed Kinect (its motion control device) and reduced the price to $399 earlier this year.
Related Link: PlayStation 4 Vs. Xbox One: Which Console Won E3?
Microsoft in October announced another price cut for the holiday shopping season, bringing Xbox One bundles (which include one game) down to $349. This makes the console $50 cheaper than PlayStation 4, which still retails for $399.
Too Little, Too Late?
Wedbush analyst Michael Pachter told Benzinga that it is "unlikely that Xbox will outsell the PlayStation until Microsoft repairs the damage they did with digital rights management and charging too much in the first place."
"They alienated a lot of their core at E3 in 2013 with always on and always watching technology, plus they really angered people with how they dealt with used games," said Pachter. "They backpedaled on all, but the damage was done. This year, they have a console priced $50 lower that comes with pretty good software, so it's possible that they can overtake Sony, but I think the core is still somewhat distrustful."
CRT Capital analyst Neil Doshi isn't sure Xbox One will catch up, but he thinks Microsoft has a very aggressive strategy.
"I think we're going to see very strong sales," Doshi told Benzinga, referring to both Xbox One and PlayStation 4. "We haven't put out a number yet for consoles. But I think the price drop this soon in the cycle indicates that the console makers are really trying to push adoption. I think getting an Xbox for $350 with a game is pretty aggressive."
Related Link: Did Xbox One Just Win The Battle For Hardcore Gamers?
Will Sony Follow Suit?
Doshi said the Xbox One is "is trying to catch up as much as they can" after having "issues with their initial launch."
"They lost a lot of ground," Doshi added. "This might be a way for them to catch up, but I wouldn't count Sony out."
Doshi said the price drop is "pretty significant" and predicted that Sony will follow suit.
"My guess is Sony will also… provide a price cut," Doshi concluded. "Maybe not at the same level. Maybe a modest price cut down to $379 with a game."
Disclosure: At the time of this writing, Louis Bedigian had no position in the equities mentioned in this report.
View Comments and Join the Discussion!
Posted-In: CRT Capital Michael Pachter Microsoft Neil Doshi PlayStation 4Analyst Color Top Stories Tech Best of Benzinga