Does Alibaba Have A Big Buyer?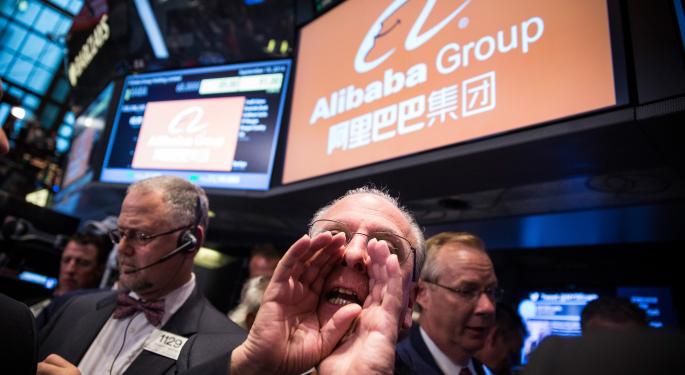 Since Alibaba Group Holding Ltd (NYSE: BABA) bottomed on October 15 at $82.81, it has rallied to well more than $100.00, and has passed $117 on Tuesday in step with the Chinese holiday, Singles Day.
A Big Buyer
During this same time period, there has been at least one identifiable trend in its price action: One big buyer, or a group of big buyers, appear to be present off the opening print at the New York Stock Exchange.
Buy and sell imbalances, which typically begin to be revealed at 8:30 AM each trading day, can be an early indication of an issue's direction off the open and beyond. Investopedia defines it as the situation that results from an excess of buy or sell orders for a specific security on a trading exchange, making it impossible to match the buyers' and sellers' orders.
Related Link: How Could Singles Day Help The Biggest Company In The World?
By advertising the imbalances for NYSE-listed stocks, the designated market maker can attract additional liquidity to offset the imbalance so trading can open in an orderly fashion. From the opening print on, buyers and sellers can battle without the immediate need for added liquidity.
Is Someone Building A Large Position?
In the case of Alibaba, it has opened higher in 15 of the last 17 trading sessions since hitting its current all-time low of $82.81. It's possible a large buyer has identified the issue as undervalued and has chosen to build a position by purchasing shares off the opening print, regardless of where it opens.
Dennis Dick, CFA and co-host of Benzinga's PreMarket Prep, has witnessed this activity first hand.
"Every morning there has been a steady buy imbalance of at least 100,000 shares and as many as 600,000 shares," Dick stated. He added: "The reason why I think it is the same market participant is that it is there every morning, right at 8:30 am ET when the imbalance data is posted, and the amount of the imbalance has been very consistent."
In other words, if the investor is looking to purchase, for example, one million shares for the week, they may enter a 200,000-share buy order between Monday and Friday to amass the full amount of shares desired.
In addition, Dick noted how well the strategy appears to be working: "Traders anticipating the next day's buy imbalance will purchase the shares into the close, or during the premarket session, being confident to exit the shares on the next day's opening print.
"It is not a foolproof strategy because you never know what will happen the next day, but it's hard to argue with the recent results," he added.
Wall Street Got It Right
On November 4, Alibaba posted a $0.05 earnings per share beat of $2.79 versus $2.74 estimates, and nearly all of Wall Street has been favorable on the issue since its IPO.
Atlantic Equities, for one, got the ball rolling when it initiated coverage on September 8 with an Overweight rating and a $100.00 price target.
Since that time, analysts have revealed a steady parade of Buy, Outperform and Overweight ratings. The current Street-high target is held at Oppenheimer, who maintains an Outperform rating with a price target of $133.00.
Posted-In: Alibaba buyers Alibaba Singles DayPrice Target Technicals Analyst Ratings Trading Ideas Best of Benzinga
View Comments and Join the Discussion!