Gasoline Hits Lowest Price Since December 17, 2010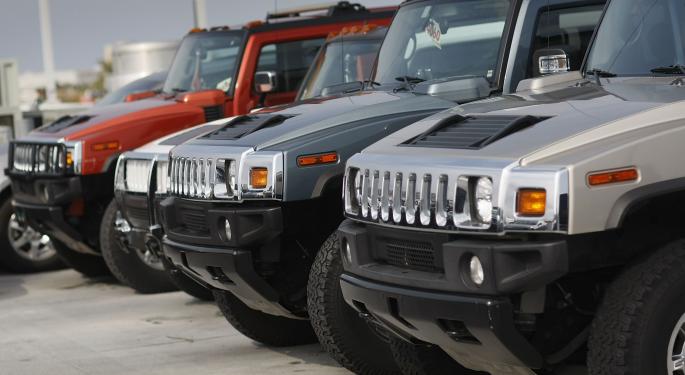 As of Monday, GasBuddy.com's reported average morning benchmark price for gasoline in the U.S. was $2.968 per gallon.
This comported with GasBuddy's announcement last week that more than 50 percent of U.S. gas stations were selling gasoline at less than $3 per gallon.
Related: Oil's Decline: What's It Mean For Investors?
Additional Data
Bloomberg noted October 27 that according to Lundberg Survey Inc., gasoline prices were $0.29 lower than a year ago.
That made the price of fuel in the U.S. the lowest it had been since December 17, 2010, according to Lundberg.
Even Lower Prices Ahead
GasBuddy chief oil analyst, Tom Kloza told Benzinga prices would drop further.
On Friday, Kloza said, "Wholesale prices are down another 1.75 - 5.4 cents/gallon today in various markets. The 'mini-spike' in wholesale prices that sent some retail prices higher in Oklahoma, Kansas, Nebraska, the Dakotas, etc. appears to be over."
Kloza added, "A reasonable guess for a bottom might be in the $2.90-$2.95 gal range."
"We last saw $2.90/gallon," Kloza noted, "December 3, 2010."
What It All Means
First, according to Kloza, the savings to consumers would be significant.
He said he anticipated that spending on motor fuel would be about $33.3 billion in November 2014 when data are all in.
That's about $8.5 billion less than consumers spent in June 2014 and $3 billion less than at the lowest (price point) in the lowest (price point) in 2013.
Environmental Impact
Among the more onerous predictions erupting from recent lower gas prices was a concern that the trend could be bad for the environment.
Anthony Perl from Simon Fraser University in British Columbia told Grist, "Lower oil prices could pose a challenge for the transition to post-carbon sustainability. I would liken it to hitting the snooze alarm on our wake-up call. The incentives for conservation and alternative energy will be reduced in the short term."
Related: GasBuddy: Lowest Gas Prices Of 2014 Unfolding Right Now
When Will The Party End?
GasBuddy senior petroleum analyst Gregg Laskoski said GasBuddy was "cautiously optimistic that the national average could fall further, perhaps by another 5 to 10 cents per gallon before year's end."
As for a change of direction in gas prices, Laskoski said, "The next OPEC meeting is November 27 and that may give us an indication of whether or not OPEC might try to curb production. If it does that might stop the slide of oil prices."
At the time of this writing, Jim Probasco had no position in any mentioned securities.
Posted-In: Benzinga Bloomberg GasBuddy Tom KlozaAnalyst Color Travel Top Stories General Best of Benzinga
View Comments and Join the Discussion!