Is Twitter's Future As Grim As It Appears?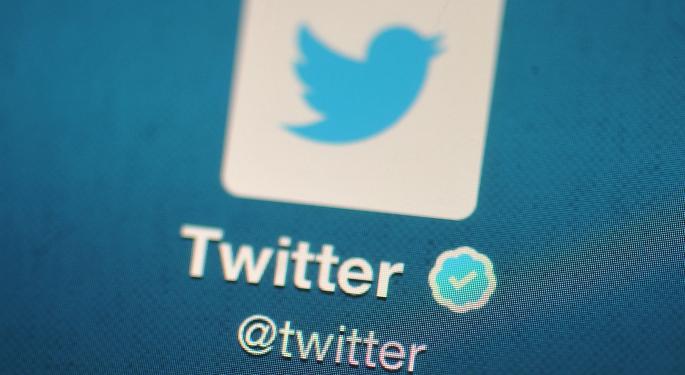 Analysts say that Twitter Inc's (NYSE: TWTR) earnings were no treat, but is the company really in trouble?
"I actually think over time Twitter will have more users than Facebook," Sean Udall, CIO of Quantum Trading Strategies and author of The TechStrat Report, told Benzinga. "That's a long-range projection based on my belief that it'll be the daily conduit for way more people to sort of commingle all the things they like to check every morning, whether it's a newsfeed, real-time journalism, stocks. Whatever somebody's area of most intense interest is, I believe Twitter will become the go-to engine for that."
Udall said that Bloomberg's report -- which shows that Twitter's slowing user growth is comparable to Facebook Inc -- has been around for a while.
"It's doing sort of about the same," said Udall. "More importantly, it's doing so with about the same amount of revenue."
Related Link: 5 Advertising Mistakes Twitter And Facebook Should Avoid
What's Important?
Wedbush analyst Shyam Patil is much more concerned about Twitter's future. He said that the company's potential "depends on what you think is important long-term for the stock."
"My belief is that, ultimately, the user base is crucial to the long-term thesis of the stock, and it's not clear that the user base can scale to be much larger than it is today," said Patil. "Certainly that's what the valuation implies, in my opinion. You can look at the Q4 guidance, where they're looking at net adds of three to 10 million. That's very weak."
While Udall's long-term projections are huge, he said that a smaller user base (200 million to 400 million who are "relatively stick users") would be plenty.
'Dicey Argument'
Patil noted that some bearish investors might point to Twitter's non-logged-in user base, which is one to two times the size of its MAUs (monthly active users). He said the assumption is that if Twitter is able to monetize those users effectively, the MAU doesn't really matter because they'll be able to generate revenue and scale over time.
"I think that's a dicey argument because you don't know what the monetization can be on that non-logged-in user base," Patil warned. "It's probably not a good thing that such a large portion of your base is not logging in. I believe that the MAU base matters. They haven't shown that they can scale it much higher than where they are now."
Related Link: Why Is Twitter Borrowing More Money?
'So Much Controversy'
Regardless of how investors feel about Twitter, Udall is stunned by the controversy and negative sentiment.
"I heard it two or three quarters ago when everybody said Twitter's quarter wasn't good, and that was a quarter where they grew 109 percent," he said. "It was all about monthly active users. Nobody was really looking at, 'Wait a sec, this company just grew 109 percent year over year and guided up, by the way, a huge amount.' This last quarter I guess the only thing they didn't do, they didn't guide up hugely. They guided up hugely three quarters in a row! A company is not gonna keep guiding up because analysts finally catch up with the numbers. But Twitter did just have a 115 percent year over year growth quarter."
Whatever happens, Udall wanted to make one point clear: there is more than enough room for multiple social media players to thrive.
"I do think Twitter is much more investible and much more attractive than Facebook is currently," Udall added. "But just because Twitter starts doing really well doesn't mean everybody else has to suffer. An ascending Twitter does not mean Facebook [or] Google has to die. It might mean some advertising budgets get shifted. But the world definitely can handle a few of these companies and they can coexist."
Disclosure: At the time of this writing, Louis Bedigian had no position in the equities mentioned in this report.
Posted-In: comments Facebook Sean Udall Shyam Patil twitterAnalyst Color Top Stories Tech Best of Benzinga
View Comments and Join the Discussion!