Rite Aid, CVS Unlikely To Win War Against Apple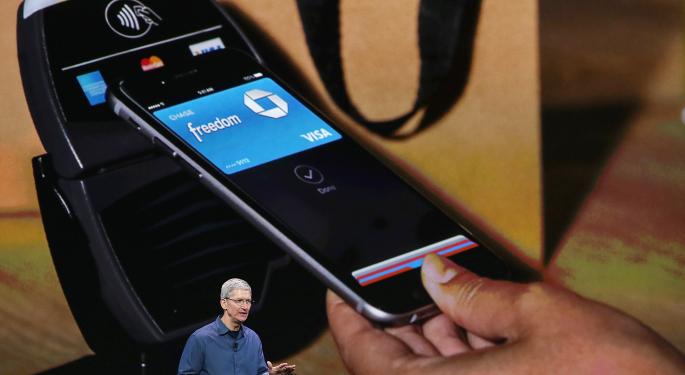 CVS Health Corp and Rite Aid Corporation (NYSE: RAD) surprised consumers when they announced they would no longer accept Apple Inc.'s (NASDAQ: AAPL) new mobile payment solution.
This unexpected move appears to be tied to CurrentC, an upcoming payment solution that numerous retailers are currently developing. Analysts were puzzled by the decision and think it is unlikely to turn out the way they hope.
"I don't know why they dropped it," Global Equities Research analyst Trip Chowdhry told Benzinga. "[CurrentC is] making the same mistakes that Google made. They're doing everything in the cloud. If the cloud gets compromised, all users get screwed. Their offering is dead on departure."
Related Link: Apple And Alibaba: A Match Made In Heaven?
Chowdhry said that Apple Pay is the only solution that will work because its secure element is on the device itself. That way, if the worst happens and Apple Pay is hacked, "It is only that specific device that gets compromised -- not millions of users."
"You cannot have things in the cloud," Chowdhry added. "You cannot have security in the cloud. It will be hacked. And not one, not two, but millions of people will be compromised. It is a repetition of what happened with Target."
True to form, Mashable reported Wednesday afternoon that CurrentC did in fact suffer a security breach this week.
'Not Hopeful'
CRT Capital analyst Neil Doshi was also surprised by the Apple Pay ban. He expects them to eventually reverse course and support Apple's solution.
"People don't want to have five different apps to pay at different stores," Doshi told Benzinga. "I think they would rather have one device or one way to pay across multiple vendors."
Doshi said that whenever a retail store tries to implement "big, overarching technology platforms, it usually ends up being a disaster."
"I'm not hopeful that CVS and Rite Aid can make any significant headway in creating their own payments platform," Doshi added. "I think at the end of the day, they will revert going back to whichever payment platform is picking up steam. Ultimately, you want to be able to offer consumers choice, whether it's paying with a credit card, paying with cash, paying with AMEX, a debit card or an Apple Pay phone. I think if they're going to allow credit cards, they might as well allow Apple Pay."
Can One Format Prevail?
Dan Miller, senior analyst and founder of Opus Research, told Benzinga that at some point "we have to agree to something like a proprietary standard for payments."
"Apple seemed to be on the right track," said Miller. "The pushback, it doesn't surprise me. It's consistent with just how fractured the whole electronic payments area is and remains."
Apple Pay Has The Advantage...
Sean Udall, CIO of Quantum Trading Strategies and author of The TechStrat Report, is yet another analyst who doesn't understand the ban.
"Why sign up Apple Pay? You [lure] people in," Udall told Benzinga. "You want people to come in with their iPhones to use Apple Pay. And it's almost like a bait-and-switch. 'By the way, you can't really use Apple Pay. You have to use CurrentC.'"
Udall doesn't see this as a problem for Apple. Rather, he thinks it will provide a "huge tailwind" for the Cupertino, California-based tech giant.
"All these retailers are gonna do is anger people," Udall added. "CurrentC is collecting more data. It's storing more data. Apple Pay [was designed] to keep all the credit card numbers, all the personal identification stuff out of the picture. That's why the platform is going to work really well."
Related Link: Is Apple Pay Safe?
…But Retailers Don't Care
Wedbush analyst Gil Luria said that the retailer reaction has nothing to do with how they feel about Apple.
"It's how retailers feel about Visa, MasterCard and the banks, charging them two percent for accepting payments where realistically that should be less than one half of one percent," Luria told Benzinga. "Apple Pay extends the hegemony of Visa and MasterCard and that's what retailers are reacting to and that's why they wanna control the transactions."
Even so, Luria said that retailers must find a way to work with Apple to appease customers who want to use Apple Pay.
"But at the same time [they need] a successful payment type of their own," Luria added. "I don't think there's a contradiction there. I just think the two sides haven't had the chance to talk because Apple was too busy kind of kowtowing to Visa and MasterCard and the banks."
Disclosure: At the time of this writing, Louis Bedigian had no position in the equities mentioned in this report.
Posted-In: Apple Apple Pay CurrentC CVS Dan MillerAnalyst Color Top Stories Tech Best of Benzinga
View Comments and Join the Discussion!