Is Apple Pay Safe?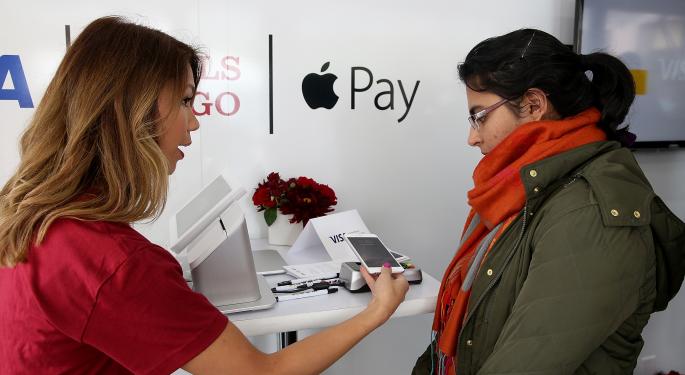 Apple Inc.'s (NASDAQ: AAPL) new mobile payment platform is being hyped as the safest service of its kind.
In the introductory press release for Apple Pay, Apple collectively used the words "secure," "securely" and "security" 12 different times. In its second press release, those words were used seven times.
Can (and should) consumers trust this new mobile payment solution?
"Is it foolproof? I don't think so," Scott Schober, CEO of Berkeley Varitronics Systems, told Benzinga. His firm designs and manufactures wireless test and security products.
"[Are] there going to be ways to hack it and find vulnerabilities?" Schober added. "Yeah, there probably will be -- but it's a lot harder, and thieves are not going to spend a lot of time trying to do what's hard. They're going to go for the easy money, as always."
Related Link: Hurdles Ahead For Apple Pay Consumers: New Research
'Absolutely Secure'
Robert Neivert, COO of Private.me (a startup that built an anonymous search engine and is working on improving privacy on the Internet), thinks Apple Pay is definitely a step forward. He likes that it and other new mobile payment options are eliminating the old credit card format, which makes it easy for thieves to steal and reuse card numbers.
"For that reason it's an improvement from the existing [options]," Neivert told Benzinga. "It takes away one of the most prominent ways in which security breaches happen, which is intercepting that credit card number."
Nonetheless, Neivert warned that "nothing is absolutely secure." He said Apple is simply making it more difficult for thieves to succeed.
"One of the key points that Apple is trying to get at is that the breach will yield a single transaction, not hundreds of millions of stolen numbers," said Neivert, noting that Apple Pay's single-use numbers are worthless if they're stolen. Unfortunately, he expects someone will come up with a "clever workaround."
"This is a cat and mouse game," Neivert added. "There's a way to breach this. It's simply very expensive and difficult -- substantially more so than [traditional credit cards]. This is not, 'Victory! We're done!' This is, 'We're making it more and more difficult for them to steal.'"
Related Link: Apple's Q4 Results Solidify Its Success Through 2016
Fraudulent Charges
Fred H. Cate, a distinguished professor at the IU Maurer School of Law and director of the university's Center for Applied Cybersecurity Research, told Benzinga that there's no intrinsic reason why Apple Pay wouldn't be more secure than traditional payment models. He does have one concern, however.
"Our current credit and debit card approach is largely insured by Congress, which says individual consumers aren't liable for more than $50 if your card is used fraudulently," said Cate. "That's not going to be true for these proprietary payment systems like Apple Pay."
If Apple doesn't believe the charge is fraudulent, Cate worries that Apple won't treat it as such.
"[Then] the protection enacted by Congress isn't going to be applicable there," he concluded.
Cate said if the result is proven to be a fraudulent charge, consumers won't be liable.
"But it's going to be a little more complicated because you're going to go through a payment system in order to get to that charge," he added. "It's certainly going to be more complicated for the businesses, though I assume they have written agreements for who's going to bear that loss."
Apple Pay Vs. Google Wallet
Kevin Blackman, CTO of e-security firm WISeKey, thinks it's easy to compare Apple Pay to Google Wallet.
"I think Google is the one that can respond [to Apple Pay]," Blackman told Benzinga. "There are some challenges to Apple's approach. They've got to get merchant points equipped with NFC terminals. That's a huge cost for merchants and that's actually a physical change in infrastructure and that's going to take time."
Blackman expects Apple to "zoom past Google" in terms of NFC transaction volume. He also expects Apple to prevent smaller players from rising up.
"What do you really think the chances are for a player like Coin or Plastic to compete?" Blackman questioned. "I really don't see it unless they're acquired by a really large player -- maybe PayPal or someone else -- that's going to invest in the same type of ecosystem to really compete. [Otherwise] I think these are just going to be bygones."
There could be one other way for the alternatives to succeed: by partnering with independent merchants.
"[Independent merchants] might join together and if they were to partner with Coin or Plastic, then you could really see something happening," Blackman added.
He theorized that it would be invisible to consumers. "They would have their card, which is like a Coin card, and all you'd know is that you can have your multiple debit and credit cards on it, and you can go to Starbucks, swipe it, and it's super secure, and all these other merchants [would theoretically] accept it."
Is Apple Ready?
Schober is also concerned that Apple may not be prepared if a major security breach occurs.
"Suppose there is a massive breach," said Schober. "Are they equipped to get involved in that or help resolve that from a customer support and consumer side? [They're] probably not up to speed on that. They count on the card issuer, the banks and things like that."
Disclosure: At the time of this writing, Louis Bedigian had no position in the equities mentioned in this report.
Posted-In: Apple Pay comments Fred H. Cate google wallet Kevin BlackmanAnalyst Color Tech General Best of Benzinga
View Comments and Join the Discussion!