How AutoNation Can Succeed Where CarMax Failed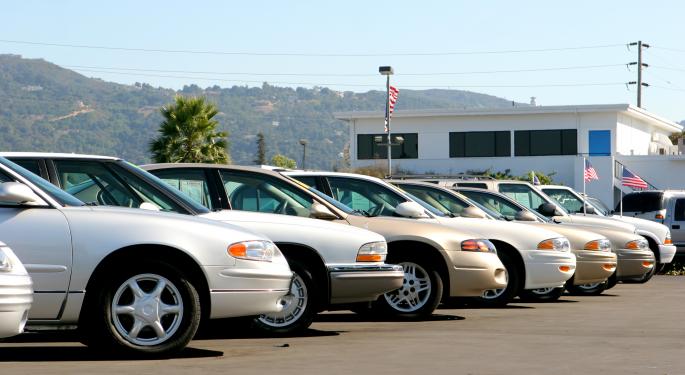 Two of the largest players in the used-car industry, CarMax, Inc (NYSE: KMX) and AutoNation, Inc. (NYSE: AN), are on a figurative seesaw.
For the last 16 months, CarMax has been marketing vehicles primarily through its own website. However, the company failed to achieve the results it was hoping for, as it recently announced a return to working with third-party websites, such as AutoTrader.com and Cars.com (it kept a working relationship with another third-party, Edmunds.com, during those 16 months).
Meanwhile, on the other end of the seesaw, AutoNation recently announced it will be taking steps to lessen its reliance on those same third parties. As AutoNation's COO Mike Maroone has said about the move, "We're certainly going to reduce our reliance because we want to build our own brand."
Related Link: These 5 Cars Have The Highest Fuel Economy
The company is initiating a $100 million branding campaign and will focus a great deal of its attention on a new and improved website, ideally driving more customers directly to one of its 243 U.S. stores.
Perhaps taking a cue from CarMax's failed attempt, AutoNation will not be cutting ties with the major third-party sites. Speaking about CarMax, Maroone said, "They had tremendous amounts of traffic on third-party sites. We have a plan. We measure everything we do. So I'm not sure why they did what they did."
Will AutoNation's more reserved approach prove more effective? According to DMV.com analyst Jordan Perch, that will depend upon how much and how effectively the company invests in its website.
Succeeding Where CarMax Failed
Talking about AutoNation's new initiative, Perch told Benzinga, "They might be able to succeed where CarMax failed because of their decision to increase investment in the development of their own website, where they hope to generate much more traffic than they did through the third-party sites.
"In fact," he continued, "AutoNation is already seeing a boost in traffic, which definitely helps build the brand. This way, AutoNation is saving millions of dollars, which it will end up spending on brand development and digital marketing. This is what CarMax failed to do, and probably prompted them to get back to third-party sites."
Hurdles Ahead
Paul Brocky, co-founder of the online classified website TheRoadCode.com, is a little more skeptical. He believes AutoNation has some major hurdles ahead of it.
"Cars.com and AutoTrader.com have years of experience, brand recognition and loyal users," Brocky told Benzinga. "They've developed platforms that have been tweaked over time to retain and attract new visitors. AutoNation in a sense would be starting from scratch in this marketing field. Also AutoNation needs to build an infrastructure that goes beyond a 'neat looking' website. Proper SEO is crucial in the used-car market and Cars.com etc have built up years of trust with the search engines."
Moreover, even with its $100 million investment in new branding, Brocky sees the used-car space as being particularly tough.
"Sure AutoNation could dump tons of money into online marketing and TV commercials, like CarMax did, but the benefits are short lived unless it's a prolonged campaign," Brocky explained. "And prolonged campaigns have more often than not proved negative on a company's ROI."
However successful AutoNation's new marketing and website are, the major third-party sites, and in particular AutoTrader.com and Cars.com, are not likely to go anywhere. In fact, they are a huge part of the industry: according to Ad Age, used-car dealerships spend anywhere between $3,000 and $25,000 per month for prime listings on Cars.com or AutoTrader.com.
According to the Australian market and industry research firm IBISWorld, there are 126,097 used-car dealerships in the United States, and the influence exerted by the third-party players seems even greater.
Posted-In: Ad Age AutoTrader.com Cars.com commentsEntrepreneurship Topics Top Stories General Best of Benzinga
View Comments and Join the Discussion!