Will Actavis Win Competition For Allergan's Affection?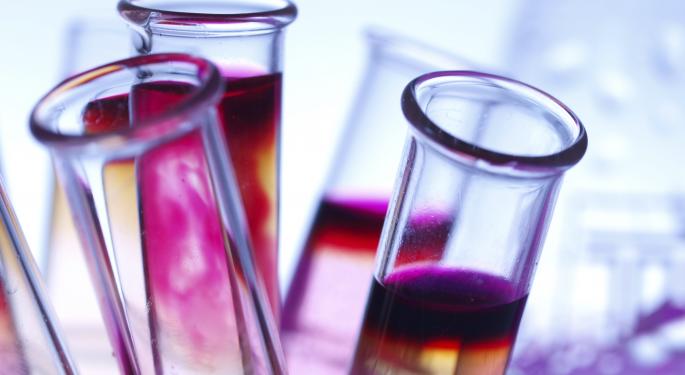 Four pharmaceutical companies have been flirting with merger deals. Discussing the confusing courting, Barron's called them the Bob & Carol & Ted & Alice of pharmaceuticals, referencing the sexy 1969 comedy-drama with the tag line "Consider the Possibilities."
In no particular order, the companies hoping to partner up were Valeant Pharmaceuticals Intl Inc (NYSE: VRX) Allergan, Inc. (NYSE: AGN) Salix Pharmaceuticals, Ltd. (NASDAQ: SLXP) and Actavis Plc (NYSE: ACT).
Related Link: Allergan, Inc. Spikes On Renewed Interest From Actavis PLC
The Plot
Valeant first showed interest in acquiring Allergan. Allergan rebuffed Valeant's advances and subsequently made a move on Salix.
Meanwhile, Actavis began pursuing Allergan. Valent continued its effort undeterred by the competition. The result: a confusing (to say the least) four-way merger 'tryst.' None of the flirtations been able to get a merger deal "put to bed" yet, however.
An Analyst's Take
In a note, reported by Barron's, JP Morgan analyst Chris Schott said the fact that multiple companies were interested in Allergan reduced the likelihood the company would stand alone.
Adding that although it was possible Allergan could pursue an acquisition, "a far clearer path to upside for Allergan shares" would be via an acquisition of Allergan by Actavis or Valeant.
Enter Actavis (Again)
Reuters reported on October 8 that Actavis planned to approach Allergan for a second time about a potential merger.
Allergan rebuffed Actavis earlier this year, turning down an undisclosed offer that The Wall Street Journal said was likely close to $50 billion.
Allergan, maker of the popular cosmetic drug, Botox, would consider a deal that valued its stock at more than $200 per share, according to sources who spoke with Reuters.
Valeant Makes a Move; Fidelity Takes Sides
As Actavis prepared to re-engage Allergan, its original suitor, Valeant and partner William Ackman, were said to be ready to boost their offer to more than $190 per share, according to another Reuters source.
The latest rumored offer from Valeant would be $15 higher than the company's previous bid.
Related Link: UPDATE: Allergan Board Offers Statement, Says Valeant's Bid 'Grossly Inadequate'
Fidelity Investments, the largest shareholder in Actavis, increased its holdings from 3.88 million shares to about 5.88 million shares by the end of August. On October 10 Fidelity said it would be supportive of a merger between Actavis and Allergan.
Dream Team For Hybrid Pharma
Fierce Pharma postulated that Actavis' desire to become a brand-generics hybrid pharma has led it to a proposed acquisition of Allergan. Allergan, Fierce Pharma suggested, would put the branded drug side of Actavis' business up front and center.
Actavis' new CEO, Brent Saunders has serious Big Pharma credentials. Previously he ran Valeant subsidiary Bausch & Lomb and worked at Merck & Co., Inc. (NYSE: MRK) subsidiary Schering-Plough.
Chairman Paul Bisaro and his experience on the generic side would complement Saunders to form a management team capable of handling the company's position as a hybrid giant, according to Fierce Pharma.
Regardless of whether Actavis or Valent ultimately acquires Allergan, Salix may discover that it gets the cold shoulder from its former suitor, Allergan.
At the time of this writing, Jim Probasco had no position in any mentioned securities.
View Comments and Join the Discussion!
Posted-In: Actavis PLC Allergan BARRONS Bausch & LombAnalyst Color Health Care Trading Ideas General Best of Benzinga