Cable-Free HBO Go Could Be A 'Monumental' Success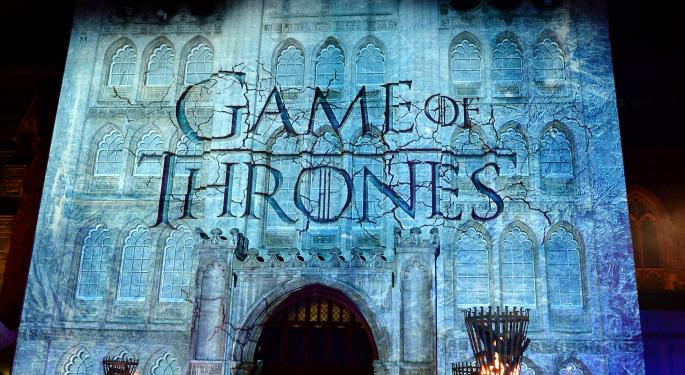 Time Warner Inc (NYSE: TWX) surprised investors Wednesday morning when the company announced that HBO Go, the online counterpart to HBO, would be available without a cable subscription in 2015.
The monthly or annual fee has not been announced, but analysts expect a price between $9.99 and $15.99 per month.
"This is a monumental announcement," Patrick Moorhead, president and principal analyst at Moor Insights & Strategy, told Benzinga. "This is the first time that a big-time content service has unbundled. The content companies for the first time are bypassing the cable companies. It's what users want."
Moorhead thinks this is a sign that cable companies have limited the potential growth of companies like HBO. He said the monthly fee, whatever it may be, will determine its volume.
"It's gonna put a ton of pressure on guys like Showtime, ESPN, Disney -- all of these guys are going to be under immense pressure to follow," Moorhead added. "The dam has broken."
Related Link: Will Adam Sandler, 'Crouching Tiger' Bring New Subscribers To Netflix, Inc.?
Huge Potential
Albert Fried & Company analyst Rich Tullo expects HBO Go to flourish as a standalone service.
"I think this is a great thing," Tullo told Benzinga. "Where does this take the company, Time Warner? They said the addressable market is something like 30 percent that are broadband-only. If they penetrate 30 percent of their market, they get three million incremental subs."
Andre Swanston, co-founder and CEO of Tru Optik (a startup that provides real-time and predictive audience intelligence), thinks HBO Go will thrive if Time Warner approaches the right market.
"I think it could be huge for HBO if they're able to target it to the right potential consumer," Swanston told Benzinga. "You can't just say there's 10 million people that have a broadband connection that don't have a TV subscription and believe that entire audience is a potential consumer. That'd be unrealistic.
"But something you can say -- that's very realistic -- is that there are millions of people every month in the United States that download HBO content via peer-to-peer networks. And not just 'Game of Thrones.'"
HBO is one of the most pirated networks in the world. By offering HBO Go outside of cable, Swanston believes that Time Warner could reduce its Unmonetized Demand (which Tru Optik defines as "consumer demand and consumption for which revenue is not currently captured").
"There's obviously tremendous demand from cord cutters and people who don't want to subscribe to the traditional TV-based solutions," Swanston added.
Related Link: Lionsgate Could Be Losing Billions To 'Hunger Games' Pirates
Tough Road Ahead For Netflix
After the HBO Go announcement, Tullo said that Netflix "better beat tonight" when it reports its third quarter results.
"If they don't beat tonight and you've got this big competitor, it's a big problem," he said. "On a competitive basis, Netflix will be just fine in the United States. Overseas… it's a big problem for Netflix because Netflix doesn't have the content that HBO has."
HBO is already successful in France, Germany and other territories. By going solo, Tullo said this could make HBO even more attractive in those markets.
Will Showtime Go Solo Next?
Moorhead thinks Showtime and/or Cinemax will be the next to offer cable-free services.
"You would expect them to go [solo] because they're literally carbon copies of HBO in terms of their business models," he said. "But realize that these things come in waves. I think it doesn't preclude cable companies from picking it up."
ESPN could also get away with offering a separate service.
"What are the cable companies going to do?" Moorhead questioned. "Say, 'I'm not carrying you anymore'? That's not gonna happen. Who really has the power in the relationship here?"
Disclosure: At the time of this writing, Louis Bedigian had no position in the equities mentioned in this report.
Posted-In: Andre Swanston Cinemax ESPN HBO HBO GoAnalyst Color Top Stories Tech Best of Benzinga
View Comments and Join the Discussion!